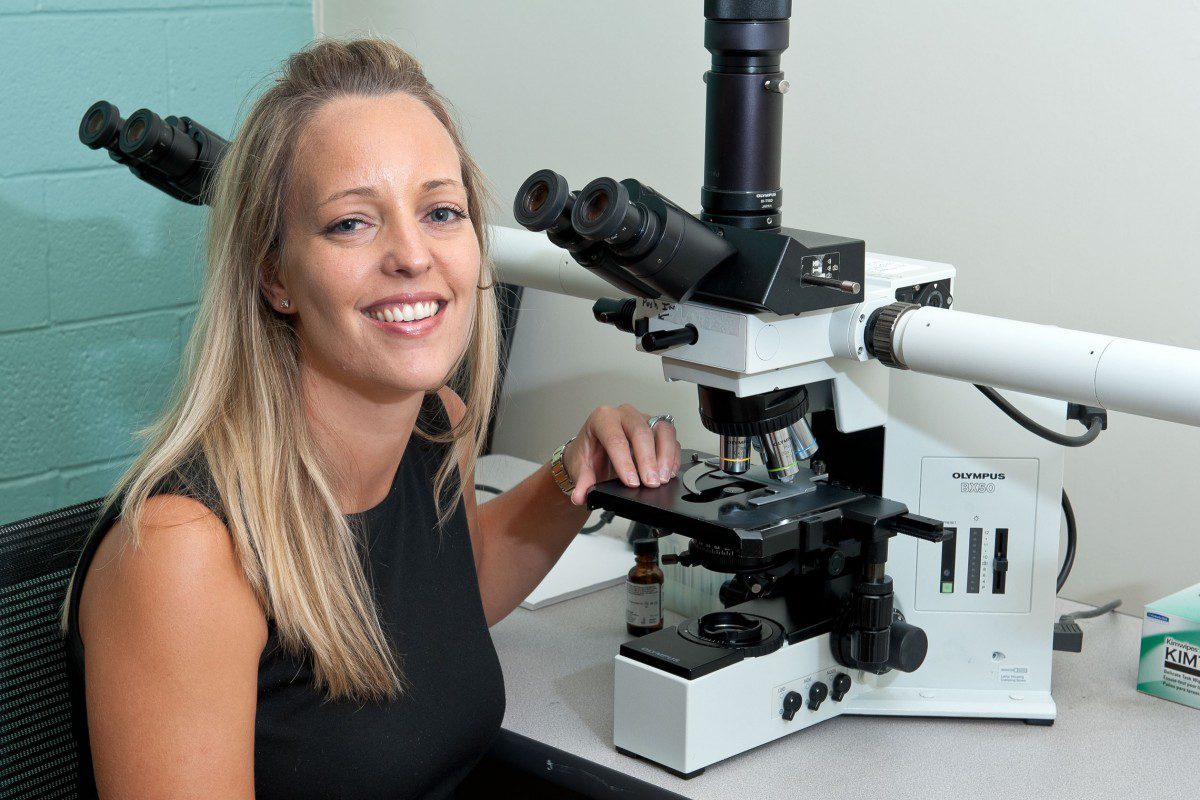 UofM Faculty of Science, honoured alumna Trish Simner develops novel diagnostic tools for war on superbugs
January 22, 2018 —
Founded in 1889, Johns Hopkins Hospital is a world-renowned centre for groundbreaking medicine and scientific research. It is known as the birthplace of many medical specialties, including neurosurgery, urology, endocrinology and pediatrics. Hopkins medicine counts many "firsts" among its achievements during its early years: the first major medical school in the United States to admit women; the first to use rubber gloves during surgery; the first to develop renal dialysis and CPR. In short, Hopkins is a place that runs on excellence and high standards. This makes it an ideal fit for Dr. Trish Simner [PhD/11], current Director of the Medical Bacteriology and Parasitology Laboratories at the Johns Hopkins Medical Institutions.
It's a heady reality for someone who was raised in a little place called Ste. Agathe. Growing up in the small Franco-Manitoban community, Simner never thought she would leave the province, much less move herself and her young family to the States for a job opportunity, no matter how compelling.
Simner has kept busy since leaving her hometown to attend the UofM. Upon obtaining her PhD in 2011, she began a two-year post-doc at the Mayo Clinic in Rochester, Minnesota. Next up was a stint back home as a Clinical Microbiologist at St. Boniface Hospital, in addition to a teaching position as an Assistant Professor in her alma mater's Department of Medical Microbiology and Infectious Diseases. In 2015, Simner was recruited by Johns Hopkins to her current post as a practicing clinical microbiologist and Assistant Professor of Pathology.
"I enjoy being a clinical microbiologist as I'm able to positively impact patient care on a daily basis. I'm able to develop and implement novel diagnostic tools to beneficially impact patient management."
It's a good thing, too, since antibiotic-resistant bacteria are making patient care increasingly difficult for the medical community. Simner's research focus has expanded in order to gain a better understanding of these pathogens, along with their mechanisms of resistance and spread in hospital settings. She is currently developing a method to perform antimicrobial susceptibility testing of an antibiotic called colistin against Gram-negative bacteria. It's part of an independent research program initiated by Simner that could potentially impact hundreds of thousands of people.
"Colistin is an antibiotic of last resort. Meaning that physicians will only use this drug if there are no other options available to them. With the rise of antibiotic resistance this drug is being more commonly used and physicians are asking for susceptibility testing to know whether the organism is susceptible to the drug or not (i.e. will it respond to therapy). Currently, there are no easy methods for labs to setup testing due to the nature of the drug itself being a large positively charge compound. We are reviving an older method that was described in the 70's using antibiotic disks (disks impregnated with colistin at set concentrations) that are placed in broth to achieve different concentrations of the antibiotic to determine whether the organism is susceptible or resistant to colistin. We hope that this method will allow clinical labs to more easily test colistin susceptibilities when needed, rather than having to send testing out to reference laboratories, which can delay results."
Currently, Simner works in collaboration with the U.S. Centers for Disease Control and Prevention (CDC) from which she has an Epicenter grant, and is also a principal investigator for a National Institute of Health (NIH) grant. The NIH grant funds her effort to understand the molecular mechanisms of antibiotic resistance and spread amongst all carbapenemase-producing Gram-negative organisms (CPO) in the part of the U.S. that is endemic for them.
"It's scary. When we encounter patients with multidrug-resistant or even extensively drug-resistant infections we try our best to try to find an antibiotic or a combination of antibiotics that will help the patient overcome the infection. These scenarios definitely keep me motivated to try to figure out ways on how can we more rapidly identify these organisms and how do we prevent their spread in the hospital and community settings? We aren't in a crisis yet but we know that the organisms are smart and always find ways to evolve [in order] to evade even the most potent antibiotics. The whole world needs to be wise in prescribing antibiotics and pitch in to prevent the further emergence and spread of these clinically significant pathogens. Otherwise, we might just find ourselves in a crisis."
While clinical duties and research takes up the majority of Simner's time nowadays, she still enjoys teaching for the opportunity it gives her to instill her own passion for microbiology in her students. Her role as a faculty member at Johns Hopkins echoes her salad days as a T.A. at the UofM.
"Some of my most memorable moments as a T.A. were watching the students gain an appreciation and passion for Microbiology while "playing" in the lab. The lab allows the students to apply the content that they are learning in their lectures, while letting them gain a better appreciation of the content they are absorbing. It was neat to watch them get excited about their lab results because they understood the concepts behind the results."
Simner is understandably proud of how far she's come since her undergrad days. When asked what advice she might give her younger self on her first day at the UofM, Simner points out that there are no shortcuts to success.
"There are going to be challenges and failures that will come your way. This is inevitable. Keep your head up high as these are the moments that will shape you and make you a stronger person. They are humbling moments but they happen for a reason.
"I remember having a really rough exam schedule my first year of university. I did okay on my final exams, but not what I had hoped for. This taught me how to approach studying for my next semester.
"I can recall one of my first abstracts being rejected for presentation at a national conference. I was devastated. Everyone in my lab had had their abstracts accepted. The next year, I came back with a vengeance and submitted three abstract to the same conference and got all three accepted. Writing your first manuscript is an experience in itself. Rejection is not easy but you learn in the end that you take the peer-reviews and you turn it into a stronger manuscript in the end and eventually it gets accepted."
---
Dr. Simner is one of seven outstanding Alumni being honoured at the upcoming 2018 Faculty of Science Careers in Science – Pathways to Achievement Honoured Alumni Awards event.
What: 2018 Pathways to Achievement Honoured Alumni Awards
Topic: Careers in Science, Alumni and Student Mixer
When: Thursday, February 1, 2018, 3:00 p.m. (Doors open), 3:30 p.m. (Panel starts)
Where: Marshall McLuhan Hall, 2nd Floor, University Centre, University of Manitoba, Fort Garry campus
Reception to follow, all are welcome to attend.
Individual department events also being planned. More details to follow.