Unpaywall quickly locates free open access articles for you
New search feature now available through UM Libraries
April 24, 2020 —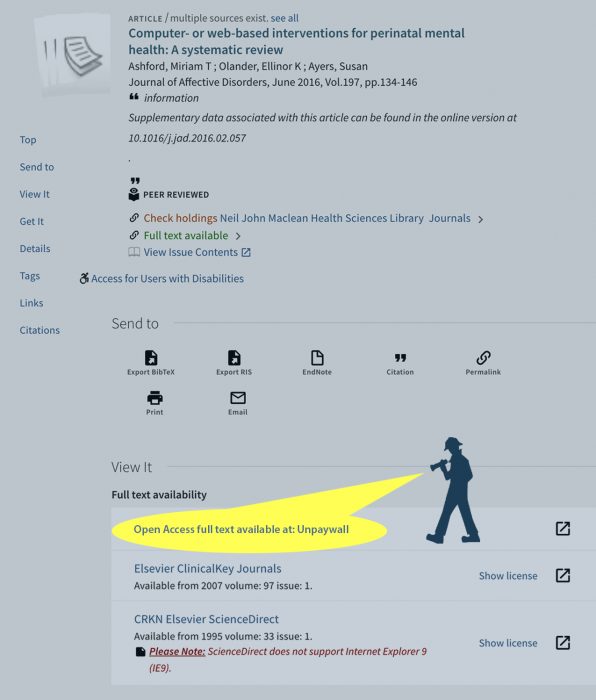 It's now easier to get free open access journal articles in your Libraries Search results.
If an open access version is available for an article you find, a new link will appear in the View It area that reads: "Open Access full text available at: Unpaywall."
By selecting this link you can read the article for free, regardless of where it was originally published.
Choosing the Open Access link supports open scholarship, and helps libraries manage subscription costs, which have risen unsustainably over the past two decades. See more about open scholarship and open access publishing at the Libraries' Open Access page.
Unpaywall supports open scholarship, helps university budgets
Unpaywall is a project of Our Research, a non-profit organization that maintains a registry of open access articles. Each Libraries Search consults this registry when you click on an article in your search results. If Unpaywall has a free version of the article, the link will appear at the top of the list.
The more often an Open Access link is chosen instead of one of the paid links, the less reliant we are on paid subscriptions, freeing up funds for resource needs of our University community.
Using the Open Access link also generates usage statistics for the open repositories, making their value more apparent to their hosts and funders. This helps to ensure the growth of the Open Access movement and the accessibility of research for anyone — whether or not they can afford to pay!
There are also options if you don't use Libraries Search. Some publisher systems such as Scopus will redirect you to the UM Libraries website when you click to access an article—you'll still see the Open Access link if a free article is available. If you conduct your searches using a database or Google, try the Unpaywall browser extension or the Library Access browser extension. These tools make it easier to get full text articles, both open access and UM-subscribed publications.
Bear in mind that the open access version of an article isn't always identical to the commercially published version. Andrea Szwajcer, Research Services Librarian, can help you if you have questions about open access versions of articles.
For more about open access and open scholarship, see the Libraries' Open Access page.