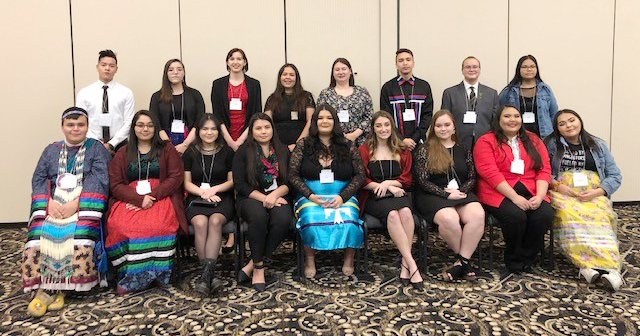 UM students receive Manitoba Aboriginal Youth Achievement Awards
November 27, 2019 —
On Nov. 21, Indigenous youth from across the province were honoured with Manitoba Aboriginal Youth Achievement Awards (MAYAA).
Celebrating their 25th anniversary, the annual awards recognize outstanding Indigenous youth between the ages of 16 and 24 in a variety of areas, including academic accomplishment, community involvement, culture, business and athletics. Award recipients are chosen by a committee of Indigenous youth from the community.
This year's recipients included several University of Manitoba students:
Cassandra Phaneuf
Academic Senior
After excelling in high school, Métis student Cassandra Phaneuf enrolled in the Asper School of Business at the UM. Currently in her second year of actuarial mathematics, she recently finished an actuarial internship at Great-West Life. Phaneuf also serves as the vice-president of operations for the Indigenous Commerce Students' Association.
Ashley Daniels
Community/Volunteer – Senior
A member of both Swan Lake First Nation and Sioux Valley Dakota Nation, science student Ashley Daniels has volunteered since age 13. Currently the female Youth Chief with the Southern Chiefs' Organization, she has also been involved in many events and programs on campus, including the Indigenous Circle of Empowerment and Annual Traditional Graduation Pow Wow. In 2017, she also participated in a Community Service-Learning program in Ecuador.
Shay-Ann Scott-Jolicoeur
Community/Volunteer – Junior
Shay-Ann Scott-Jolicoeur, a Métis student from St. Laurent, is currently in her first year in the Asper School of Business. An advocate for Missing and Murdered Indigenous Women and Girls, she raises awareness by organizing events like community-based forums. She has also been influential in leading discussions around the review of Manitoba's education system.
Kiana Tait
Health (North)
Currently a second-year science student, Kiana Tait aspires to go into medicine and become a physician. She has helped organize events in her community of Norway House Cree Nation, and has also volunteered with the Health Career Quest Summer Camp, which aims to assist northern high school students in achieving careers in health care.
Taylor Catcheway
Health (South)
Taylor Catcheway, from Pine Creek First Nation, graduated from the Medical Careers Exploration Program and is now attending the UM, with the goal of becoming a family physician and language carrier. The University 1 student also works as a facilitator with the Community Education Development Association's Pathways to Education program.
For more information about the awards, visit the MAYAA website.