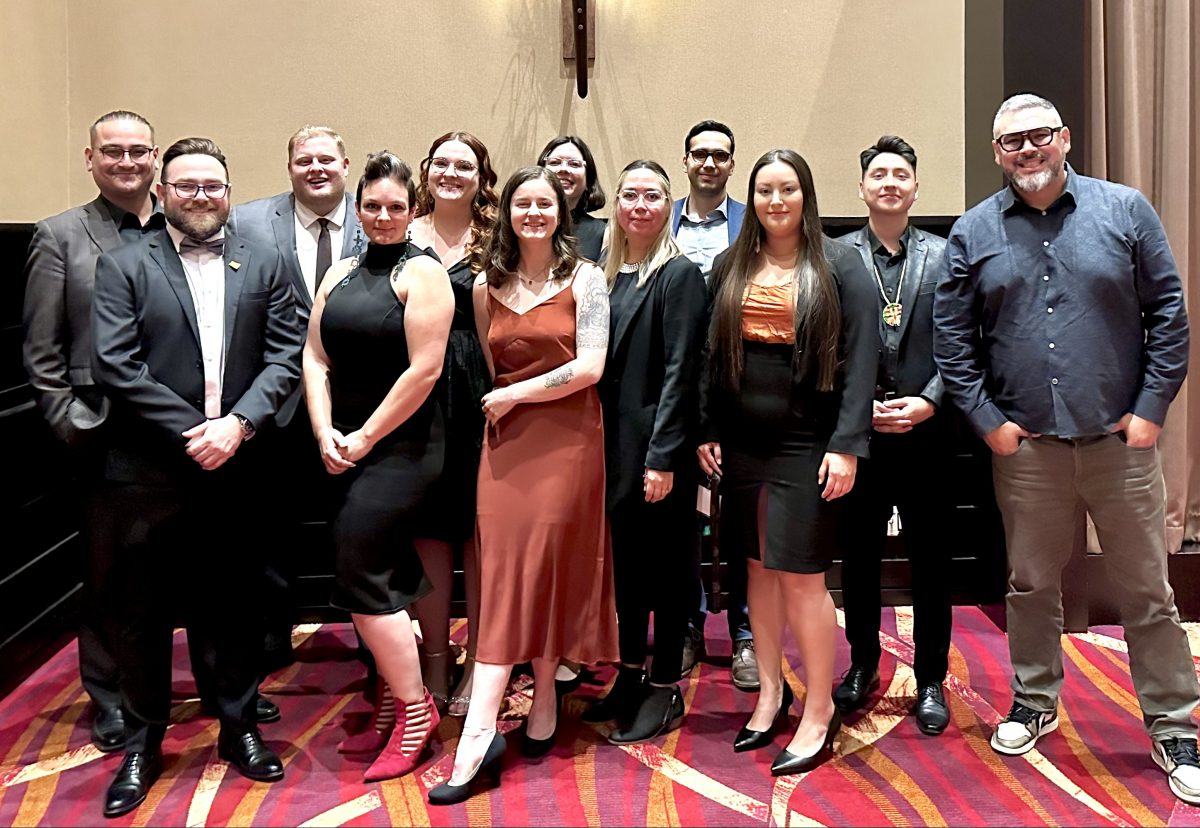 UM Faculty of Law representatives show leadership at IBA
Indigenization of curriculum and student involvement inspire Indigenous legal community
October 23, 2023 —
Representatives from Robson Hall's faculty and student bodies made some impressions on attendees of the 35th annual Indigenous Bar Association conference hosted by the Chippewas of Rama First Nation, held at the Casino Rama Resort, Ontario, October 12 – 14, 2023.
"It was a great few days of learning and connecting with Indigenous lawyers and students from across Canada," said Dominique Gibson (3L) who attended along with fellow Manitoba Indigenous Law Students' Association (MILSA) members Melinda Moch (3L), Sarah Shuttleworth (1L), Nadine Plourde (2L), Carlie Kane (3L), Mary-Charlet Lathlin (2L), Shelby Sinclair (3L), and Zackery Anderson (2L).
On Thursday, October 12, MILSA representatives gathered together with all of the National Indigenous Law Students' Association (NILSA) members attending the IBA Conference for a Student Day. In addition to the NILSA annual election, the students went to a retreat centre on Rama First Nation to learn more about how Anishinaabe legal traditions are expressed through art. Gibson said, "The sessions, which were primarily lead by Chief Lady Bird (an artist and educator) and Jeffrey Hewitt (Associate Professor at Osgoode Hall Law School) helped us to better understand how we can better incorporate Indigenous legal traditions into our own learning and law school experiences. In addition, we engaged in various sessions of land-based learning, which was one of my favourite parts of the conference."
At the election, Robson Hall 3L Shelby Sinclair was re-elected to the position of Vice-President First Nations of the National Indigenous Law Students' Association for the 2023-24 year. "I am extremely grateful," said Sinclair. "I hold this position very near to my heart as I know what it feels like to be one of the only First Nation law students at a school. I will continue to provide supports, resources, and be a voice for First Nation law students across Canada. Although the process may be difficult, it is moments like this that make it all worthwhile. I endeavour to encourage other First Nations people to pursue law. Miigwetch!"
On Saturday, October 14, Assistant Professors Leo Baskatawang and Daniel Diamond, together with Marc Kruse, Director of Indigenous Legal Learning and Services, discussed the Truth and Reconciliation Commission's Call to Action #28 as part of a Breakout Session at the Conference. They discussed the importance of interpreting Call to Action #28 broadly and holistically, rather than as a mere box-ticking exercise. In particular they discussed current initiatives at Robson Hall, and reflections on best practices and strategies for implementing Call to Action #28 at law schools in Canada. Finally, they discussed institutional and structural barriers for the meaningful implementation of Call To Action #28 and the process of Indigenizing legal education, as well as pathways for overcoming these barriers.
"Robson Hall was extremely well represented at this year's Indigenous Bar Association conference," Baskatawang observed. "I have no doubt that the innovations we are making in legal education, both as an institution and through our teaching practices, will one day be emulated by every other law school in Canada."
The three panelists from Robson Hall had recently organized a major conference on September 22 to launch the inaugural Interdisciplinary Journal of Indigenous Inaakonigewin, which featured Ovide Mercredi, O.C., O.M. [LLB/77] as keynote speaker. The new Journal, created with the intention of uniting scholars, community leaders, and artists that have an interest in Indigenous law and remedies for justice, is currently accepting submissions until January 15, 2024.