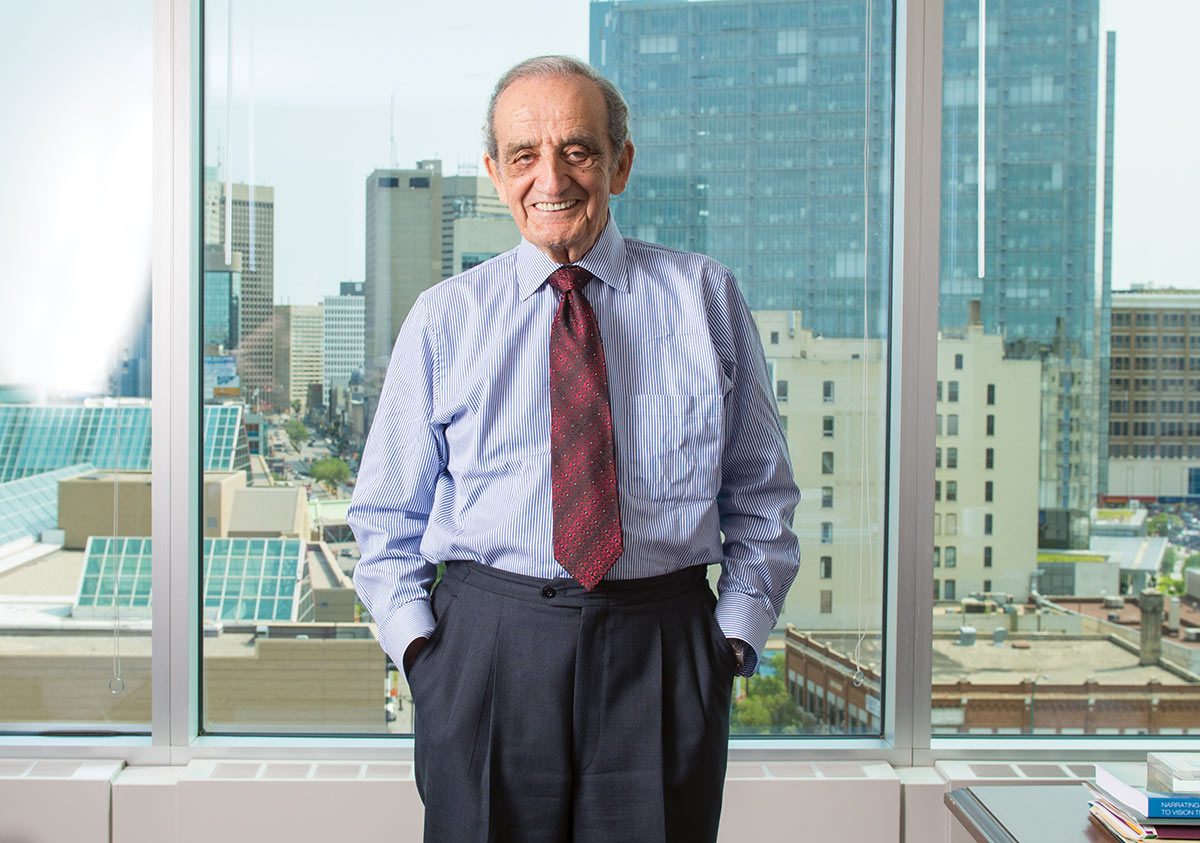 UM community mourns Arthur V. Mauro
Philanthropist, human rights visionary, renowned business leader and past Chancellor of UM has died at age 96
August 5, 2023 —
In 1985 Arthur V. Mauro caught Maclean's magazine off guard. The man who was originally a transportation lawyer was then in charge of $17 billion in assets at Investor's Group and overseeing the largest group of mutual fund salespeople in Canada. Yet the reporter thought he looked and acted more like a dean of a law school than a banker, slipping Karl Marx and economist Joseph Schumpeter quotes into conversation.
Mauro also thought Winnipeg was a better place to do his business than Toronto's Bay Street because that place was "much too incestuous. You get to thinking that what you did in your lunch hour is all important."
He always seemed to have priorities, ideals really, that were of a higher calling than what Bay Street could provide him anyway. Those ideals now live on through his legacy of impact at the University of Manitoba and throughout Winnipeg after his death on August 4, 2023. The UM community mourns alongside his family and is flying its flag at half mast until Aug. 11.
"It's difficult to imagine a better-lived life than that of Arthur Mauro," says Michael Benarroch, UM's president and vice-chancellor. "His commitment to human rights and his contributions to our community serve as an inspiration to all of us. His legacy is immeasurable, and on behalf of UM, I express our deep gratitude for his life and our sadness at his passing."
Mauro saw Winnipeg becoming a bastion of human right research and dialogue, like Geneva is, and so he endowed the Mauro Chair in Human Rights and Social Justice and his generosity helped establish the Arthur V. Mauro Institute for Peace and Justice at his beloved alma mater. He had a vision for our city that, at first, did not show its best to him.
Born in 1927 in Port Arthur, now Thunder Bay, he came to Winnipeg to study at St. Paul's College in 1946, and upon arriving he confronted the reality of prejudice.
"There was still a quota on the number of Jewish students admitted to medical school," he told his alma mater. "There was a 'gentlemen's agreement' as to the sale of property in Tuxedo and admission to certain clubs. There was extreme difficulty for Catholics to obtain specific jobs in the public sector, and when I entered the race for president of the University Student Council I was advised that a Catholic could never be elected."
He was elected, though, and served as president in 1950. He worked hard to break prejudices and molds—including, according to Maclean's, even how a banker should act.
After graduating from UM, Mauro worked with others to reach across the religious divide to promote mutual understanding, collaboration, and friendships between Winnipeg's Catholic and Jewish communities. The long-term success of this community-building convinced Mauro that Winnipeg could be the base for a larger, international process of inter-religious dialogue among Jews, Christians of all denominations, and Muslims.
Mauro [BA/49, LLB/53, LLM/56, LLD/87] advocated for human rights, peace and justice in every role he held, be it lawyer, businessman, or Chancellor of the University of Manitoba from 1991 through 2000. And he devoted himself to inspiring others to do the same.
"If we stand mute in the face of such problems, we stand convicted of the social crime of silence," he said.
He was an optimist, focusing on the good that could be nurtured in people, which is why he never thought less of Winnipeg after it first exposed prejudices to him. Indeed, he held firm to a vision that Winnipeg could be "the next Geneva," a new hub of human rights dialogue and research.
"This city, to me, represents the best that people can do when good people come together with goodwill and seek solutions," Mauro told UM Today back in 2017. "Over the years we have proven that reconciliation is better than discord, that diversity is a positive in society."
So in 2017, he announced a $5 million gift from the Mauro Family Foundation to endow the cross-faculty Mauro Chair in Human Rights and Social Justice, a pillar of UM's innovative Master of Human Rights program, now housed in the Faculty of Law. The gift also supported local and international peace-building initiatives. Prior to this the Mauro Family Foundation donated nearly $3million to establish the Arthur V. Mauro Institute for Peace and Justice in St. Paul's College, as well as numerous scholarship funds.
Mauro loved this university and its students. It was Mauro who saw that fellow alum Paul Soubry [BComms(Hons)/84], CEO of New Flyer Industries, would be the perfect person to chair the transformative Front and Centre Campaign team. Mauro convinced Soubry to take on the challenge, and the campaign raised over $626 million. Mauro always saw how to build partnerships and teams that would bring the most good, and today, this community is grateful for his visionary impact.
His life of community service led him to be inducted into the Orders of Canada, Manitoba and of the Buffalo Hunt. He received both the Queen Elizabeth II Golden and Diamond Jubilee Medal and was inducted into the Manitoba Business Hall of Fame and honoured by the Association of Fundraising Professionals.
Today, his legacy extends throughout UM, in the student residence, research chair and research institute that all bear his family's name.
"It is my dream," he said, "that the teachings of respect for diversity and of rational discourse and human interaction that exists at the University would be sustained…. And that in years to come we can with pride claim some small contribution to creating a better world."
For those wishing to make a donation in tribute of Arthur Mauro, please learn more on how you can honour his legacy.