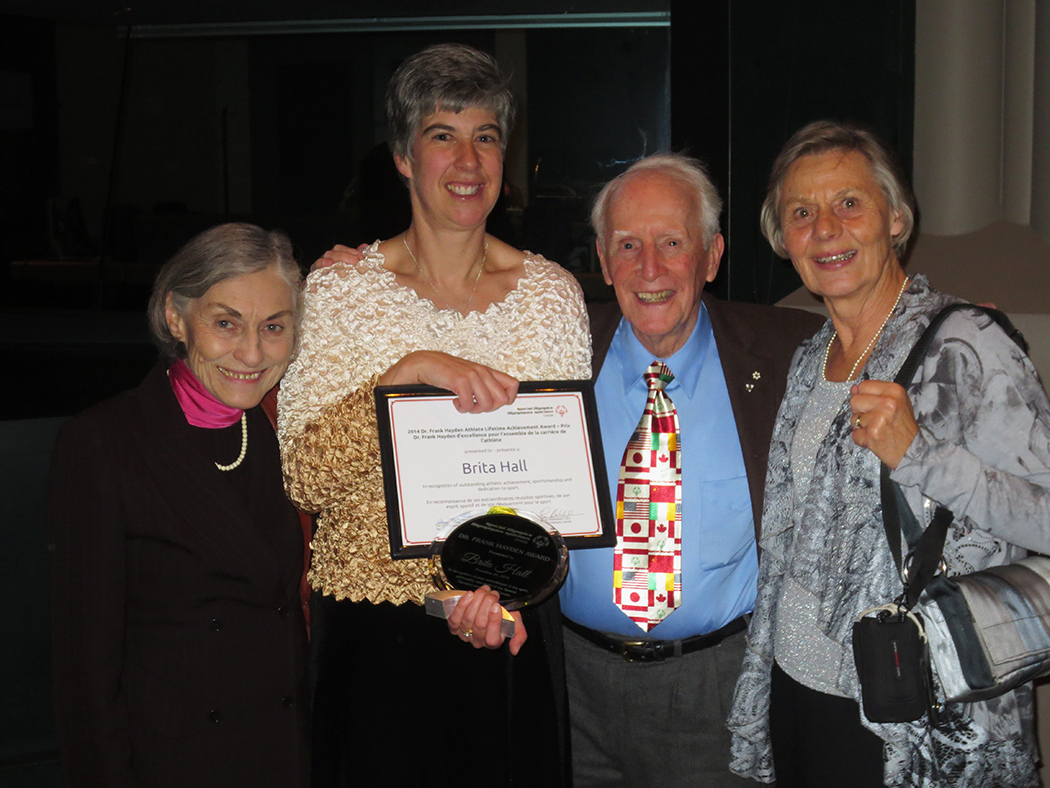 U of M's 'golden girl' wins lifetime achievement award
December 10, 2014 —
Brita Hall has worked since 1993 as a junior office clerk in Extended Education, where she does mail distribution, delivers parcels and helps shred documents. But beyond her work, Hall has accomplished more on the world stage than probably anyone in her place of employment. Hall is an accomplished athlete, having stood on a podium more often than most, with six gold medals to her name.
Now she's been awarded a lifetime achievement award by the Special Olympics, the Dr. Frank Hayden Award. Throughout her remarkable athletic career, Hall has received eight "Gold Award of Excellence in Sport" honours from the Province of Manitoba. In addition, she has been the recipient of three levels of the "Duke of Edinburgh Award," which is designed to encourage youth to set and achieve goals through self-development, self-training and personal achievement, based upon individual effort and improvement. She was presented with the Bronze Award by Winnipeg Mayor Bill Norrie, the Silver Award by Lt. Governor George Johnson and the Gold Award by His Royal Highness Prince Edward when he visited Winnipeg in 1990. She was the first person with an intellectual disability to ever receive these awards in Manitoba.
Her mother says, "Brita was thrilled and felt very honored to receive this very  prestigious  award from Dr. Frank Hayden. It was such a special moment. We, the parents of Brita,  are so proud of her to be the recipient of this Lifetime Achievement Award  and all her dedication and achievements, especially as she only had a 10% chance to ever walk. She has come such a long way."
Brita Hall is truly a "Golden Girl" and the pride of her work colleagues. They say she is energetic, always willing to lend a hand and her smile is infectious. When asked about the best part of working at the University of Manitoba, she replies quickly: "The people I work with!"
"Everybody loves Brita and Brita loves everyone," notes one of her co-workers.
Read more about Brita Hall here.
Award citation
Dr. Frank Hayden Award: Brita Hall, Winnipeg, Manitoba
Brita Hall has been a Special Olympics athlete for 34 years. She has won medals on some of the grandest stages, competing in athletics and cross country skiing at Provincial, National and Special Olympics World Games, as well as the Paralympics in Lillehammer and Nagano. Brita is still showing her talents at an elite level, having just represented Manitoba at the 2014 Special Olympics Canada Summer Games in Vancouver earlier this year.