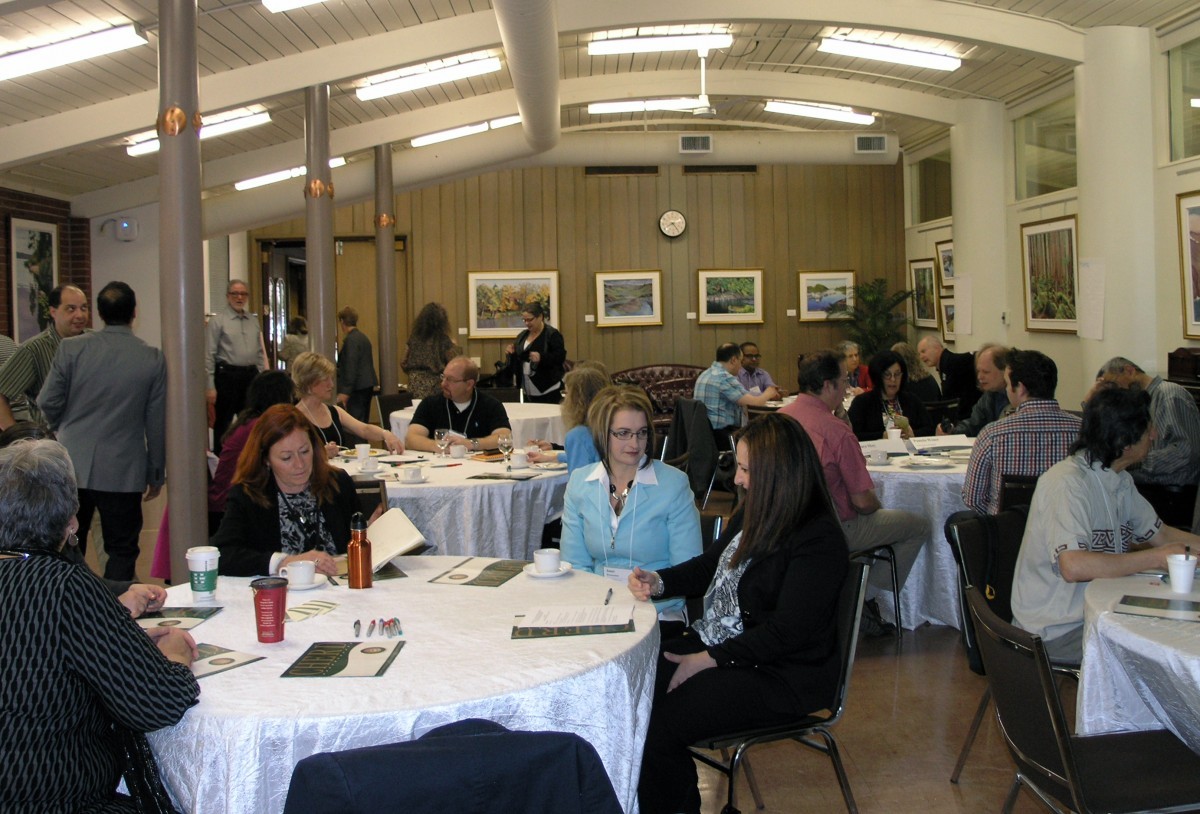 U of M hosts successful provincial academic leadership workshop
Academic leaders share knowledge and discuss issues at inaugural event
May 11, 2016 —
On the first day of the "Developing and Enhancing Leadership Potential" workshop at the University of Manitoba, many participants shared that they were just commencing in leadership roles, as department heads for one or two years. They were eager to meet others in similar positions at universities across the province.
Janice Ristock, current Vice-Provost (Academic) and soon-to-be Provost and Vice-President (Academic) as of July 1, 2016 says, "You could feel the excitement in the room. Over 35 leaders came together to share their experiences and learn from one another. I am very proud of this collaborative effort by Manitoba's post-secondary universities."
Participating universities included University of Manitoba, University of Winnipeg, Canadian Mennonite University, Université de Saint-Boniface and Brandon University.
Sponsored by the Office of the Provost and Vice-President (Academic) at the U of M, the two-day workshop was comprised of interactive sessions, including an informal speed-networking event at a private reception held at U of M's Degrees restaurant. Participants could ask questions or tackle issues in one-on-one sessions with a facilitator.
Sharing their academic leadership experience and expertise were workshop facilitators Sheila A. Brown, former President and Vice-Chancellor, Mount Saint Vincent University, and Neil Gold, former Provost and Vice-President (Academic), University of Windsor.
Themes included best practices in teaching and research, meeting the needs of students, supporting indigenous student success, strategic planning, and many more. Participants also benefitted from peer conversations and networking.
Mark O'Riley, director of learning and organizational development (LOD), human resources, at the U of M, was one of the event organizers, in partnership with the Centre for Higher Education Research and Development (CHERD). "We are pleased that the workshop was so well-received, and we very much look forward to future similar collaborations with post-secondary educational institutions from across the province," he said.
The professional development program supports the mandate of the University of Manitoba's strategic plan, Taking Our Place, adds Ristock.
"Together, we are working towards the goal of developing a culture of leadership and teamwork among faculty at the U of M and across the province. Collaborative events such as this one broaden and strengthen the work of developing academic leadership potential and sharing resources as part of the academic community in Manitoba."
For more information on the workshop, read previous UM Today story.
Read more about academic leadership development at the University of Manitoba.