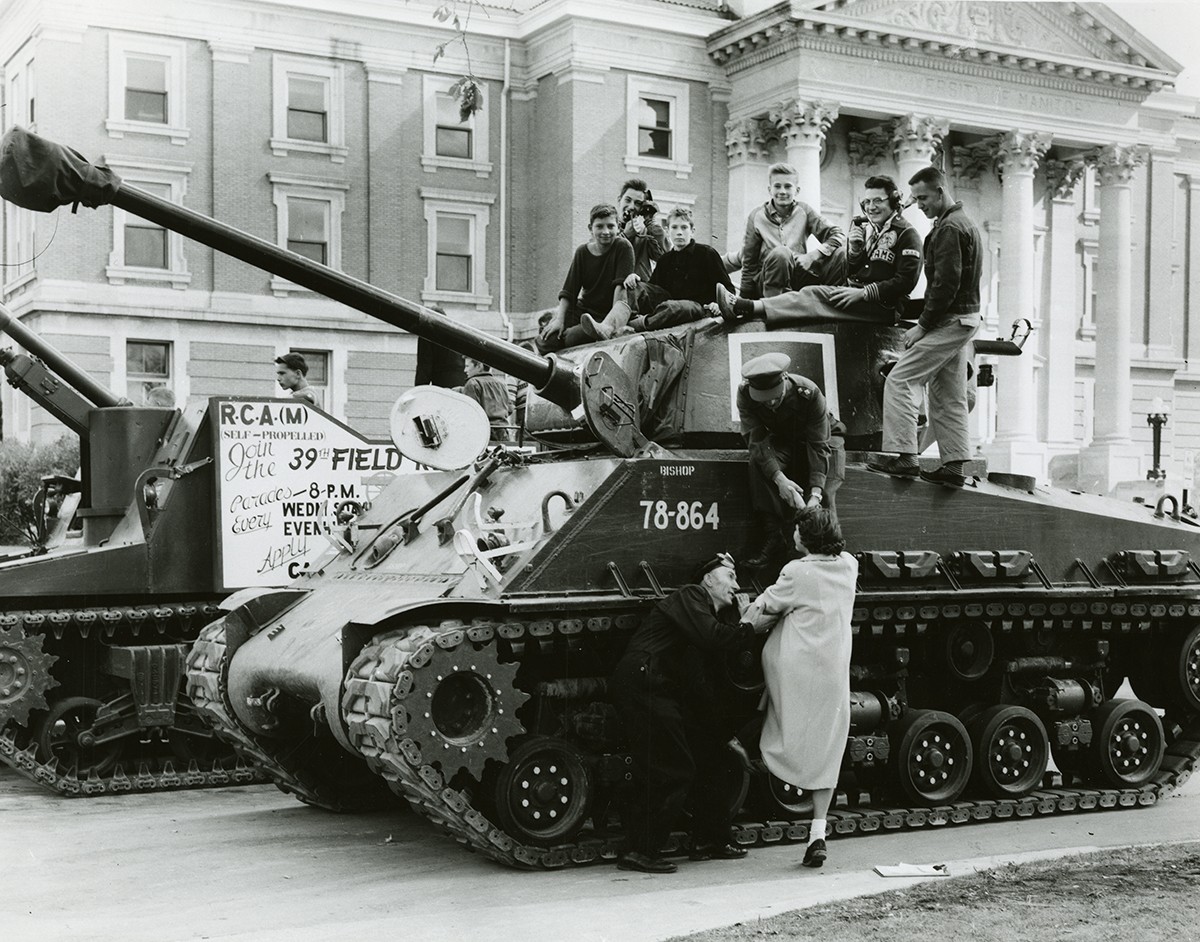 U of M eponyms in honour of military service
November 10, 2015 —
An eponym is something named after a person. It's usually a taxonomic name derived from the name of a person, often used to honour a scientist or a collector, but eponyms can also describe a named object that is something organic or inorganic, a natural or artificial structure, or a device, procedure, syndrome or illness. An eponym is usually not a building, road or park named after a person, as these are often named through monetary donation and not necessarily for scientific or exceptional achievement.
One notable exception to this rule, however, is the naming of landforms to honour those who gave their lives during military service. Many of these eponyms are in honour of people formally and publicly identified as being associated with the University of Manitoba. With the kind assistance of Manitoba Conservation, here are some selected from the literally dozens of individuals so honoured, as cited in their official publication of Manitoba military eponyms, A Place of Honour.
Paymaster Lieutenant Thomas L. Brandson was serving aboard the HMCS Athabaskan when it was sunk by a torpedo from a German destroyer in the English Channel. The captain and 128 men were lost, 83 were taken prisoner and 44 were rescued by HMCS Haida. Shortly after the first torpedo struck, Brandson was seen moving about on deck. However, because it was his duty to throw the ship's lead-covered code book overboard and he went back below retrieving it when the second torpedo struck.
Brandson died on April 29, 1944, at the age of 28, and is commemorated at the Halifax Memorial. He was the sole surviving son of the legendary Dr. Brandur Brandson, a leader in the Icelandic community and Professor of Surgery at the University of Manitoba and Chief at the Winnipeg General Hospital. Tommy did not choose to follow in his father's footsteps as he said he could not stand to see people suffering. Instead he chose training in commerce, and was elected Senior Stick at the U of M by his peers. Brandson Lake (64 N/13), west of Nueltin Lake was named after him in 1972.
Lieutenant Frank W. "Bill" Gayner was with the Regina Rifle Regiment. He died on June 18, 1944 and is commemorated at Beny-sur-Mer Canadian War Cemetery in Calvados, France. Gayner went to Kelvin Technical High School, graduated from Grade 12 in 1941 and was in second year science at the U of M when he was killed.
Gayner lived at the foot of Harvard Street, and his pals were a gang of six other kids in the neighbourhood including Bruce Hale, Beverly Best and John Wiley. When Snow White and the Seven Dwarfs came out, the gang decided each to take the name of one of the dwarfs. Bill came in at the end and so was known as "Dopey Gayner" despite his good marks at school and his very warm good nature. Bill was a big guy, six foot two, and a rather scrawny teenager, but as he matured he began playing football and in the fall of 1942 played for the Manitoba Bisons. But because of a shortage of players due to the war, Gayner and the other Bisons played for the Winnipeg Blue Bombers as well. That year, Gayner played in the Grey Cup, but unfortunately his team lost in a tight defensive game, the Winnipeg Bombers 5 and the Toronto Hurricanes 8.
While at University, Bill had joined the Canadian Officers Training Corps (COTC), which was a basic army training operation for university students for part of the summer and weeknights during the winter. Gayner Lake (52 L/11), south of Black Lake was named after him in 1982.
Lieutenant Norman M. Krolman, of the Three Rivers Tank Regiment, died on May 23, 1944, at the age of 24 and is commemorated at the Cassino War Cemetery in Italy. Like virtually all boys his age, Norman liked hockey and after enrolling at the University of Manitoba in 1939, he joined the team. According to a newspaper account, he excelled at the sport:
Led by Norm Krolman, an unknown youngster who played his first Varsity hockey game Friday night, University of Manitoba took University of Minnesota hockey team into camp by the score 3-2. Krolman, gangling second string centre player, scored two of the Brown and Gold goals and played a sound all around game for the winners (Winnipeg Tribune January 29, 1940).
He enlisted in the Canadian Officer Training Corps while in a second year pre-med program at the U of M (March 1942) and was sent overseas that autumn. After over a year in Britain, he was transferred to the tank regiment for battle experience in Italy before the D-Day invasion. There he lost his life in a fierce tank battle between Pontecorvo and Aquino. Krolman Lake (53 E/16), north of Island Lake was named after Lieutenant Krolman in 1961.
Captain David Stewart Noble was with the Royal Canadian Army Medical Corps. He died on April 22, 1945 at the age of 27 and is commemorated at the Holten Canadian War Cemetery in Holland. Captain Noble graduated with a degree in medicine at the U of M in 1943 and enlisted shortly thereafter to serve the wounded. He was killed when the ambulance in which he was riding struck a land mine. Noble Lake (63 O/16), north of Paint Lake was named after him in 1967.