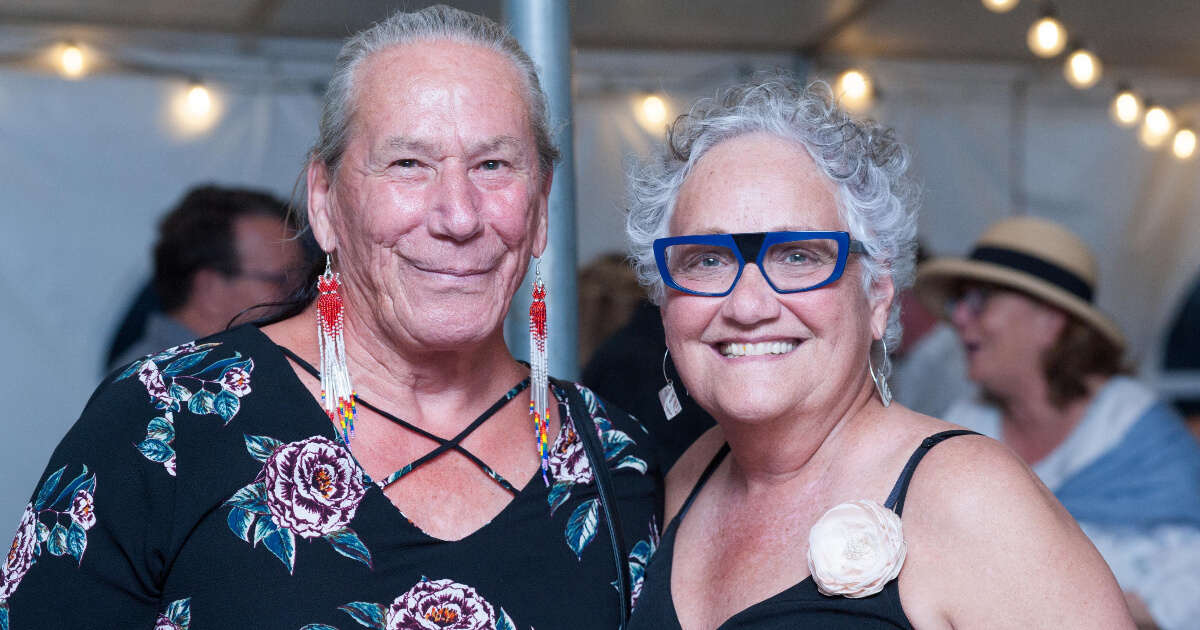 Making Space for Two-Spirit Students, Staff and Faculty
Join Indigenous Two-Spirit/LGBTQQPIA+ Elders in sharing and talking circles every second Tuesday
March 9, 2023 —
Since 2021, the Indigenous Student Centre and Community Engaged Learning have collaborated on a new initiative that brings together Two-Spirit Elders with students, staff and faculty to create spaces for learning and sharing about Two-Spirit (2S) identity.
The circles are offered every second Tuesday from 1:00 to 2:00 p.m. (See spring dates below). Every month, there is one Talking Circle and one Sharing Circle.
Co-host Isca Spillett (Afro-Indigenous with matrilineal kinship ties to Cree and Métis) with the Indigenous Student Centre says it's important for the UM community to have access to these types of opportunities.
"Building community on campus is critical," says Spillett. "We want Two-Spirit students, staff and faculty to feel safe and cared for, so we're excited to be able to offer hybrid circles for the rest of the term. You can continue to participate online or join us in the Circle Room at Migizii Agamik."
Talking Circles bring 2S/LGBTQQPIA+ students, staff, faculty and community members together with allies and offer opportunities to talk and learn about 2S identity, 2S visibility and public spaces, 2S-inclusive ceremonies and more. Sharing Circles are an exclusive space for Indigenous people who are gender and sexuality diverse, who may identity as Two-Spirit, Indigi-queer, non-binary, or reject these labels entirely. The Sharing Circles allow 2S students, staff, faculty and community to gather, share, heal and celebrate their identities.
This spring and summer, the Two-Spirit Elder circles will also offer community-building opportunities on a drop-in basis, including opportunities for 2S students, staff and faculty to take part in 2S-led and inclusive ceremonies on and off campus.
Nicki Ferland (Two-Spirit Red River Métis), the Community Engaged Learning co-host, is grateful for the Elders who create safe spaces for sharing and learning at the University of Manitoba.
"We're so lucky to have Two-Spirit Elders Albert McLeod, Barbara Bruce and Charlotte Nolin lead the circles. They represent Indigenous gay, lesbian and trans experiences, and have so much knowledge, experience and teachings to share with us," says Ferland. "They are really committed to working with our students, staff, faculty and community members, and that love for our Two-Spirit relatives, that commitment to queer community-building, really shines through."
Two-Spirit Elder Talking and Sharing Circles are held on alternately Tuesdays from 1:00 to 2:00 p.m. Join online or meet in the Circle Room at Migizii Agamik (114 Sydney Smith Street, Fort Garry campus).
Talking Circles (2S/LGBTQQPIA+ and allies)
April 4: 2S Elder Charlotte Nolin
Sharing Circles (2S exclusive)
March 21: 2S Elder Albert McLeod
April 18: 2S Elder Charlotte Nolin