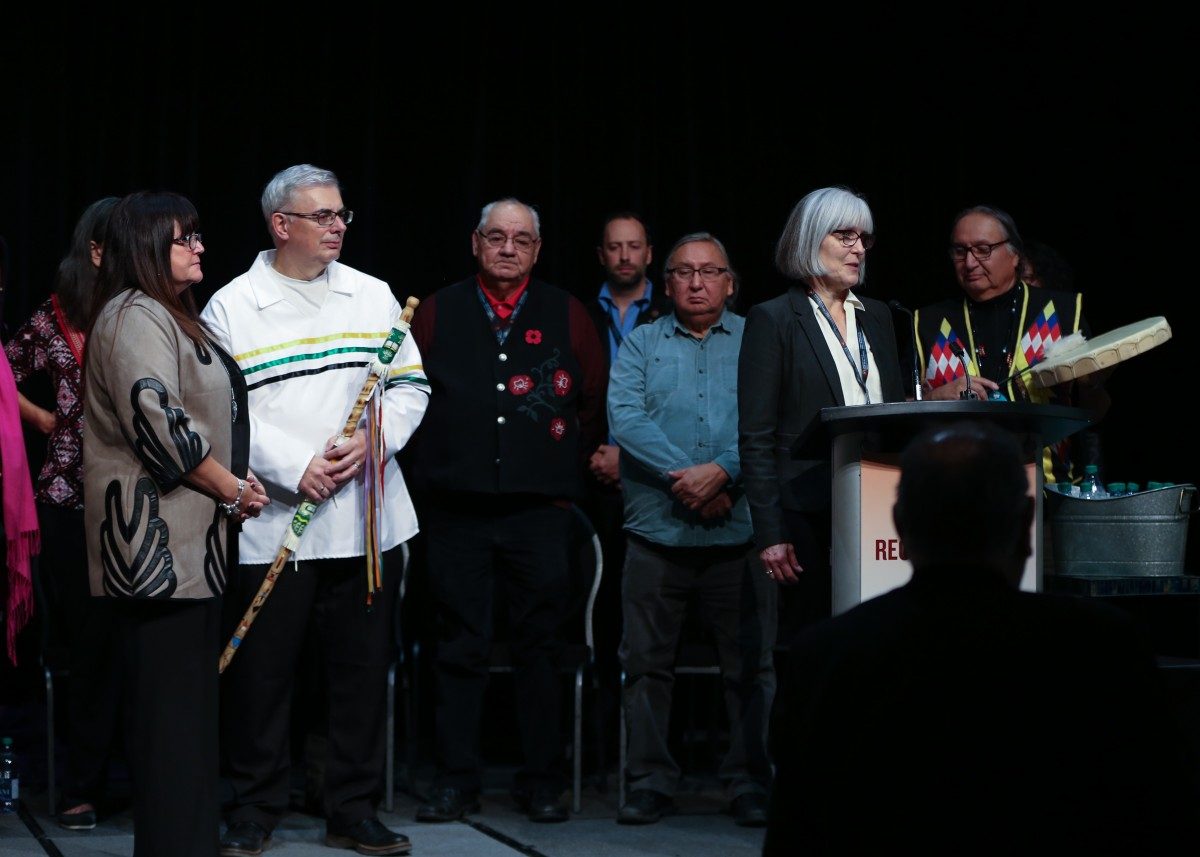 Top Indigenous stories of 2017
December 21, 2017 —
It was another tremendous year of accomplishments in 2017 at the University of Manitoba, including many inspiring initiatives and events that celebrate the successes of the U of M Indigenous community and advance Indigenous achievement.
From awards of excellence, to education and training, to critical conversations regarding reconciliation, these stories highlight just a few of the commitments being carried out on our campuses.
Honouring the outstanding achievements of Indigenous students
The Office of Indigenous Engagement announced the three recipients of the inaugural Indigenous Student Awards of Excellence. The three categories were Community Builder, Outstanding Achievement and Trailblazer. Read more.
'The Future of Indigenous Canada is at Stake'
On May 4, former Prime Minister, The Right Honourable Paul Martin shared the stage in the Great Hall of University College with some of the most prominent Indigenous leaders in Canada. They came to discuss their perspectives and experiences as mentors in Indigenous communities. Read more.
Celebrating Indigenous Student Success
On May 6, over 430 Indigenous students – the largest cohort ever – were honoured at the 28th annual Traditional Graduation Pow Wow. The U of M also acknowledged the accomplishments of four new alumni, who are trailblazers, visionaries, and leaders in our community. Read more.
Introducing the NCTR Survivors Circle
Last summer the National Centre for Truth and Reconciliation (NCTR) issued a call for Survivor representatives to sit on the Survivors Circle of the NCTR. The seven-member body was selected by the Governing Circle and officially welcomed in a ceremony on Jan. 25. Read more.
Meet the U of M's first Vice-Provost (Indigenous Engagement)
On Sept. 1, Dr. Lynn Lavallée was appointed the U of M's first Vice-Provost (Indigenous Engagement). UM Today sat down with her to learn more about her background and goals for the future. Read more.
Our story begins with a gift
In 1883, Métis scholar, educator, lawyer and author Alexander Kennedy Isbister bestowed $83,000 (a value over $1 million today) and 4,000 books to the University of Manitoba. Fast forward to today, and The Front and Centre campaign—the largest philanthropic investment in the history of our province—is already having a transformative impact on students, much like Isbister's gift did. Read more.
20/20 vision
On February 28, the Asper School of Business hosted a panel discussion titled 20/20 Vision: Indigenous Participation: Key to Success of Manitoba's Future Economy. The focus was on the critical need to engage Indigenous participation in Manitoba's economy. Read more.
Elite kayaker James Lavallée making waves on and off the water
On the water, U of M student James Lavallée has amassed a number of accomplishments. But he's just as proud of his Métis roots, and hopes to continue bringing Indigenous students together both on and off campus. Read more.
'I have always seen education as one of the primary ways to achieve equality for Indigenous peoples'
U of M alumnus Heather McCormick [BEd/97, PBDE/05] helps to provide holistic and culturally relevant education and training to Indigenous learners. Read more.
Continuing the journey towards a reconciled education system
More than 350 leaders from Indigenous communities and post-secondary institutions across Canada gathered at the University of Manitoba on Nov. 8 and 9 for the 3rd Annual Building Reconciliation Forum. Read more.