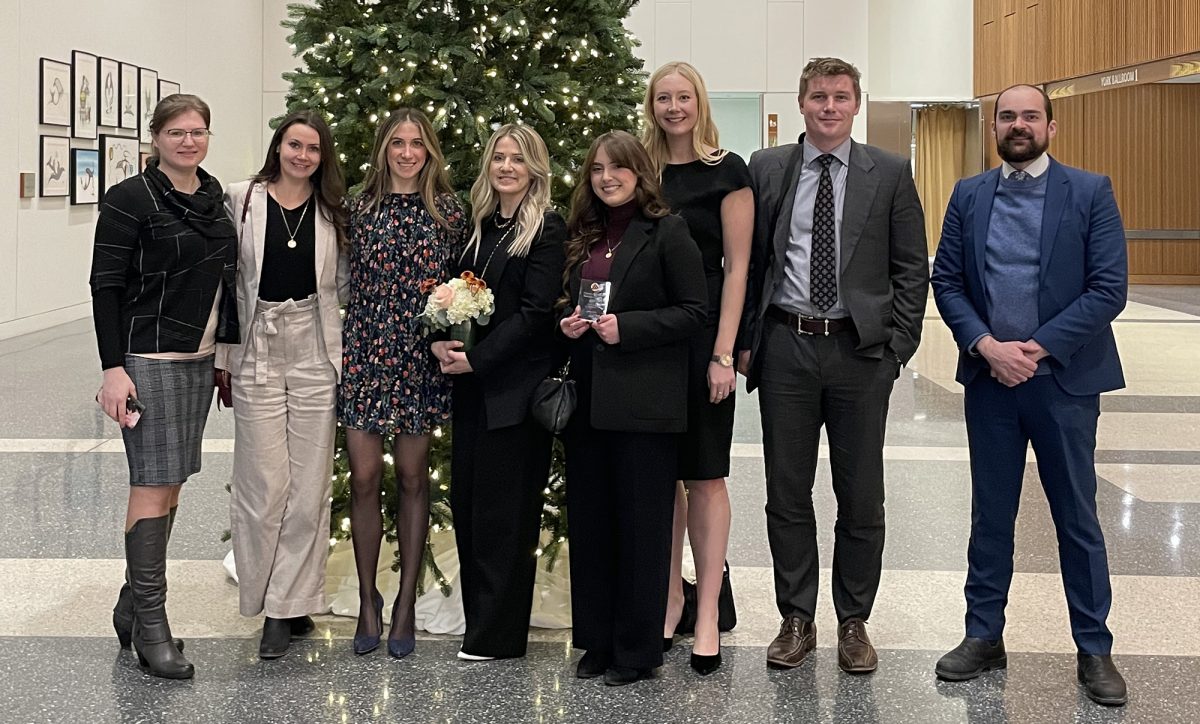 Together, we can achieve
A note on the 2022 VIBE Awards
December 2, 2022 —
On November 17, students from the L. Kerry Vickar Business Law Clinic attended the Visionary Indigenous Business Excellence (VIBE) Awards at the RBC Convention Centre. Presented by the Indigenous Business Education Partners (IBEP) Asper School of Business, the event welcomed students, faculty, staff, event partners, corporate funders and award recipients to celebrate Indigenous thought leaders and entrepreneurial development.
This year's event acknowledged award recipients Janelle Desrosiers (founder of Bloom + Brilliance) and Alexander Hupé (founder of Shortline Moving Solutions).
At the age of 23, Alex Hupé purchased his first commercial truck, sparking the engine of Shortline Moving Solutions. Upon accepting his award, Hupé shared a conversation that he had with an old friend who recently asked about his business. He was struck most by the evolvement of Shortline. What was once an idea in its infancy, is now a business that has over 20 commercial trucks and more than 60 employees. Hupé expressed his gratitude for the Asper School of Business and IBEP for supporting his achievements. He closed his remarks by thanking his family and instructed the room to applaud his mother to whom he expressed gratitude for her consistent support and dedication to his business.
Guests then heard from Janelle Desrosiers, the founder of Bloom + Brilliance, an Indigenous, intersectional feminist and queer-inspired web design business. Desrosiers is inspired by assisting business leaders through specializing in business branding, web design and innovative strategy. While accepting the award, Janelle expressed touching remarks in thanking the supportive team behind Bloom + Brilliance, including Janelle's partner, child, and mother. It was apparent that the ability to share gifts through innovative design at Bloom + Brilliance continues to be ignited by the essence of support and the impact of the ability to come together.
Desrosiers concluded with a question for the audience and asked guests to think of the purpose of reconciliation. Janelle challenged listeners to consider their own contributions to honour the legacy of Indigenous peoples and how reconciliation may be practiced individually. It was an essential reminder to look inward and reflect on our abilities to work together towards a common purpose.
Throughout the course of the evening, students at the L. Kerry Vickar Business Law Clinic reflected on what it means to support Indigenous Business and development. Third year law student and Student Case Manager Julia Beal reflected on her own heritage and how it intersects with her support for business education.
"As a Métis individual, I am so grateful to have had the opportunity to attend the 2022 VIBE Awards. Attending the event with the L. Kerry Vickar Business Law Clinic was especially meaningful to me in that it has given me an even greater sense of hope for the future – reconciliation in business is attainable. I look forward to seeing how the Clinic can further support Indigenous Business Excellence and contribute to business reconciliation through building meaningful relationships with Indigenous entrepreneurs and businesses based on respect, recognition, and partnership."
The evening was a clear reminder on how student to student and faculty to faculty support can help the community engage in reconciliation.
Third year law student and Case Manager, Jenna Symons reflected on her VIBE awards experience. "The event was truly heartwarming as the stories of those that have built something new and created change, demonstrate how the actions of people can lift up a community."
As the event came to a close, Elder Norman Meade gave the closing prayer. He emphasised the impact of supporting one another and the meaning of feeling connected. He expressed gratitude to the gifts that we each can offer and reminded us of the gifts shared from the earth that we live on.
The event itself clarified the meaning of supporting Indigenous Business Excellence. It highlighted the impacts and tremendous results of support, connection, and collective action.
The students at the L. Kerry Vickar Business Law Clinic recognize the purpose of working together towards reconciliation. As future leaders of tomorrow, we must work together towards serving justice and integrity to our communities, and working collectively towards achieving reconciliation.