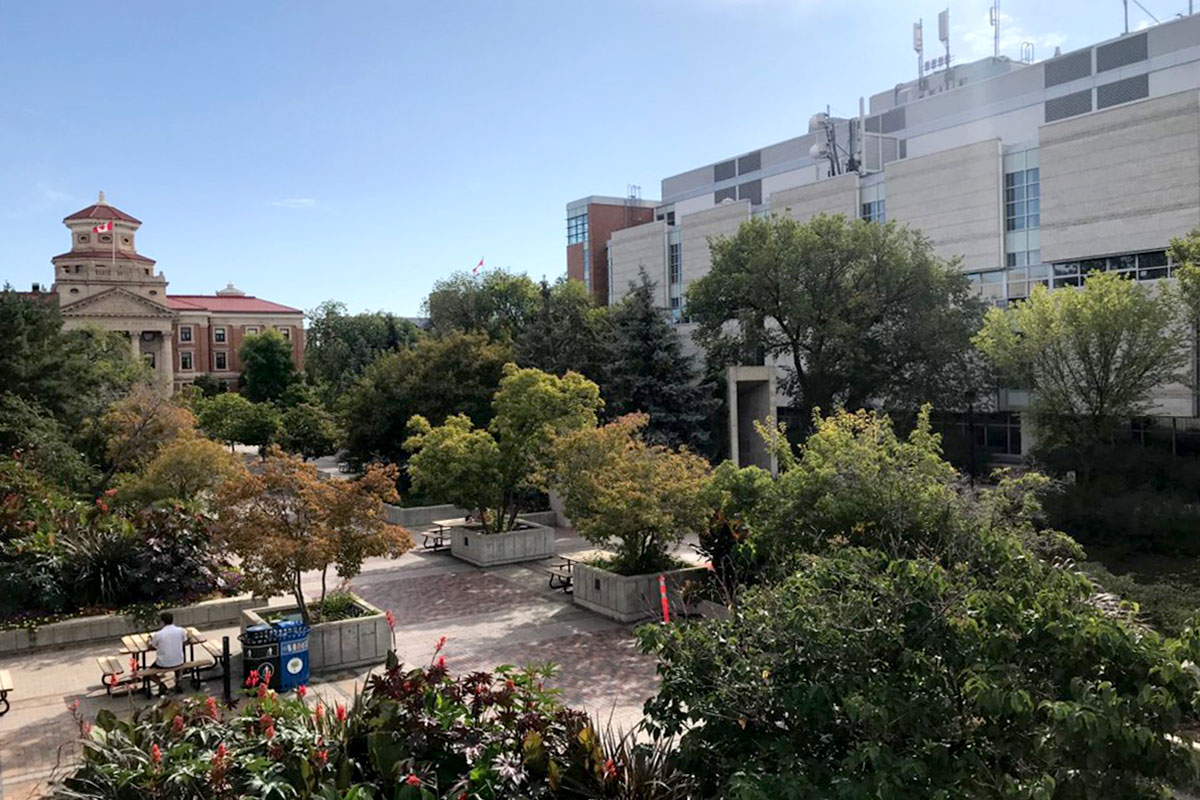 Thank you: New initiatives to thank you for your dedication and perseverance
June 9, 2021 —
The following is a message from Michael Benarroch, President and Vice-Chancellor at UM:
It's an understatement to say it's been a tough year. And although this is not the spring Manitobans hoped for, I want to share some good news with you.
Before that, I want to quickly say how grateful I am for all you have given to ensure the success of our academic, research and community engagement missions. I want to thank you for the extra time you've given to your work this year. All the space you sacrificed at home to do that work. All the new learning and developing you did to remain committed to our success.
As our community is adapting yet again to an uphill struggle with the latest COVID realities, alongside the complex personal and professional realities for each of us, the University of Manitoba wishes to express its gratitude for your continued dedication and perseverance.
July 2, 2021: Time to recalibrate
In recognition of all the ways our community has gone above and beyond to continue working throughout the pandemic, the University will be closing on Friday, July 2, in addition to the regular Canada Day closure on Thursday, July 1. This will be a paid day off for all employees who would normally be scheduled to work on July 2, and it will not be deducted from your vacation bank.
While an additional day off will not allay the impact COVID-19 has had on our well-being, I hope this time provides you with some additional time for self-care and recalibration. I also recognize not every faculty and staff member will be able to take advantage of the July 2 closure and I encourage those of you who cannot do so to speak with your supervisor and arrange an alternative plan for you.
June 22-24: Time to THRIVE
I also want to highlight some initiatives that celebrate the positive impacts made by our community over the past year, and to draw your attention to something new that we hope can help us to go beyond just "surviving" to "thriving."
THRIVE is a faculty and staff learning and wellness event taking place June 22-24. We've created this learning and wellness event in response to the great interest many of you have expressed in acquiring new tools for better well-being, resilience and productivity. There's a vast range of activities in these 50-minute sessions and I encourage you to find one or more that inspires you. Supervisors are being directed to work with and support their staff in attending these sessions.
More information will be shared in the days ahead and you can visit this THRIVE website to learn more. Thanks to staff in HR, IST, the Centre for the Advancement of Teaching and Learning, and Marketing Communications for bringing this together for our UM community.
Week of June 21: Time to celebrate Awards of Excellence
The Awards of Excellence annually recognizes the remarkable work accomplished by our support staff. This year's Awards of Excellence will recognize those staff who, through their efforts, helped bring out the very best in the University of Manitoba during the COVID-19 pandemic. There were extraordinary efforts to maintain critical operations, assist faculty and students in transitioning to online classes, support critical research or facilitate the shut-down and restart of research activities, and to ensure the safety and well-being of others—all accomplished while effectively supporting UM's vision and mission.
This year we received higher number than usual award nominations, reflecting the outstanding efforts of our community and the desire to recognize and celebrate our colleagues. All nominees and their respective achievements will be formally celebrated, and the President's Award presented, during the week of June 21.
Our Outstanding Community
When I decided to return to Manitoba as your President and Vice-Chancellor, I knew I was returning to a special place of people who truly create change for our community and impact people's lives around the world. I knew I was returning to people whose commitment to teaching, research and community outreach is top of its class. And while the circumstances changed entirely how I returned and to what I was returning, I believe this year was a window to the absolutely outstanding individuals that make up our community.
Thank you for all your hard work. Stay safe. I encourage faculty, staff and students to get vaccinated as soon as you are eligible.
I look forward to meeting with you in person, so I can thank you for all you have done over these past 15 months.
Sincerely,
Michael