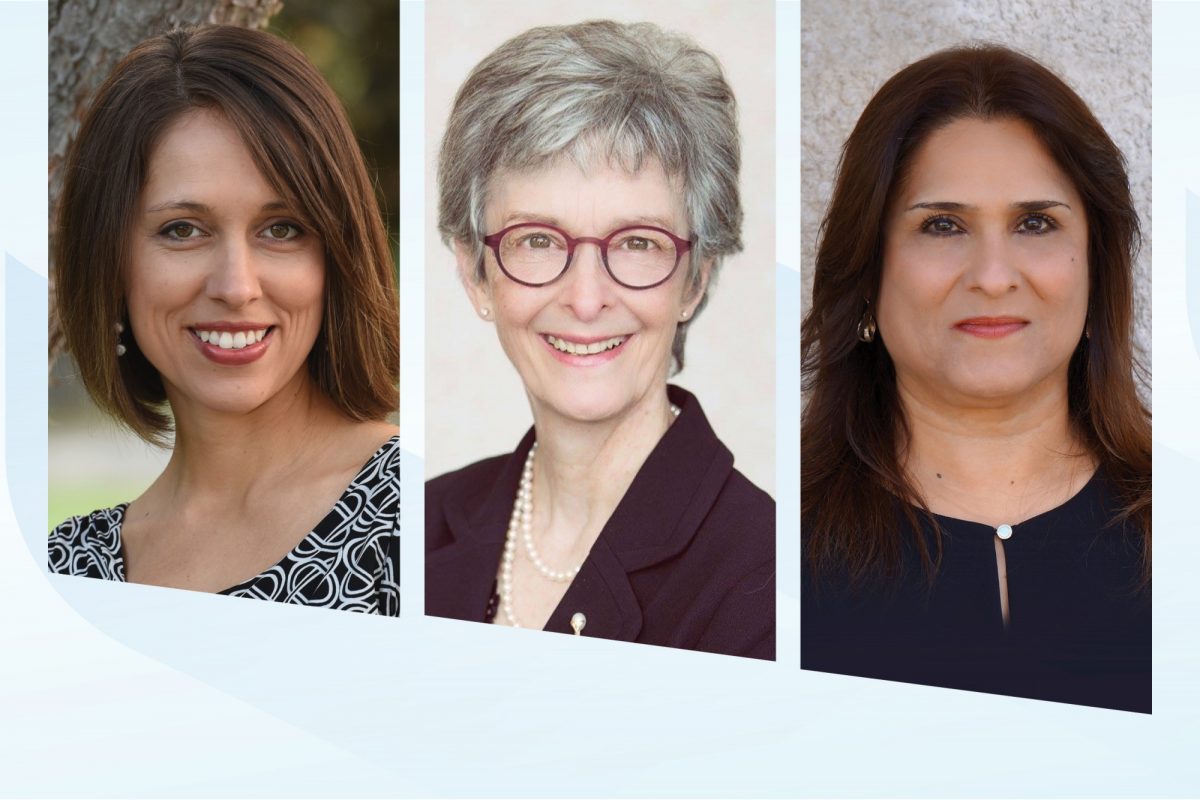 Three UM researchers among most powerful women in Canada 
December 1, 2020 —
Three professors at UM have been named among Canada's Top 100 Most Powerful Women in 2020, by Women's Executive Network (WXN).
Drs. Meghan Azad, Sara Israels and Soheila Karimi at the Rady Faculty of Health Sciences are receiving the honour in three categories, respectively: Emerging Leaders, Professionals, and Science and Technology.
"In a difficult year, we've been inspired by Canada's highest achieving women who unite those around them and help us all rise above our challenges," said Sherri Stevens, owner and CEO of WXN. "These powerful women continue to lead the way, which is why it's important to celebrate their achievements."
The trio join 17 UM recipients named Canada's Most Powerful Women: Top 100 since the awards began.
"These women are incredible leaders who are achieving inspiring accomplishments," said Digvir Jayas, vice-president (research and international) and UM Distinguished Professor. "Their diligent, passion-fueled activities are innovative and impactful, and they have each transformed research, medical education and care in our province and around the globe."
Launched in 2003, WXN is Canada's national organization that propels and celebrates the advancement of women at all levels, in all sectors and of all ages. The winners range from rising stars to top of their fields to advocates to champions for others to community leaders to teachers and students. They are breaking ground for future generations. WXN is hosting Canada's Most Powerful Women Top 100 Awards Program, which includes a virtual two-day Leadership Summit and Gala on December 2 and 3.
"It's gratifying that these outstanding women, true role models, are being formally recognized for their many achievements as leaders, researchers, and in academic medicine, " said Dr. Brian Postl, dean, Rady Faculty of Health Sciences. "Their contributions demonstrate our commitment as a faculty to empower and advance women and members of under-represented groups and I sincerely congratulate all three faculty members on this prestigious award."
The honourees
Meghan Azad (pediatrics and child health, Children's Hospital Research Institute of Manitoba), awarded in the Emerging Leaders category, which celebrates the professional achievements of women aged 30 to 45 who are at the mid-level stage of their careers. These women are seen as high-potential contributors within their organizations, are passionate about learning and innovating, and have accomplished a great deal in their chosen field.
Sara Israels (pediatrics and child health, cell biology, Research Institute of Oncology and Hematology, Health Sciences Centre), vice-dean (academic affairs), awarded in the Professionals category, which recognizes women who are professionals in practice and are leaders within their organizations.
Soheila Karimi (physiology and pathophysiology, Children's Hospital Research Institute of Manitoba), awarded in the Science and Technology category, this award celebrates female leaders in Science, Technology, Engineering, Mathematics (STEM) roles who are challenging the status quo for knowledge and female empowerment.
Research at the University of Manitoba is partially supported by funding from the Government of Canada Research Support Fund.