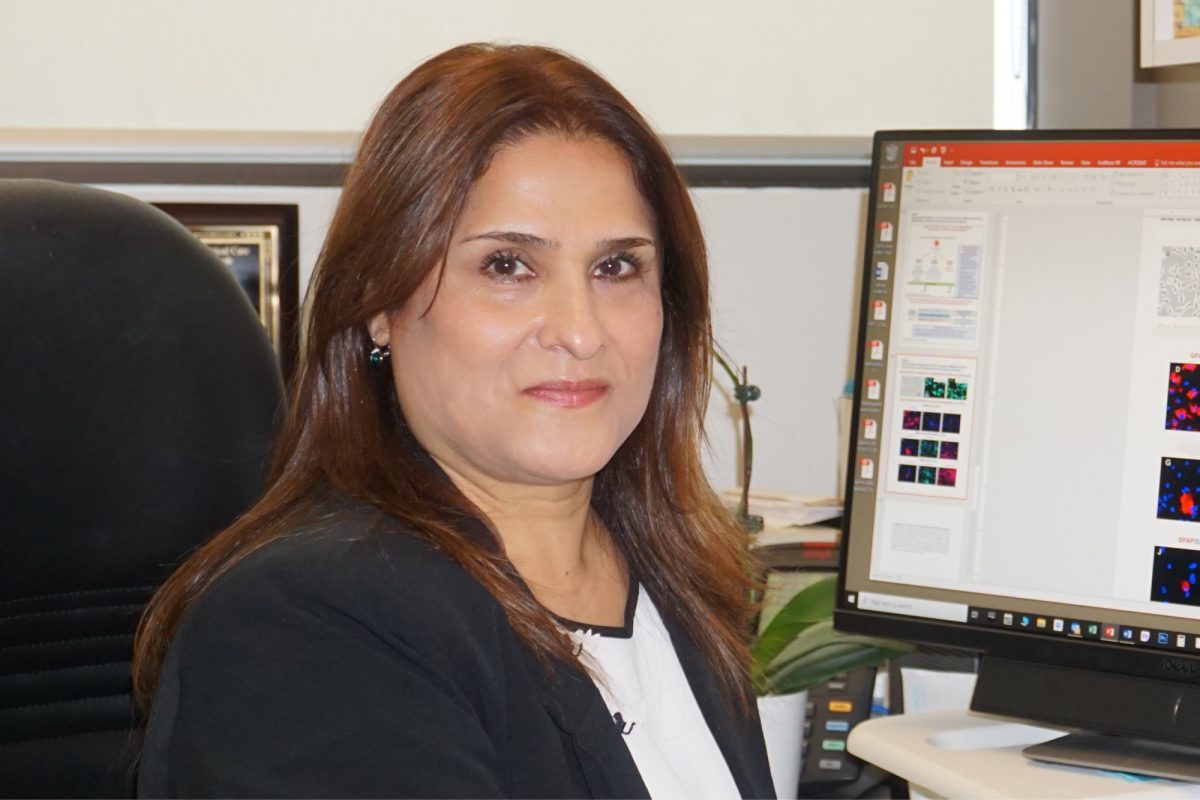 Soheila Karimi
Named among Canada's Top 100 Most Powerful Women in 2020
December 1, 2020 —
2020 Women's Top 100 winner Dr. Soheila Karimi is a professor in the department of physiology and pathophysiology and a senior scientist in the Regenerative Medicine Program at the Max Rady College of Medicine, as well as a scientist with the Children's Hospital Research Institute of Manitoba.
Karimi is an internationally recognized leader in neural regeneration and stem cell research who has brought prestige and innovation to Canada and Manitoba. Her expertise is unique as she contributes to both basic and applied translational discoveries. Her program has focused on therapeutic development for spinal cord injury and multiple sclerosis, aiming to improve the quality of life of individuals affected by these debilitating conditions. Her pioneering work in the development of cellular therapies has been a landmark in the field, provided an original reference that neural stem cells can be used therapeutically to repair the damaged spinal cord and improve recovery in experimental models. Importantly, concepts and technologies developed by Karimi have contributed to the launch of current stem cell clinical trials for individuals with spinal cord injuries. Her research on multiple sclerosis has also discovered new treatment targets and potential disease markers.
"It is inspiring and extremely rewarding to know that my passion for discovery and science may make a difference in people's lives. This has empowered me to push myself out of my comfort zone and because of that I have become a better scientist, educator, mother and human being," she says.
She is an exemplary scientist and educator who has prioritized the advancement of women in neuroscience and translational research, working hard to pave the way for other female scientists to enter this field. She has taken a hands-on approach for the mentorship of young women to meet their individual needs and to succeed, particularly students from developing countries. This passion stems from her own experiences as an international student coming to Canada with the dream of becoming a neuroscientist. She has now established an internationally recognized program that provides mentorship and cutting-edge biomedical technologies for training the next generation of Canadian neuroscientists. Her mentorship approach has been successful, as trainees in her program have received coveted awards and recognition and have ultimately achieved their goals.
In addition to advancing science and technologies in Canada, Karimi has also holds prominent national and international leadership roles in her field. She is an elected member to the Board of Directors of the Canadian Association of Neuroscience, which advocates for neuroscience research and makes recommendation to the Canadian Government on research policies and funding. She sits on the Scientific Advisory Board of the International Neurotrauma Society and has participated in forming the Inaugural Executive Committee of the International Women in Multiple Sclerosis that advocates for a supportive environment for women working in the field of multiple sclerosis world-wide.