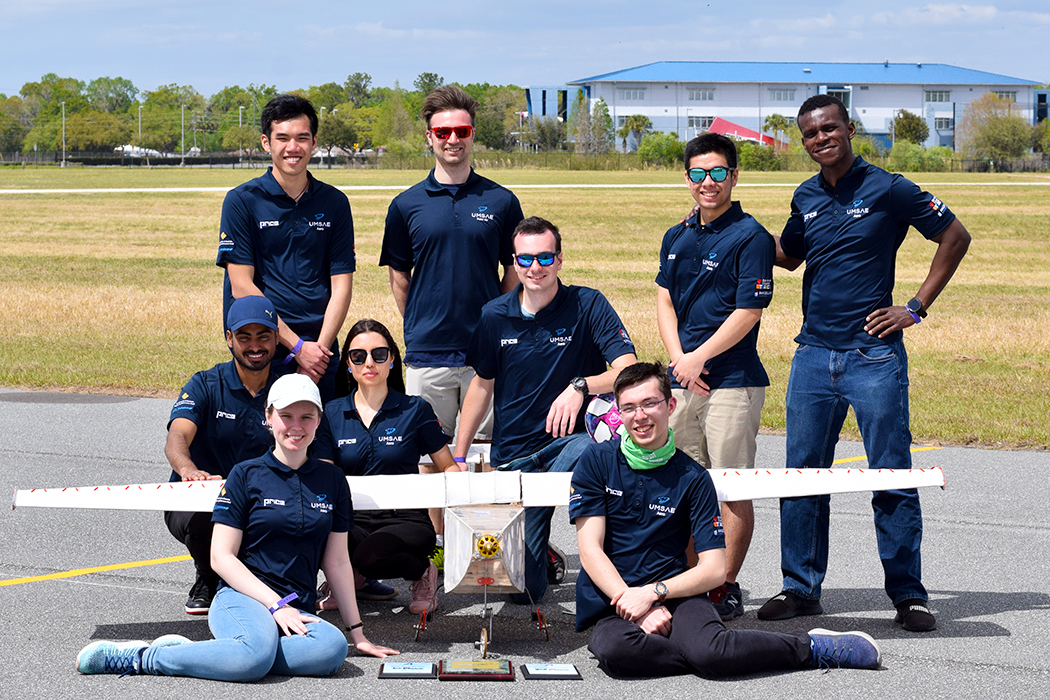 Three-peat for UMSAE Polar Air
Team returns from competition with 1st place in design report, 2nd place in mission performance, and 2nd overall.
March 21, 2020 —
The UMSAE Polar Air has grown accustomed to returning home with handfuls of hardware and international recognition for their builds. This year is no exception. The team has previously received international recognition stemming from competitions in 2017, 2018 and 2019.
On March 6th and 7th, the team faced off against 31 other teams from United States, Brazil, India, Poland, Czech Republic, and Mexico. They designed and manufactured a lightweight RC aircraft that carried a heavy payload that included a soccer ball and metal plates. This was the first time the team had a new set of rules to abide by which drastically altered their design from the previous three years. In September, the team began their initial design where they sized the aircraft, manufactured and tested a foam prototype. They then optimized sections of the aircraft and manufactured a wood prototype followed by and two competition planes.
This year, the team placed 2nd overall at the competition, 1st place in design report and 2nd place in mission performance. The Mission performance score includes the sum of the top three flight scores over seven rounds plus a bonus on how accurate the predicted lifted payload weight was in comparison to the design report.
Team lead Quinton Gitzel says, "Preparing for competition is always challenging, especially with the new rules. But the success of the team is credited not just one individual, but rather the team as a whole. Stepping up as team lead this year was a challenge as we had big shoes to fill based on the previous years' competition performance. Attending competition challenged me and the team to quickly assess risk and make decisions on whether we should fly the flight round and how much weight to carry. I am really proud of the team this year and the success we achieved from all the adversity we faced throughout the year and at competition."