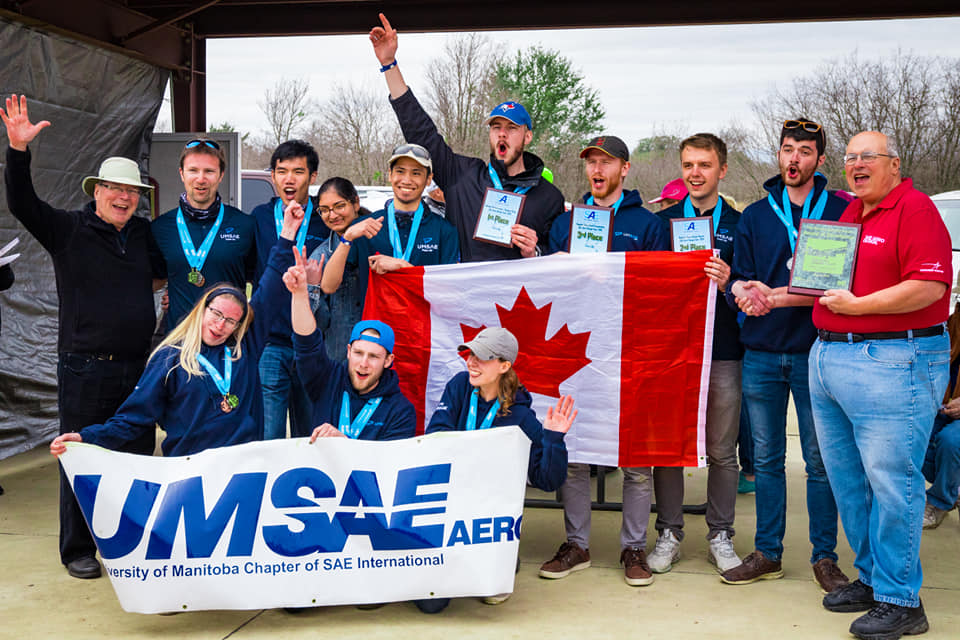 UMSAE Aero Team returns from international competition with 1st place finish for second year in a row
Team also placed first in mission score, second in design report, and third in technical presentation.
April 15, 2019 —
The UMSAE Aero team recently returned home from competition with a handful of hardware and some serious bragging rights. The team competed at the 2019 SAE Aero Design East competition in Fort Worth, Texas from March 8 – 10, 2019. The team claimed first place in mission performance, second place in class design report, third place in class oral presentation, and received the Elliott & Dorothy Green Award of Excellence for placing first overall in class for the second year in a row, something few other schools have ever achieved.
This major win was made possible because of a strong, dedicated team of students along with supportive faculty members who advise the team on technical and design direction. Team members put in many hours of work into the project while continuing regular studies and juggling many different tasks and objectives.
This years team members were: Julian Audette, Robin Armstrong, Filip Szymanski, Ellyn Waschuk, Amory Wood, Nivida Mishra, Justin Huhtala, Allan Parajas, Bradley Litviak, Miriam Mazor, Zifeng Liang.
No one was more proud of the team than their faculty advisory, Ed Hohenberg.
"It's an awesome thing to have our University of Manitoba SAE Aero team win the SAE Aero Design Competition for the second time in a row, for a number of reasons. First it proves to any skeptics that last year's win wasn't a fluke. Secondly, it shows the world that Manitoba really is a center of excellence for Aerospace Engineering (the local Boeing, Magellan and Standard Aero companies have all been long time sponsors and supporters of our UMSAE teams). And last but certainly not least, the students that participate on these teams as an extracurricular activity put in a tremendous amount of time and effort throughout the year, so winning the world competition gives them the ultimate sense of accomplishment."
Congratulations to the team members on this incredible accomplishment and representing U of M on the international stage!