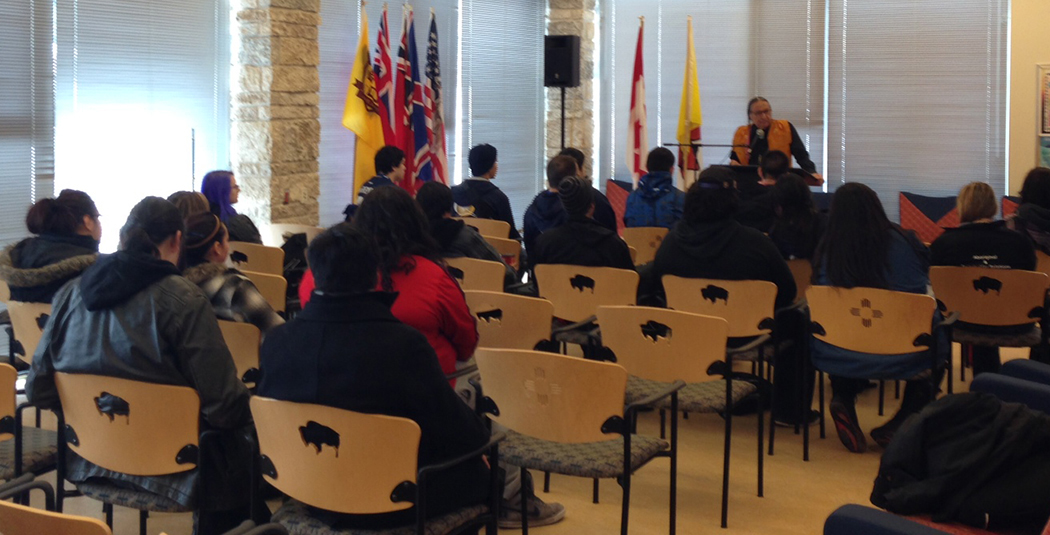 This youth soars!
March 24, 2014 —
On Thursday, March 20, over 400 Indigenous students were at the U of M to participate in a Indigenous career fair and conference called Soaring.  Youth from across the country spent the day making five "tour stops" or sessions and interactive workshops around campus.
At Soaring, students participated in campus tours, engaging career workshops, an interactive trade show with industry professionals and received information regarding Indspire's scholarship and bursary programs. They also met representatives from different colleges, universities, federal and provincial governments, corporations and Indigenous organizations.
The organization Indspire invited high school educators and their First Nation, Inuit and Métis students to attend Indspire's Soaring: Indigenous Youth Career Conference at the University of Manitoba. It's the first time a Soaring conference has been hosted by a post-secondary institution.
Deborah Young, executive lead, Indigenous achievement, said, "The University of Manitoba is proud and honoured to partner with Indspire to host the Soaring: Indigenous Youth Career Conference at our campus, and share the many opportunities that university can offer.
"It is very exciting to have the next generation of leaders and trailblazers come to the U of M, and engage in fun, hands-on activities that explore many ways of understanding the world."
As part of Soaring, the Indspire awards –  formerly the Aboriginal Achievement Awards – took place Friday night at the Convention Centre. U of M student University of Manitoba Metis student Christie Lavallée received honours in the Youth – Metis category. The University of Manitoba was a sponsor of the event.
Here's what happened throughout the day of the Soaring trade show and conference:
 The career trade show at U of M started with everyone in MPR; President David Barnard welcomed the youth to campus.
At the career trade show, students had 40 minutes to visit 29 exhibitor booths, ask questions and fill their passports with stamps. Students completed their passports before leaving the trade show area.
Students also visited the Asper School of Business where the Aboriginal Business Education Partners (ABEP) staff and students " delivered a fun, fast and furious marketing competition that allowed students to reveal their creative side," said program coordinator Peter Pomart.
"Participants received their mission dossier by watching a video of a special edition newscast that featured ABEP students as news anchors. The newscast was followed by the busiest 12 minutes of the participant's lives as they developed a product name and idea with an accompanying 30-second sales pitch!" he added.
At the Faculty of Engineering, students participated in activities at the Shell Undergraduate Environmental Teaching Laboratory or the Hydraulic Research Facility.
Randy Herrmann, director of the Engineering Access Program (ENGAP), said, "The Faculty of Engineering was excited to host several hundred Indigenous students that came to campus as part of the Inspire Soaring Higher event.
"Hands-on learning was the order of the day as students took part in either constructing a rudimentary water filter out of sand and gravel in the Shell Undergraduate Environmental Teaching Laboratory or constructing a small raft made out of tinfoil in the Hydraulics Research Facility. The WISE Kid-Netic Energy program was responsible for developing and delivering the water filter project, while ENGAP was responsible for the tinfoil raft project. As well, special thanks must go out to Alexander Wall for giving tours of the Hydraulics Research Facility. Thanks also to Dr. Shawn Clark for use of the Hydraulics Research Facility and to Dr. Ahmed Shalaby for his support."
Students also visited Migizii Agamik-Bald Eagle Lodge, where they learned about the history, meaning and cultural significance of Migizii Agamik, built and designed in Indigenous traditions and Knowledge. Students shared excellent feedback about their visit here. Migizii Agamik plays a key role in fostering success and  embracing the strengths of First Nations, Metis and Inuit students; it's a 24-hour safe environment enjoyed by students of all walks of life and living and  promoted  by Aboriginal staff and students who work and learn there.
The session at Migizii Agamik involved both the building tour and talk by Carl Stone, advisor at the Aboriginal Student Centre, which is housed in Migizii Agamik. The students also had the opportunity to engage in the activity led by Camille Callison, Indigenous services librarian and liaison librarian for anthropology, Native studies and the Faculty of Social Work, Elizabeth Dafoe Library.
She said, "Students played Indigenous Bingo, a fun, informative, interactive game led by the Indigenous library services, student life, the University of Manitoba Aboriginal Student Association and Metis Student Association. Student were given an opportunity to introduce themselves, to tell others where they were from and what they intended to pursue in the future in a sharing circle."
In the Faculty of Kinesiology and Recreation Management, Indigenous staff with the Rec and Read Mentor program, a culturally-based afterschool FKRM outreach program, began each session by welcoming and gathering Soaring youth into the centre of the gym.
Laughter and shouts quickly followed the introduction of foxtail games by cultural instructor Blair Robillard. Whirling the foxtail in a circular counterclockwise motion, students quickly learned to carefully track the arcing motion of the foxtail, nervously anticipating Blair's cue to "jump, duck, dodge" as it whipped inches from their heads, feet and sides. The energy continued to build as Rec and Read staff taught youth traditional Aboriginal games such as Dog Soldier, Gentle Always Wins, Walrus Push, Fox Tail toss, Ball Dance, and Screaming Eagle.
Bison athletes from basketball, volleyball, swimming, and soccer dropped by to share their experiences at the U of M and the challenges of balancing their academic and athletic responsibilities.
About Indspire
Indspire is the former National Aboriginal Achievement Foundation. Its new name combines the key notions of Indigenous and inspiration to highlight its exciting mandate. Indspire is best‐known for its many programs that help Indigenous youth succeed. In addition to bursaries and scholarships, they offer career conferences for youth, interactive classroom learning modules, the Indspire Institute and the Indspire Awards. Indspire's focus is on supporting, innovating, and fundamentally transforming Indigenous education. In 2012‐2013, Indspire's Building Brighter Futures program provided over $5 million to more than 2,000 Indigenous students across Canada.
Indspire is by Indigenous people for Indigenous people. As the website notes, it serves Indigenous students across Canada, from major urban centers to remote communities, and all people: First Nation, Inuit and Métis. Its career conferences for youth are held three times per year in large cities across the country to bring high school students and industry experts together.