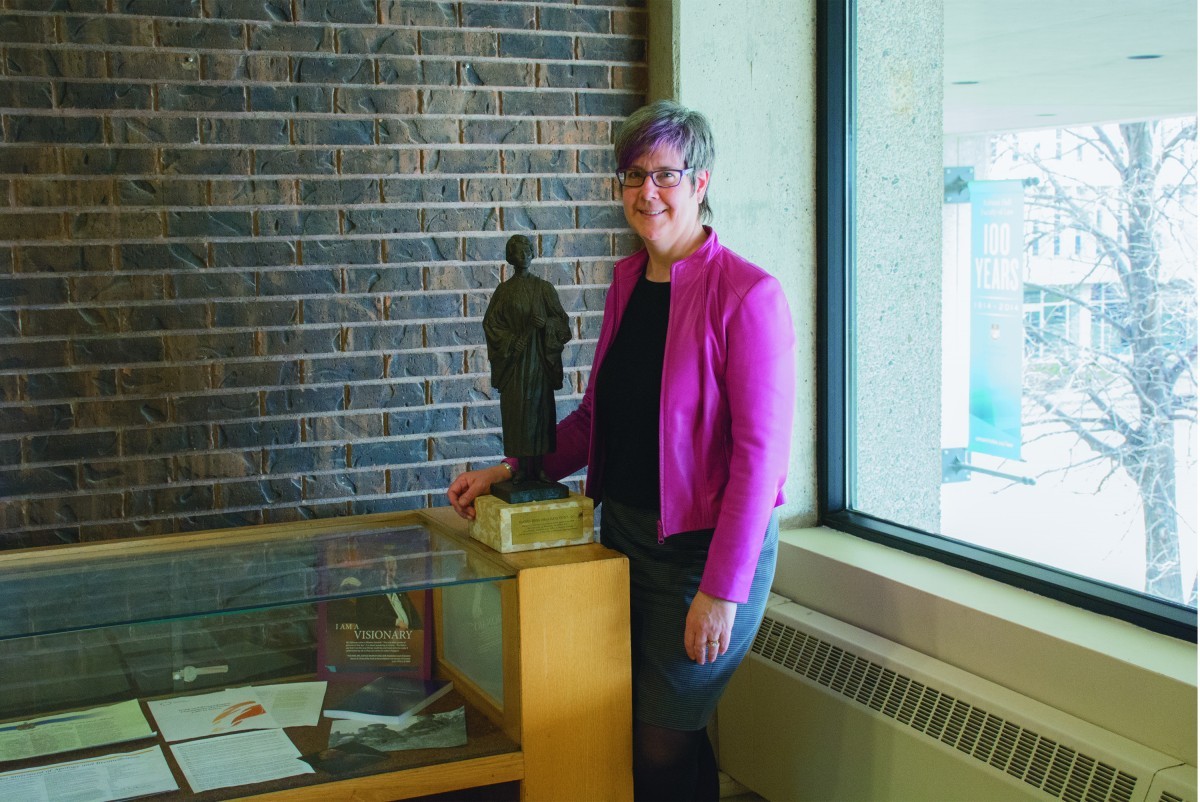 This is my final day as Dean
June 30, 2016 —
The following is a memo from Dean Lorna Turnbull to the Robson Hall community on the eve of her departure from the role of Dean, Robson Hall, Faculty of Law at the University of Manitoba. Professor Turnbull will resume a faculty position as of July 1, 2016, and Dr. Jonathan Black-Branch will assume the role of dean.
Colleagues,
This is my final day as dean of the Faculty of Law at the University of Manitoba.
When I decided to throw my hat in the ring for Dean, I wasn't sure what to expect from the position. Despite having served five years as Associate Dean, I didn't fully comprehend the demands of the role. I did not truly understand the number of hours of work associated with being Dean, nor did I expect the emotional, physical and mental challenges the role would present.
If I had known these things, I would have done no different.
Six years ago, I threw myself headlong into serving our community so this school would be the best it could be. Six years later, as I return to my first passions of teaching and scholarly inquiry, I remain devoted to serving Robson Hall. We have done so much together in these six years and I want to thank you all for being so willing to come along for the ride. Throughout the years, with your support and with your challenges, you have made our flourishing possible, constantly reminding me this has all been worth the effort – we are all worth the effort. Our mission is worth the effort. It is a mission we have pursued for more than one hundred years; it is a mission we will continue to pursue for hundreds more.
It is easy to get caught up in our day-to-day activities and lose sight of the progress we have made together. As I pause to reflect on my time as leader of this wonderful community, I see how far we have come. When I gave my recruitment speech in 2011 about my vision for Robson Hall, I said three things – that vision grows out of collective and shared leadership; that a process that makes space for all voices is a necessity; and finally, that I saw us "as a law school known for teaching lawyers and leaders who promote access to justice for all, who will help Canadians move toward right relations with aboriginal peoples and who will be firm in the knowledge that the profession must serve the public interest." Over the past six years we have strengthened and challenged our shared leadership through sometimes difficult – but always necessary – conversations, and together we have accomplished more than I thought possible.
Our students have benefitted from our efforts. We've consulted widely and researched deeply, developing innovative approaches to our JD program. Through the efforts of the Academic Innovation Working Group and the Director of Experiential Learning we have created a framework for revitalizing our curriculum and providing our students with substantial clinical and experiential learning opportunities. We have increased access to justice in both official languages through our French language program (for which we have been awarded more than $500,000 in federal grants). We have successfully completed graduate and undergraduate program reviews, and we have maintained approval for our JD program under the Common Law Degree Approval of the Federation of Law Societies of Canada. Despite an extremely volatile environment provincially and at the University, we have initiated productive consultations and engaged with students about the plan to increase tuition to ensure we can flourish into the future. We have established a tradition of welcoming our students to our community with uplifting words from an Elder and from the Chief Justice of Manitoba, who gives them a personalized copy of the Code of Professional Conduct. We send them off in record numbers through the University Convocation Ceremony, where instead of an LL.B. they now earn a Juris Doctor degree. Our students have heard from incredible honourary degree recipients including Supreme Court of Canada Justices Marshall Rothstein and Rosalie Abella. We have placed five students as clerks to the Supreme Court of Canada and we have maintained a career placement success rate of approximately 95 per cent in local and national markets despite national downturns in opportunity.
Our faculty members have benefitted from our efforts. We've begun celebrating excellence, recognizing our faculty through a number of awards from the University including the Rh Awards, the Stanton and Saunderson Awards, countless Merit Awards, as well as numerous MBA and CBA awards, and nominations for important national awards. We've created our own award – the Barney Sneiderman Award – to properly acknowledge teaching excellence within our own school. We have worked hard together to identify our strengths and create a strategic plan, laying the groundwork for our future as a leading law school with a focus on indigenous peoples, human rights, and business/private enterprise law. We've supported the creation of the Centre of Human Rights Research (and provided it a home) and of the National Centre for Truth and Reconciliation at the University of Manitoba. We've started an ongoing journey of responding to the Truth and Reconciliation Commission's Call to Action #28 in both spiritual and tangible ways. We have looked at ways to support our research through the work of the Scholarship working group, the efforts of the Associate Dean (Research and Graduate Studies) and through effective grant writing. We have a made impacts with our work – locally, nationally and beyond.
Our larger community has also benefitted from our efforts. Our students offer service to the public through the University Law Centre, the Legal Help Centre, ProBono Students Canada and other avenues of community engagement. Our colleagues serve the community through research, work with local, national and international organizations and selflessly volunteer their service to in-need organizations. We enjoy a rich and respectful relationship with the various branches of the profession in Manitoba. In all of this, a tremendous team of staff members comes to work each day to encourage our students and colleagues in our shared mission – it is with their support that we are able to extend our reach into the larger community.
Our alumni and friends have contributed enormously to the success of our efforts. We've hosted hundreds of events and fostered relations between our students, alumni, staff, faculty and members of the legal community across Canada. We've raised millions of dollars toward supporting our students, improving our classroom infrastructure, reinvigourating our education, and recruiting and retaining high-calibre faculty and staff. We've recognized our donors, many of whom are alumni, through our beautifully inspiring donor wall. In the coming months we will receive millions more in support from alumni and friends and we will follow through on our plans to redevelop the lower level of Robson Hall.
In the midst of all of these accomplishments, we celebrated one hundred years of Robson Hall with an amazing gala (complete with a special commission from the Royal Winnipeg Ballet), an ethics symposium, a conference on legal education, an engrossing film and a beautiful book. We have much to look forward to in our second century.
In that speech in 2011, I closed by saying that believed the most important vision I could bring to the deanship was the belief that we can come together to collectively produce our vision for the future and that we would be stronger and better for doing so. I believe we have done this and as we welcome our new Dean, Dr. Jonathan Black-Branch, we will continue to grow and flourish. I have described just a few of the things we have achieved together while I have served as Dean. As you can see, the graph is trending upward and will continue to do so under the leadership of Dr. Black-Branch.
It can be easy to forget what one has achieved when one is as devoted to one's work as each of you is. Before I became dean, you were working; during my terms as dean, you were working; when Dr. Black-Branch is dean, you will continue working to build this school into something great, something of which we should all be proud.
We have many more accomplishments I could list, but that is not really my point. Instead, on the eve of my departure, I'd like to invite you to consider the bigger picture. Think over our past six years together – count your victories, large and small – and remember what we're all working for.
Yours in justice,
Lorna Turnbull
Dean & Professor
Robson Hall, Faculty of Law
University of Manitoba