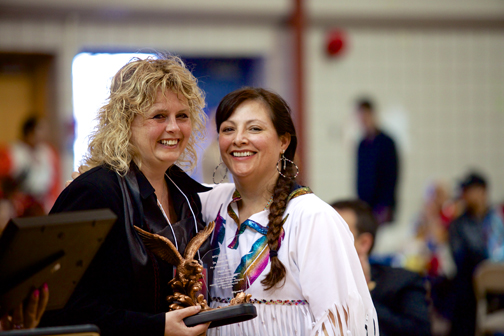 The heart of teaching: Annual Migizii Award handed out at Traditional Graduation Powwow
May 23, 2013 —
Mariianne Mays Wiebe
There's a First Nations teaching that cautions against leading with the mind rather than with the heart. For master's graduate Thelma Nice, this teaching made nominating her professor Dawn Wallin for the Migizii Award an easy decision.  The former student says that after she gave up on her dream of earning her advanced degree due to personal issues, it was Wallin's "extra mile" and demonstration of heart that pulled her back in.
The annual Migizii Award, now in its third year, acknowledges a university staff member who went above and beyond for an Aboriginal students on campus. Nomimated by an Aboriginal student, the award is presented to the selected staff member at the Traditional Graduation Powwow. It is available to all staff members of the U of M, both Aboriginal and non-Aboriginal who made a difference.
Nice says that early in her master's program, she took a course with Wallin, and enjoyed her class very much, but upon finishing, had no further contact with her. Struggling with personal issues, she gave up after papers were due and deadlines had come and gone, she notes. She had already given up on her dream, she says, and "resigned herself to the daily grind of reserve life when out of the blue, she received a call. It was Wallin.
Now acting head of the department in which Nice was studying, when her paperwork came across her desk, she recognized Nice's name from the course. "She asked what had happened and why I wasn't continuing in my program when I was so close to completion.
"It was during this conversation that Dawn offered to be my student advisor and with her guidance and support, I was able to complete the Master of Education Administration," finishes Nice.
On her nomination form, Nice wrote, "I am nominating Dr. Dawn Wallin for the Migizii award because she has demonstrated a traditional Frist Nation teaching, which is the importance of acting and leading with the heart. Dr. Dawn Wallin reached out to me, she gave me as second chance and supported me along the way. Dr. Dawn Wallin has made a difference."
Wallin: I was deeply struck by how one small act of support in a single moment in time can have life affirming impacts on others
For her part, Wallin says that she is humbled by the nomination. "I was deeply struck by how one small act of support in a single moment in time can have life affirming impacts on others," she says. "Thelma's nomination helped me re-connect to the reasons why I became a teacher.  She taught me to remember that our triumphs are connected to the struggles we face, and that all of our successes as educators occur in the relationships we have with others."
Her role as advisor, as Wallin sees it, "is to try to understand the dreams that underpin the conversations I have with my students related to their academic learning. Most students want learning opportunities shaped around their own goals and life circumstances, and they want to be respected for the experiences and knowledge they already bring with them.
"I try to help set that foundation with them, help them maneuver around some of the bumps that may come up, and then for the most part get out of the way while they take charge of their own academic dreams," she says.
There were also six honourable mentions for the award: Mitch Bourbonierre, Extended Education; Joan Churley, Faculty of Social Work; Deanna Halonen, Faculty of Social Work; Sasha Kondrasov, Extended Education; Emma LaRoque, Faculty of Arts; and Bret Nickels, Faculty of Arts.
 This article first appeared in the May 23, 2013 edition of The Bulletin.