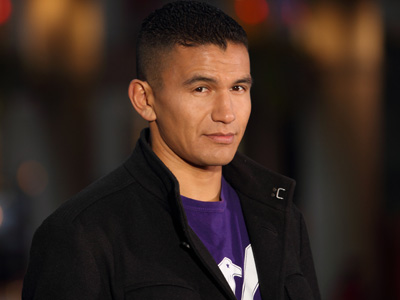 The 8th Fire & the World: Anishinaabe in Global Context
January 15, 2014 —
Today, Wabanakwut (Wab) Kinew will give a presentation today as part of the Native Studies Winter 2014 Colloquiums. The topic of this year's series is DEBWEWAG, SPEAKING TRUTHS: PATHWAYS OF RELATIONSHIPS.
Kinew is a Canadian musician, broadcaster and educator, best known as a host of programming on CBC Radio and CBC Television. Originally from the Onigaming First Nation in Northwestern Ontario, he is the son of Tobasonakwut Kinew, a former local and regional chief and a professor of indigenous governance at the University of Winnipeg who died in 2012.
Kinew has been a reporter and host predominantly for the CBC's radio and television operations in Winnipeg, including the weekly arts magazine show The 204, but also hosted the national documentary series 8th Fire in 2012.[1] He released his debut CD as a rapper, Live by the Drum, in 2009. The CD won an Aboriginal Peoples Choice Music Award for Best Rap/Hip-Hop CD.
In 2012, the University of Winnipeg named Kinew its first director of indigenous inclusion.[4] He is also a host of the documentary program Faultlines on Al Jazeera America.[5] In 2014, he will appear as a panelist on CBC Radio's Canada Reads, defending Joseph Boyden's novel The Orenda.
all welcome!
Date: Wednesday, January 15, 2014
Time: 11:30 – 12:20
Location: Main Foyer, Migizii Agamik