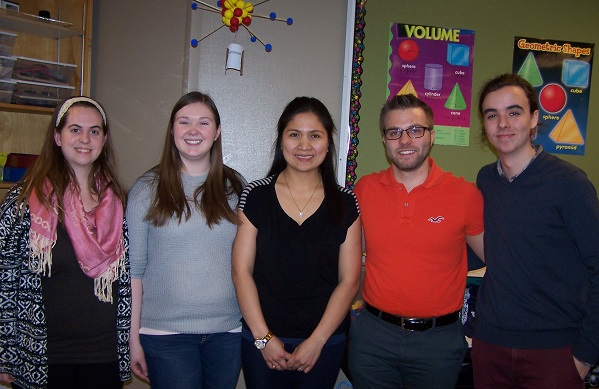 Teacher candidates learn innovative method of mathematics instruction
Inquiry to Inquiry program allows them to teach algebra in an 'active, interactive' way
February 27, 2015 —
In a Grade 8 classroom in the lower level of Arthur A. Leach School, students and teacher candidates watch as a group of math students stands at the front of the room, calculating how many combinations of icing can go on nine different cupcakes in a scenario about a baker.
Group members use drawings on the whiteboard sketched with different coloured markers to show how many combinations they can come up with.  Another group is tasked with trying to figure out how to set up a room with enough tables and chairs for a meeting, and where to place them.
The students don't necessarily know it yet, but they're doing pre-algebra, says Ralph Mason, who oversees the Senior Years 1 Mathematics teacher candidates from the U of M Faculty of Education who have been involved in this eight-week mathematics project.
In the project, known as Inquiry into Inquiry, each of the 16 teacher candidates spent eight Tuesdays and Thursdays leading a small group of Grade 8 students in mathematical inquiry tasks.
It's a win-win, says Mason, because "the students get to experience a different approach to learning math—an approach that is active, interactive and inquiry based."  In inquiry based learning, instructors pose questions or problems to be solved rather than just presenting established facts, and students work on finding different ways to solutions.
Mason adds, "The teacher education candidates will have an opportunity to explore the leadership of inquiry-based learning. They [the teacher candidates] also get to practice assessment-for-teaching strategies as they get to know their Grade 8 students as individual learners."
Mathematics teacher candidates say that the innovative teaching method gets kids engaged and active in math learning.
"It's the real-world focus," says Katherine Herrmann, one of the teacher candidates. She says that focus really engages the kids.
Mason agrees. "In math we have a bad habit of doing it backwards," he says, meaning students are often taught algebra using symbols first, then later are asked to solve problems using words and real-life scenarios and often have difficulty doing so.
Teacher candidate Jayson Betker says he'll use much of what he learned in the inquiry program to his classes once he graduates—especially adding group work to mathematics classes.
"They're not as nervous about getting the answer wrong," he said about having children work in small groups on math problems rather than having to solve problems while the whole class is listening.
Bailey Senicar, who's in the music integrated Bachelor of Education/Bachelor of Music program, says she noticed that during inquiry based learning, "students generate answers themselves. We really focus on them being able to do this themselves… it really opened my eyes."
And Derek Klassen says this method allows students to look at problems in different ways.  As well, he says, it helps teachers figure out where students are in terms of their learning.
Mason agrees that the inquiry program enables teacher candidates to show their students different ways to learn about a pattern.
"What does it look like in a chart? What does it look like in a grid? A diagram?"
"It gives kids a chance to see themselves as potent learners," says Mason.