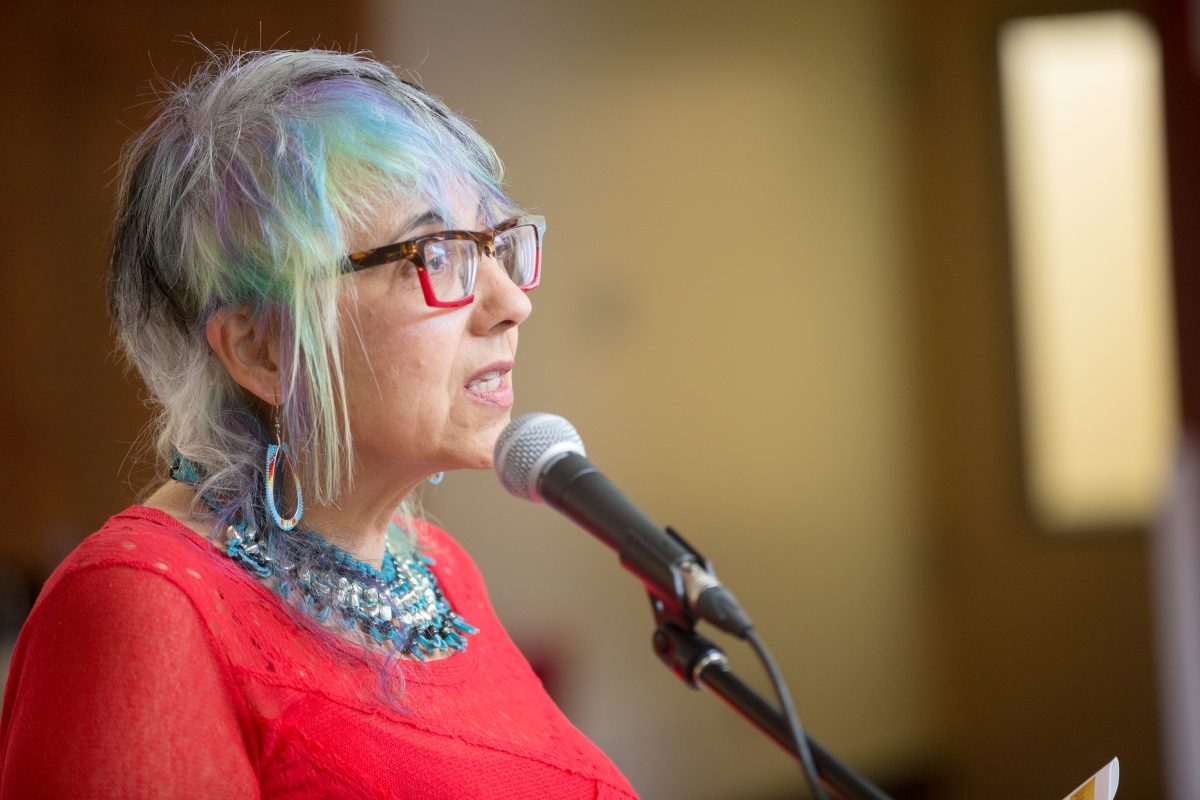 Teach-In for Reconciliation highlights Indigenous expertise on campus
October 31, 2019 —
During the fall term break, the department of Native studies and Office of Indigenous Engagement are hosting a Teach-In for Reconciliation – and students, staff, faculty and community are invited.
The Teach-In follows the highly popular event that was held on National Indigenous Peoples Day, when a full day of lectures attracted, at times, standing-room-only crowds.
"It was a very informative day, rich with storytelling and imagery," said Brooke Karlaftis, a donor relations officer at the U of M and an attendee at the June event. "Months after attending, I still found myself sharing stories that I heard with families and friends."
Dr. Cary Miller, head of the department of Native studies and key organizer of the June event, said she expected about 40 or 50 people to attend. "We were so pleased to find at least three times that number accepted our invitation to learn." This time, a new space to accommodate a larger group, as well as some new content, will be included.
Assistant professor Réal Carrière said he had interest in presenting at the first event, but was unable to attend over summer. Eager to participate in the upcoming Teach-In, Carrière will present on "Meaningful Engagement with Indigenous People." To elaborate on the title of the talk, Carrière said he hopes to achieve a deeper understanding of what it means to partake in meaningful engagement with Indigenous peoples.
"Community is one of the core goals of the current strategic plan, and I imagine it will remain central in to the next plan," Carrière stated. "But what isn't present is how to achieve that meaningful engagement."
Dr. Miller believes these conversations are necessary as the university trains and supports the next generation of doctors, nurses, lawyers, social workers, scientists, teachers, engineers, artists, musicians and many more professionals into the workplace of a province whose population is nearly 20 per cent Indigenous.
"The University is uniquely positioned to support the learning necessary to do this work, with about 40 Indigenous tenured faculty members to share their expertise with the campus community providing content, contextualization and discussion," Dr. Miller added.
Other topics at the Teach-In include exploring microaggressions, healing the family from residential school, war and trauma, Indigenous economic resilience and more.
Dr. Miller hopes that the wide range of topics will lead the campus community to a greater depth of literacy concerning the Indigenous community, and the Canada in which we live.
To find out more about the event, please see the full schedule and calendar listing.