Earth Day News Archive
April 21, 2021 —
UM has made significant changes to become leaders of sustainability research and practices, and there is much more to do.
+
April 16, 2021 —
All are welcome to attend a screening and panel event exploring Land Back.
+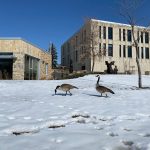 April 21, 2020 —
As humans limit their activity and spend more time indoors, urban animals are suddenly faced with a new, emptier environment to navigate. While the ecological urban landscape changes, some species will thrive while others might struggle.   
+