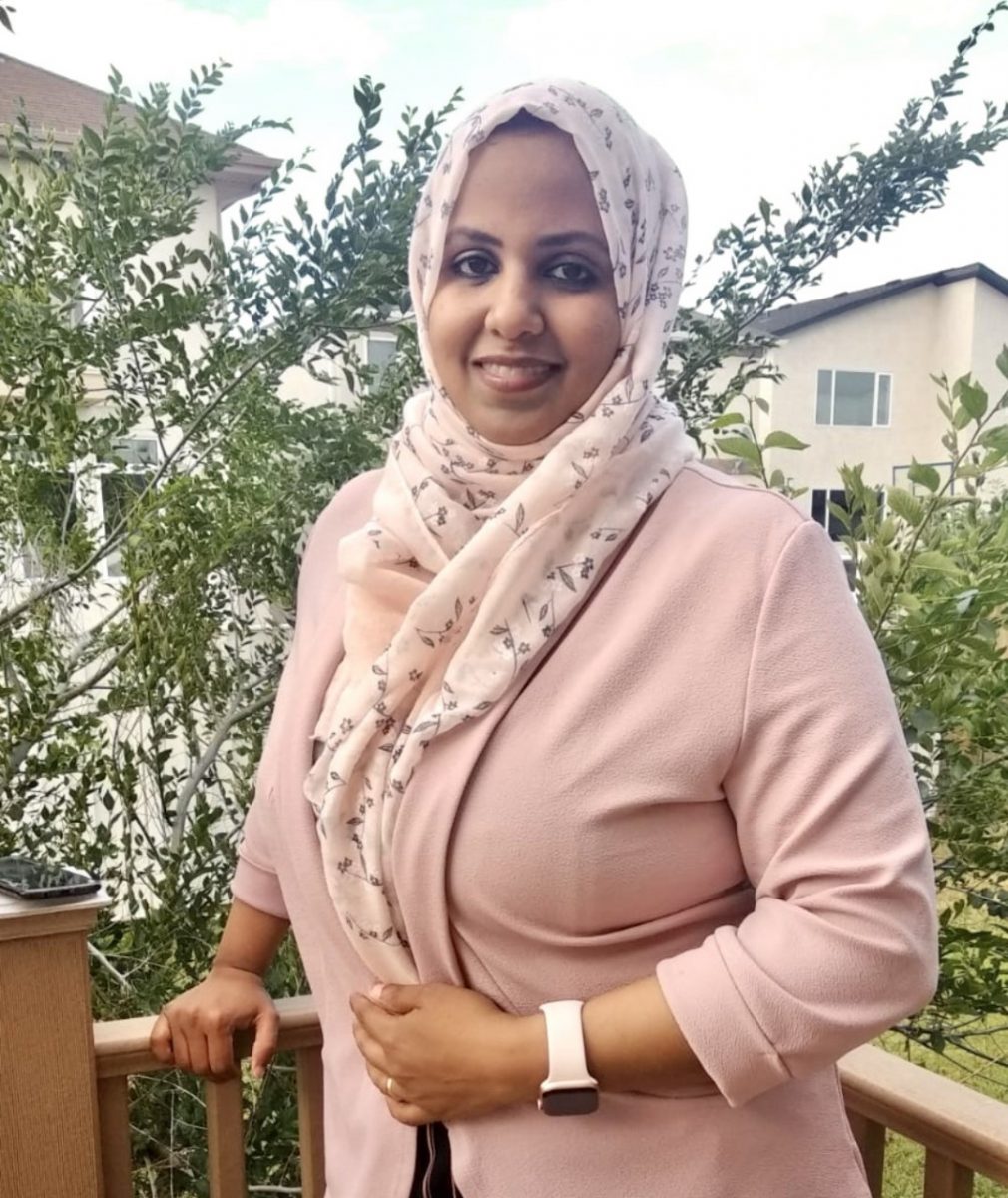 Student Success Month feature: Amal Ibrahim on life as a grad student and mother of four
October 20, 2020 —
As part of Student Success Month, we are featuring UM students that have a story to tell about their experiences navigating the challenges of student life.
Amal Ibrahim is a Masters of Microbiology student and mother of four kids aged 7-14. Originally from Sudan, she moved to Winnipeg in 2012 when her husband landed a job at the Health Sciences Centre. She received her undergraduate degree in Medical Laboratory Science from Sana'a University in Yemen. After graduating, she worked at several medical laboratories as a laboratory technologist and was a teacher's assistant.
Amal spoke to UM Today about life as a grad student and some of the challenges she's faced in her academic journey.
HOW DID YOU FIRST GET INTERESTED IN MICROBIOLOGY?
Ever since I was young, I have been fascinated by microorganisms. I was intrigued by how these living creatures had such a big impact on our lives — like causing diseases — despite the fact that they cannot be seen by the naked eye.
WHAT ARE SOME OF THE CHALLENGES YOU'VE FACED ALONG THE WAY IN YOUR ACADEMIC JOURNEY?
My bachelor's degree is in Medical Laboratory Science, so when I started the master's program, I realised that there was a learning gap. Additionally, science is constantly developing and changing. I found that some of the concepts I learned during my undergrad had evolved and become outdated.
HOW DID YOU DEAL WITH THOSE CHALLENGES?
I would try to catch up on what I was missing by reading research papers whenever I had the time. I would divide my time on campus between reading papers and the conducting lab experiments. After everyone was asleep at home, I stayed up and tried to squeeze in some studying. I would even bring my books with me to my kids' extracurricular activities to read while I waited.
CAN YOU SHARE AN EXAMPLE OF A TIME SOMETHING UNPLANNED OR UNEXPECTED HAPPENED DURING YOUR STUDIES? HOW DID YOU HANDLE IT?
At the beginning of my first semester at UM, my husband had to leave immediately for a job outside the city, leaving me alone with our four children; this was extremely unexpected. Originally, he was supposed to stay until the end of the first semester to help me transition to university and care for the kids while I prepared for my presentation in my seminar course. To manage this change, I talked with my kids and they agreed to all cooperate with me. We split up chores around the house to get things done more efficiently. My lab colleagues and supervisors were very supportive and understanding. They were always there to listen whenever I needed them.
HOW HAS UM HELPED YOU ALONG YOUR JOURNEY?
Before I enrolled at UM, I met with Faculty of Science academic advisors to discuss my future plans. They were very helpful and influenced my decision to join the program. While at UM, I attended the academic writing workshops through the Academic Learning Centre. The workshops helped me improve my writing; something that has been invaluable as a grad student.
WHAT HELPS YOU BALANCE ALL THE ASPECTS OF LIFE AS A UNIVERSITY STUDENT?
What helped me the most was planning ahead and practicing good time management to ensure everything got done on time. I also understand the value of taking care of my mental health, which is why I try to designate time for selfcare. This could be something as simple as watching a movie or going out with a friend to have fun. I have also become more involved outside of university by contributing to the growing Sudanese community who supported me tremendously. I am active in Sudanese Canadians in Manitoba, a non-profit community group that brings Sudanese Winnipeggers together.
WHAT ARE YOU MOST EXCITED ABOUT WHEN YOU THINK OF YOUR FUTURE?
Personally, I would like to use the skills I've gained through my studies and apply them in an industrial or clinical setting. I would also like to explore the possibility of making higher education more accessible to those who are going back to school after a break, and those who are balancing a career and family life. I hope that I served as an inspiration to my kids, and I am excited to see what career paths they choose.