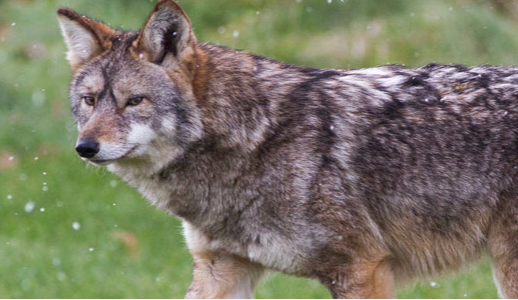 Stay alert for wildlife on campus
March 29, 2021 —
A coyote has been seen at the UM Fort Garry campus. According to a recent CTV News report, coyotes have spotted more frequently within the city limits in Winnipeg.
The UM coyote sightings occurred Mar. 28 and 29 in the vicinity of Smartpark near RTDS Technologies Building, 150 Innovation Drive.
In order to safely co-exist with wildlife such as coyotes and geese, educate yourself about wildlife and how to avoid an unwanted encounter. Janine Wilmot, a human-wildlife conflict biologist with the Province of Manitoba, says people should stay alert and aware of their surroundings while outdoors, especially in forested areas or near rivers.
About coyotes
Seeing a coyote doesn't need to be cause for alarm, says Coyote Watch Canada, an organization that promotes "respect, compassion, and safety education" for all wildlife and for coyotes in particular.
The organization notes that most coyotes will keep their distance. Like "all other urban wildlife, [coyotes are] looking for food, water and shelter … and they mostly eat small rodents as well as local vegetation like berries, fruits and nuts." They are also "extremely curious and intelligent animals – they often watch the events happening around them, just as a tourist in a new city would."
Tips for peaceful, safe co-existence
However, it's important to keep your distance, too. To reduce risk of conflict, the Winnipeg Humane Society recommends avoiding outdoor areas where coyotes might look for food such as around garbage bins.
When walking in areas where a coyote has been spotted, Wilmot recommends carrying deterrents such as a walking stick or noisemaking devices like whistles or air horns in order to scare wildlife away if a chance encounter should occur.
If you are with a dog, keep it leashed in order to prevent an unwanted encounter with a coyote, since it's been reported that over 90 per cent of such encounters occur when a dog is running off-leash.
Winnipeg Police instructs people to report any sighting or encounter with aggressive coyotes to the non-emergency line at 204-986-6222. However, if someone is at immediate risk, call 911.
Learn more about coyotes and urban wildlife at Winnipeg Human Society and Coyote Watch Canada.
Learn more about urban wild geese through our respect the goose series.