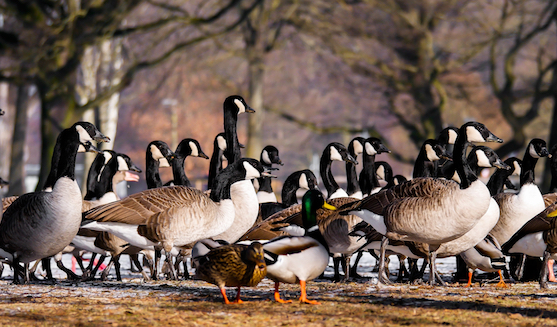 Keep your distance
Human safety priority for goose management plan
April 23, 2019 —
How close is too close when it comes to geese? Avoidance by taking a wide berth is the best answer, according to Steve Cumpsty, director of operations and maintenance at the University of Manitoba.
Geese that feel defensive or threatened will honk and hiss … and you should get the message. Don't get too close!
Management plan created
"We recognize human-geese interactions can be problematic, which is one reason we have an active management plan that is ongoing during the nesting season," he says about the Goose Management Plan created as part of the university's wider Wildlife Management Plan.
"We are protecting people by limiting human-geese interaction–and wherever possible, discouraging geese nesting in high traffic or problematic areas, such as planters, or cordoning off nests.
"People's safety is the priority," he underlines.
Operations and maintenance has been preparing the Fort Garry campus over the past month or more according to that plan–and several areas have been fenced with signage to identify nesting geese and to encourage avoidance of the area, which is one of the measures under the plan.
Geese are a protected species
It's important to know that geese are protected under the Canadian law by the Migratory Birds Convention Act, 1994, and can only be disturbed under permit from the Canadian Wildlife Service if migratory birds are causing or are about to cause serious damage or danger.
The U of M engaged a consultant last year to help develop the Wildlife Management Plan, including the Goose Management Plan, which are guiding actions and measures on campus. Measures are reviewed annually by a group that includes staff, faculty and consultants.
To increase people's awareness, a Goose Education and Awareness program has been established, with informational resources such as a website, nesting locations, and relevant articles in UM Today, accompanied by a social media campaign.
A goose hotline has been set up for concerns: 204-474-6281 or email: goose [at] umanitoba [dot] ca. Physical Plant will coordinate appropriate services.
What if you encounter a goose? Tips from our experts
Take a detour.
Geese are territorial, particularly when they are nesting. Avoid the geese pairs and their territory if at all possible, says James Shapiro, director of the Avian Behaviour Laboratory in the department of psychology, Faculty of Arts.
Go the long way around. Don't enter the space or disturb a goose seeking a nesting place; the gander, the male of the pair, will be protective and defensive.
Make noise.
Warn the geese of your presence by making plenty of noise in advance to avoid startling them.
Getting too close could make the animal feel threatened and act to defend itself. If a goose flies toward you, you can be bruised or lacerated by its claws, says Kevin Fraser, head of the biology's Avian Behaviour and Conservation Lab in the Faculty of Science.
Back away.
If a goose starts hissing and moves towards you aggressively, back away slowly and remain calm. Don't escalate. Disengage. Avoid turning your back and running away as the goose will likely chase you.
As a last resort, Fraser suggests spreading your arms to make yourself look bigger and charge the goose. It will turn and run away, he says, because it will perceive you as a larger goose.
To report a problematic encounter with a goose, contact Physical Plant at 204-474-6281 or email: goose [at] umanitoba [dot] ca
See the fowl-lowing for more on geese motivation and behaviour and what to do in the case of an encounter, and tips for co-habitation.