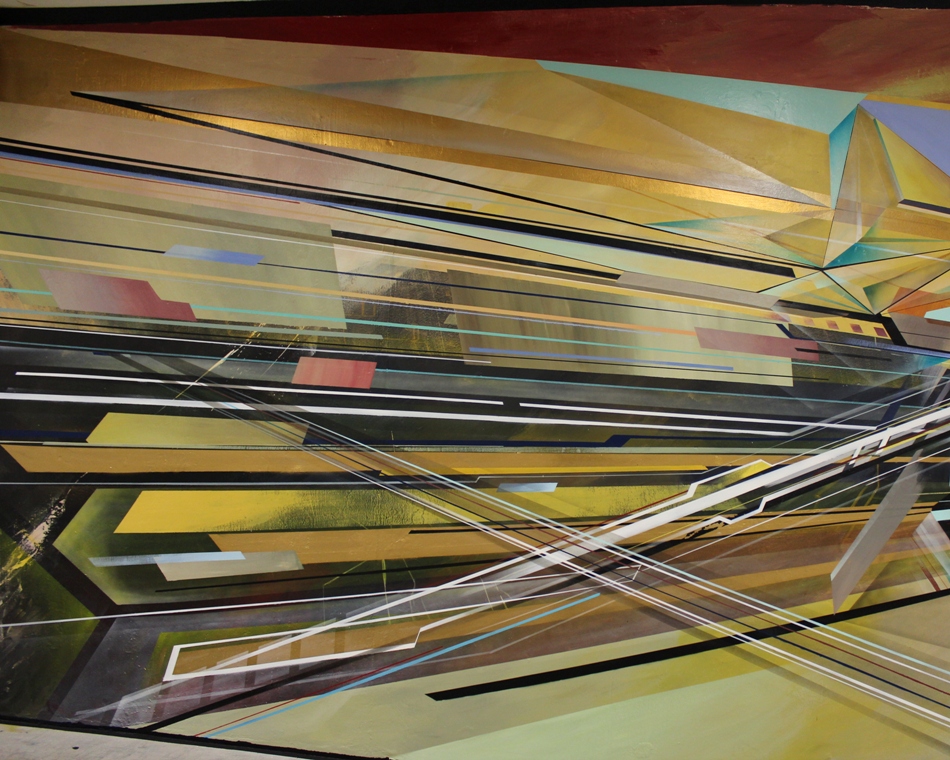 Sprawling interconnections
November 15, 2013 —
Vladimir Kraynyk is the most recent student to complete a mural on the U of M's Fort Garry campus.
There are about a dozen murals on campus, and Kraynyk's latest (he also has a mural painted in the tunnel beneath Machray Hall), is by far the largest — it stretches 230 feet (70 metres)  through the tunnel connecting Extended Education to architecture.  After a month of planning, it took the fourth-year fine arts student four months to complete, which he did at the beginning of November.
You're forgiven if you didn't see him paint – he mostly worked through the night, starting at dinner time and working until sunrise, sometimes doing this 10 days in a row.
You're also forgiven if you don't see any specific theme. That wasn't Kraynyk's goal; he wanted a more democratic piece.
"I painted it in general terms, that's the point of this sort of work. It's not very narrow and specific. It's suggestions towards broader themes," he says. "The main idea is the interconnectedness; it's all supposed to be related. That was my main goal. To do a long mural, it has to be interconnected, that was very much a priority….It needs to have an interaction from the viewer, they have their own interpretation. Since it's in the public so much it needs to have a broadness to it so it can speak to a larger variety of people. People are not looking for the narrative, I don't think. They are looking for something nice and for something that will stimulate them, something interesting looking but not a specific landscape or a specific narrative."
Kraynyk has completed two murals on our campus, but his main medium is oil and acrylic on canvas (his work was recently shown in GOSA in University Centre).
"What I like about murals," Kraynyk says, "is you can go much bigger and you have more space for details and more space to put elements together – like architectural elements.  But the advantages of murals are also their disadvantages, because they are so big it is much harder to pull the elements together. So it's both good and bad."
Born in Russia, Kraynyk moved to Siberia until he was 7. He and his family then moved to the Ukraine where he was a graffiti artist. Upon finishing high school, he visited Winnipeg in 2006, and then he and his family moved here in 2008.
As he stands by his mural, seeing admiring people walk past it, he was asked if he feels pride. He hesitated, shrugged, and said "some, yes."
Asked if he is happy with it, he offered this: "I'm happy with it, but if this wall was blank and I could start over I would do many things differently."
This mural was sponsored entirely by the Office of the Associate Vice-President (Administration). Other murals on campus are part of Tunnel Vision, a program sponsored by the Collaboration for the Promotion of Arts and Music, the University, and UMSU.