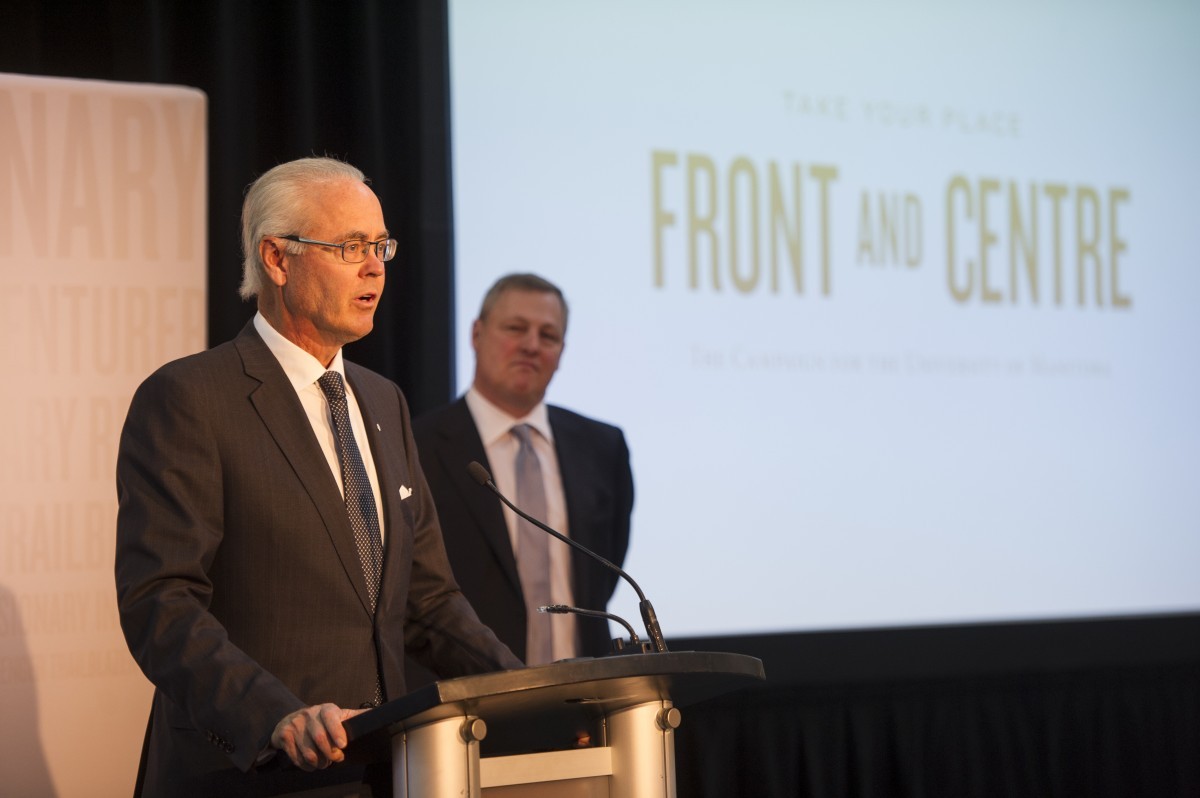 Richardson Foundation makes largest single philanthropic donation to Front and Centre campaign to-date
$10M gift spurs widespread upgrades
April 14, 2016 —
Hartley Richardson, president of the Richardson Foundation, announced on April 14 a $10-million gift to support classroom and laboratory upgrades across our campuses. From modernizing classrooms in the Tier Building to outfitting the Respiratory Therapy Laboratory with cutting-edge equipment, the impact of this gift will be felt by thousands of students, faculty and researchers.
The $10-million gift will support upgrades in two categories:
Classroom upgrades:  Technological improvements (projectors, AV equipment, flat TV screens, audio, etc.) and architectural and engineering improvements (flooring, paint, furnishings, etc.)
Lab renewals: Teaching and learning equipment, software and hardware
"All of us who have been enriched by a university education can appreciate how critical the spaces and facilities are to the success of our experience. It is the Richardson Foundation's sincere hope that our commitment inspires others who believe in the potential of our students, in this institution and this province, to demonstrate their commitment to the Front and Centre campaign," said Hartley Richardson.
Students at the event Thursday spoke on the far-reaching improvements the gift will have for current and future students.
"As students, we often spend long hours in our classrooms and labs – they become our second homes, our social hubs, our portals to discovery and personal development," said fourth-year student Rebecca Kunzman.
"Unfortunately, many of the spaces we use are in urgent need of upgrades and refurbishment, and many of us must make due with equipment and technology that is, to be blunt, from a whole other era. But with proper investment, we can bring these places and spaces up to today's standards, and ensure that students at the U of M don't get left behind," said Kunzman.
Student Chandra Bissoon spoke directly from the new Assistive Technology Lab in University Centre, sharing her struggles with a learning disability and how the lab is making a difference to her and other students.
"From the noise-blocking headphones to the different types of assistive software, this facility has been an amazing resource, giving me a new sense of self-esteem and self-advocacy so that I have the tools I need when I graduate to succeed," said Bissoon.
Faculty members also addressed the long-term improvements the donation spurs for both campuses.
"It really is about giving my students the best learning experience possible. Smart classrooms like this one offer such a rich multi-sensory experience. I can clearly see that my students are more engaged, and absorbing the material more fully. It's important to me because it's important to my students," said Professor Michelle Faubert, who spoke via live video from the newly upgraded Room 303 in the Tier Building.
Through this new gift, as well as past support, the Richardson Foundation, family and group of companies have impacted 22 buildings across the Fort Garry and Bannatyne campuses. President David Barnard spoke to what the support of community leaders like the Richardsons means to our campus:
"Transformation and the Richardson name go hand in hand. They know, as we know, that the cumulative impact of these upgrades will completely transform how students learn for generations to come," said Barnard.
Read more about the impact of the Front and Centre campaign.
Watch feedback from U of M students about the new Respiratory Therapy Lab.