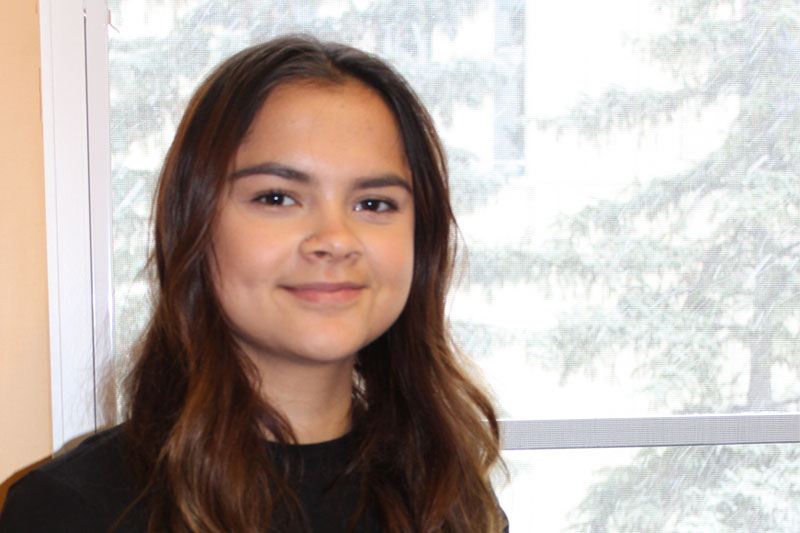 See what's out there for you with Access
Join the University of Manitoba community
December 18, 2018 —
Antonina Kandiurin always knew she wouldn't be able to achieve her dreams and goals if she stayed in the only place she had ever known, her small northern community. Fortunately, she took some good advice.
"My dad always said Churchill will always be there. You can go back if you need to. Try leaving and see what's out there," says the second year University of Manitoba Access Program student. "It was hard to leave my family, the freedom, the open spaces, the animals. I don't know if I would still be in university if it wasn't for Access. It was such a big change."
Access Program
The Access Program at the University of Manitoba provides holistic support to Indigenous, newcomer, and other U of M students, empowering them on their path to success.
In Churchill, Kandiurin, who identifies as Métis Cree Russian, had only 200 students attending her preschool to Grade 12 school, and the principal knew all of them by name. She knew her school did the best they could to prepare students for university, but she wasn't sure if she was ready.
Fortunately, while she was still in high school, she was one of a few students who had the opportunity to visit the U of M through two programs designed for Indigenous high school students who are considering a health or science-related career. She learned about the Health Career Quest Summer Camp and the Verna J. Kirkness Science and Engineering Education Program from her high school guidance counsellor, and attended both. There, she learned about Access.
Access offers health careers and so much more
"Access is not just for health careers. More students need to know about the Access Program," she says, noting all students heading to U of M can apply.
Kandiurin has three siblings. Her father is from Russia and her mother is Cree and has seven siblings. Her granny came to Churchill from York Factory at the age of 18. Her large extended family all live in Churchill.
"I am very family-oriented. University was one of the hardest transitions, being away from family, not going hunting with my brothers. The staff at Access were so welcoming. I was to live in-residence my first year, and my parents were worried about leaving me alone. Before that, the longest I had been away from home was two weeks. But my parents met the staff and they were relieved and comforted…. My parents are a lot more comforted knowing I have supports."
As an Access student, she was placed in smaller classes for her first year and had the opportunity to make several close friends. "We work together, study together, give each other a second opinion, proof read essays. We go out to eat, and hang out. Having friends is really helpful."
The Access staff have also helped her a lot.
The Access academic advisor helped her to explore her course possibilities when she had no idea how to proceed. Access staff helped her to find out about and apply for bursaries when she struggled with expenses. Her Access personal counsellor was there to talk about her transition to university. "I didn't always think I would have something to say at our meetings, but I always do."
Tutoring
With the support of Access tutoring, Kandiurin's studies go very well, and she has attained good grades. "I wouldn't have been able to do that without Access. It's not an embarrassing thing to reach out for help. My grades improved and I finally understand what was hard to understand."
It's important to have people who care about you, she says, sharing one of her greatest memories of how the people at Access are there for her. "Last year, I fainted after a class. My professor called the ambulance and came with me to the hospital. My Access personal counsellor stayed with me and drove me home. She was so amazing. Two classmates came to visit me in the hospital."
Identity and belonging
With Access, Kandiurin also learned how to properly self-identify and how to embrace being an Indigenous person. "In Churchill, half of the population is Indigenous but a lot don't practice Indigenous spirituality. It's nice to come here and learn about it. I knew I was Indigenous but I didn't know much about it. I did beading with my mom. I played the fiddle. But I grew up kind of feeling lost. I knew what I was, but I didn't know what it meant."
With Access, she realized her Métis identity was about her connection to the Red River Métis, and that sense of identity became a huge part of how she feels about herself. "It's important to belong to something."
Access is located in Migizii Agamik (Bald Eagle Lodge) on the U of M's Fort Garry Campus. "Migizii is one of my safe spaces. I am very comfortable here. There is always someone I know around. This is my second home."
Of the less than a dozen students who graduate from Kandiurin's high school each year, only a couple go on to university. "I wasn't sure I was ready. University is expensive. Even getting to Winnipeg and going home is expensive. Your family is so far away. Students don't realize what else is out there. They are intimidated to leave. A lot of people spend their whole life in the same community."
See what's out there
She encourages others to see what's out there for them, at the U of M, with the Access Program.
"My brother didn't care about school growing up, but he saw me and he realized it is possible. He is looking at his options. School is expensive. I work all summer and part-time. I am not sponsored. You have to think about how to pay for it. Have the conversation with your parents. There are loans and bursaries. There's always a solution."
Since high school, Kandiurin has dreamed of being a doctor. "There is inadequate health care in Northern communities. Little things can be fatal. Doctors are rotated. Forming trust can be intimidating. I want to go home and be a permanent doctor."
She encourages Indigenous residents of Manitoba to apply to the Access Program, and attend the University of Manitoba.