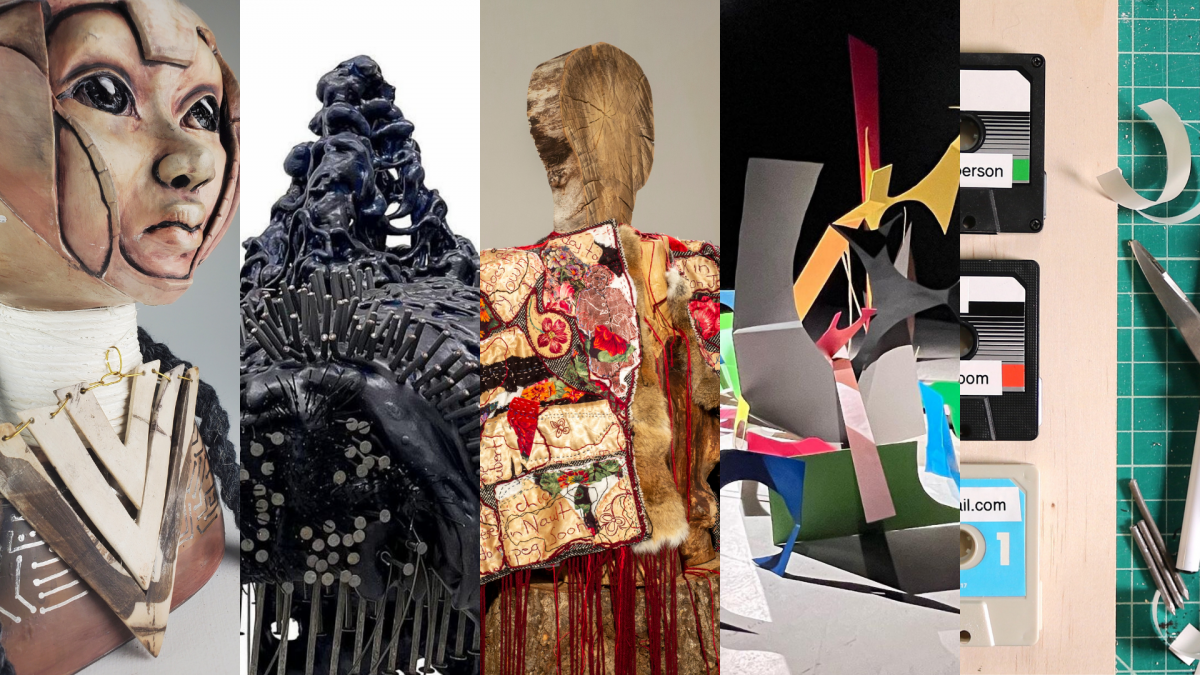 School of Art presents 2022 MFA Thesis Exhibitions
May 17, 2022 —
The School of Art and School of Art Gallery are pleased to present the thesis exhibitions and oral examinations by five Master of Fine Art students: PJ Anderson, Pani Bolbolabadi, Tracy Charette Fehr, Christopher Reid Flock and Jimmie Kilpatrick. During the exhibition period, each student will have an oral thesis exam that will be open to the public.
Opening Reception: Thursday, May 19, 5:00 to 8:00 pm, School of Art, ARTlab, 180 Dafoe Road, University of Manitoba.
Performance: Jimmie Kilpatrick, May 18, 10:00 am, School of Art Gallery Lobby
Oral Exam Schedule (registration required to attend)
Christopher Reid Flock: May 20, 10 am. Soundstage, 156 ARTlab + Zoom
Tracy Fehr: May 20, 1 pm. School of Art Gallery
PJ Anderson: May 24, 10 am. School of Art Gallery
Jimmie Kilpatrick: May 24, 1 pm. Facilitated on Zoom
Pani Bolbolabadi: May 25, 1 pm. School of Art Gallery
The Exhibitions:
PJ Anderson: the weapons we become
May 19 to June 24, 2022
PJ Anderson's ceramic work references ancient techniques and, through their use, explores our relationship with new technologies. Her works aim to disrupt systems that continue to favour a Western colonial paradigm. She creates spaces that question what more we can be when we include other stories in our narrative.
PJ Anderson is a ceramic artist from Thompson, Manitoba, Canada. She is currently serving as a director at large for the National Council on Education for the Ceramic Arts (NCECA) and is a Master of Fine Art candidate at the University of Manitoba. Her work explores the weaponization of culture, digital spaces and the role of reclaimed traditional culture in identity expressions.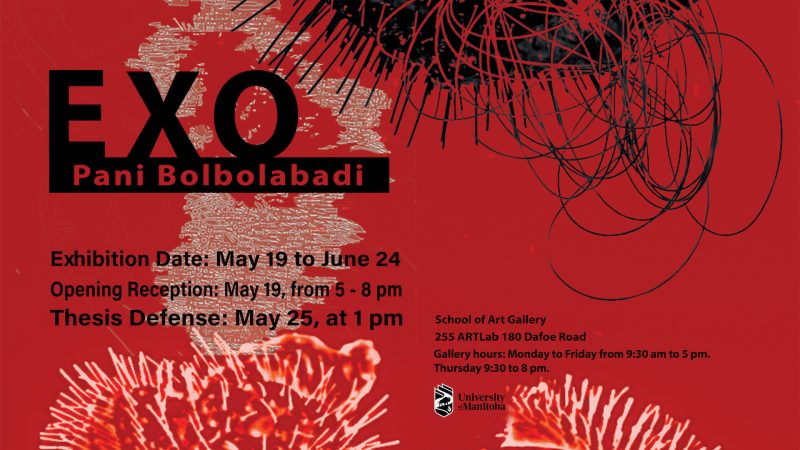 Pani Bolbolabadi: EXO
May 19 to June 24, 2022
In recent years, Pani Bolbolabadi has been building a body of work that addresses the relationship between electronic objects and humans. She explores the overlapping spaces of nature and culture and the role of technology in society, using insect patterning and morphologies in combination with recycled computer packaging and electronic components.
Childhood memories have inspired Pani's works—the city she was raised in as well as her father as an electrical engineer. Since electricity, cables, and electric components have a massive effect on modern life, people's day-to-day lives are indebted to them. In today's digital age, cables and electric components are tools that surround us, passing through mountains, roads, and streets to reach our homes, penetrating our walls to transmit electrical currents so we can live more comfortably. Fences of cables entangle us, forming a barrier between ourselves and the environment—as the skin is to living flesh.
Pani Bolbolabadi was born in Rasht, Iran in 1993. She received bachelor's degree in Painting from Guilan University in Iran. She is now enrolled in the Master of Fine Art program at the University of Manitoba, Canada. Pani is a multidisciplinary artist who works in mixed media, painting, drawing, installation, sculpture, assemblage, and video. Her work has been featured in two solo exhibitions and in seven group exhibitions in Iran. In 2019, she won third place in the 4th Guilan biennial of painting.
Tracy Charette Fehr: MOTHERLAND
May 19 to June 24, 2022
Tracy Charette Fehr is an interdisciplinary artist from Manitoba who is descended from Red River Métis and Mennonite settlers. She is currently working in textiles, sculpture and clay. Her work in thread is inspired by the painstakingly executed needlework of her Métis foremothers who blended and balanced European and Indigenous influences in their work. She is intensely curious about Métis experience – especially that of the women, who are not always well-represented.
The mixed media works in her exhibit pay homage her Métis ancestors, grandmothers, mother, aunts and sisters. Her works in textile, photo collage embroidery, beadwork, print, and sculpture have emerged, in part, from the past two years of research in archives and museum collections. The foundation for the work, however, is derived from the lived experience and in-person conversations with the Métis women in her family. Their strength, resilience and creativity are the essence of her installation.
Tracy Charette Fehr is an interdisciplinary Métis artist who lives north of Winnipeg with her family. She is completing a Master of Fine Art degree at the University of Manitoba with special interest in Métis material culture: beading, quill work and embroidery. She is a recipient of Canada Council for the Arts and Manitoba Arts Council grants for both research and creation. In 2021-2022 she participated as Masters Student Scholar in the Manitoba Museum's program to revitalize Indigenous Arts.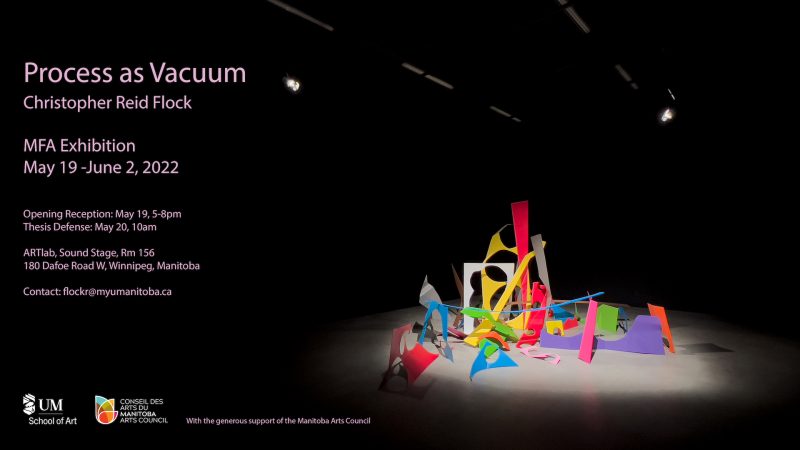 Christopher Reid Flock: Process as Vacuum
May 19 to June 2, 2022
Within Process as Vacuum, Christopher Reid Flock's thought processes have materialized in a physical piece as a fist full of colourfully, chorally sharp shards linked to clay processes. Precariously in isolation, momentarily caught in a literal sense of materiality, this process as vacuum, this figurative gesture, leans into vulnerability. He has reached into "potentiality" and trusted his grip. From that reach he presents an inverted snapshot of holding the chaotic as form. Here, he emulates creative play and the agency of possibility.
Christopher Reid Flock is about to complete his Master of Fine Art in Ceramics. In 1997 he began a ceramic mentorship with Canadian Kayo O'Young, followed by ceramic studies at Sheridan College School of Ceramic Design. In 1999 he moved to Japan, beginning a ten-year, self-guided cultural and studio immersion. Four years after returning to Canada, Flock achieved a world first with Siemens Canada and Mohawk College by CT scanning a 6000BCE Jomon-yaki vessel.
He was short-listed for the permanent outdoor ceramic sculpture by the Gardiner Museum, recipient of the 2014 Winifred Shantz Award for Ceramics, the 2015 Founders Award at the Toronto Outdoor Art Exhibition, and has received three grants from Canada Council for the Arts.
As a clay educator Flock facilitates his practice through national workshops, guest artist presentations and has provided clay programming within the private, college, and university systems.
His work can be found in both national and international private collections: the Canadian Embassy in Paris, France, Yingge Ceramics Museum, the residence of the Prime Minister of Canada, Clay and Glass Gallery, and the Art Gallery of Burlington.
Jimmie Kilpatrick: SONGS FOR DAFOE ROAD
May 19 to June 2, 2022
Jimmie Kilpatrick says he wants to be a better listener. In his studio, he has been making kinetic sound sculptures which both hear and make sound. Some of them hear the sound that they make, others make the sound that they hear. Some of them do both. These sculptures foreground the reciprocal relationship between speaking and listening. Jimmie says, "Listening is giving. Listening is not easy. I want to be a better listener."
Jimmie Kilpatrick is a musician and interdisciplinary artist based in Brandon, Manitoba. He's been touring regularly and releasing records on Toronto's You've Changed Records since 2009. He has appeared on recordings by John K. Samson, Christine Fellows, Joel Plaskett and By Divine Right. Kilpatrick holds a Bachelor of Fine Arts degree from Brandon University and is currently a Master of Fine Art candidate at the University of Manitoba. In 2018, he was the Manitoba winner of the BMO 1stART! competition. Presently, he is working with kinetic sound sculpture to explore overlap between visual art and music/sound.
Contact the Gallery:
255 ARTlab
180 Dafoe Road
University of Manitoba, Fort Garry Campus
Winnipeg, MB R3T 2N2
Telephone: 204-474-9322
Email: gallery [at] umanitoba [dot] ca
Visit the Gallery:
Monday, Tuesday, Wednesday, Friday, 9:30 am – 5:00 pm; Thursday, 9:30 am – 8:00 pm
Free parking on campus after 4:30 pm and on weekends.
https://umanitoba.ca/parking