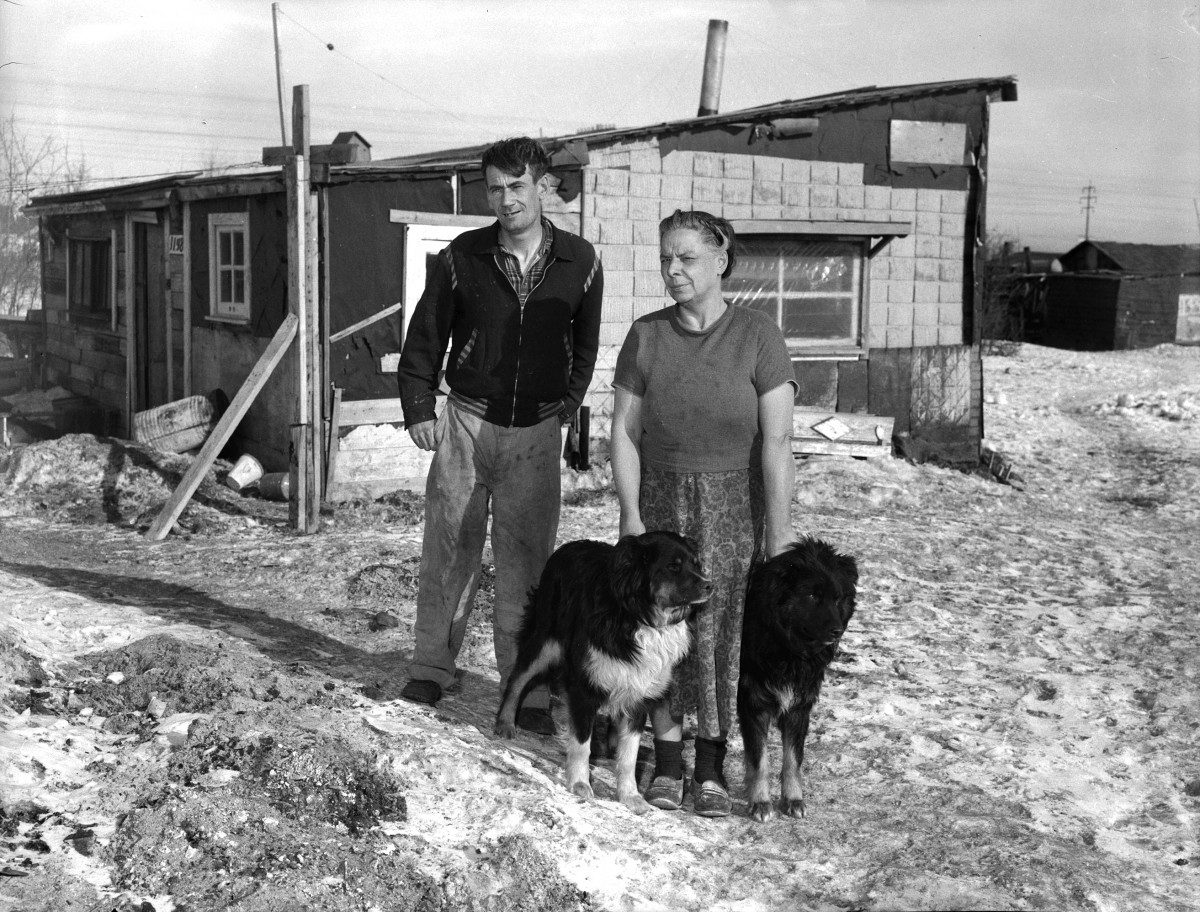 Rooster Town: The History of an Urban Métis Community
October 20, 2018 —
The official launch of Evelyn Peters's Rooster Town: The History of an Urban Métis Community, 1901–1961, took place on Oct. 19 at McNally Robinson Booksellers, with the book from University of Manitoba Press already drawing readers on McNally's bestseller list.
On Oct. 18, the U of M's Archives & Special Collections also launched the Rooster Town Online Archive, a repository of all the research compiled during this project.
In 1901, 15 Métis families moved to Winnipeg's southwest edge. The city's housing shortage meant these families could either find poor quality housing within the city or build their own places. They chose the latter, building small, two-room homes to accommodate their large families.
There were a number of Métis communities on the edges of urban areas in Manitoba, including Melonville, Smokey Hollow, Bannock Town, Fort Tuyau, Little Chicago, Mud Flats, Tintown, and La Coulee.
In 1909, the Manitoba Free Press dubbed this community "Rooster Town," and by 1911 it had grown to 39 households. But despite persisting for six decades, there wasn't much information available on Rooster Town.
"Some of my research associates doing census research on First Nations and Métis people in Winnipeg found records of several Métis people listed as living 'in the bush' in south west Fort Rouge," says Evelyn Peters, who taught in the University of Winnipeg's Department of Urban and Inner-City Studies, where she held a Canada Research Chair in Inner-City Issues, Community Learning, and Engagement.
"Adrian Werner remembered hearing about Rooster Town and he collected what had been written about the settlement (a few newspaper articles and some city council records), but it was very sparse and, as it turned out, not very accurate about the historic events that precipitated the settlement, the nature of the community, or even its date of origin (e.g. the newspapers stated it started in the 1930s)."
Evelyn and her team, including Werner, a GIS analyst, and researcher Matthew Stock, started to gather information. They consulted numerous administrative data bases, media accounts, and maps and, after putting out a public call, interviewed former residents, descendants, and people who had lived nearby.
They learned that at Rooster Town's height, around 1946, 250 people lived in the community's 59 houses.
But throughout the 1950s, the media labelled Rooster Town residents as dirty, disease-ridden people, and the city, eager to develop the land, started pressuring them to relocate. Many moved to the North End, and the city offered remaining families $75 (roughly $720 today) to move or face eviction. In the end, many houses were bulldozed or burned and the 60-year-old community was erased from the landscape in 1961.
Peters' research resurrects this chapter of Métis history.
"From thousands of pieces of data, we were able to reconstruct a demographic and economic history and geography of the settlement," says Peters. "We were also able to piece together an account that challenged the negative portrayal of the community held by reporters and municipal administrators at the time and help recover a largely lost part of urban Métis history."
In other growing settler cities, the Indigenous experience was largely characterized by removal and confinement. But the continuing presence of Métis living and working in the city, and the establishment of Rooster Town itself, made the Winnipeg experience unique.
Rooster Town residents existed unofficially in the cracks of municipal bureaucracy, navigating the legacy of settler colonialism and the demands of modernity and urbanization while still being rooted in kinship and culture.
"Winnipeg has been waiting to learn the whole history of Rooster Town," says David Carr, Director of University of Manitoba Press. "This is an essential story for all Winnipeggers to learn and is an important step on the road to reconciliation."