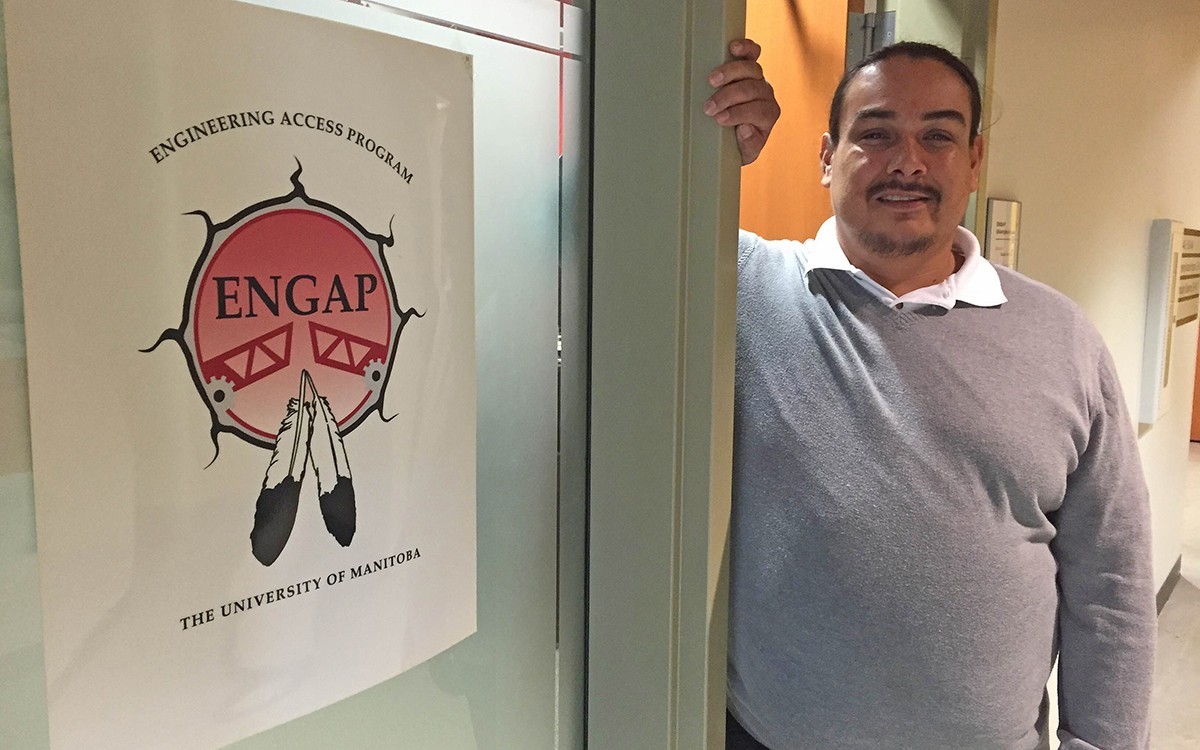 "Role model" is ENGAP's 100th graduate
May 25, 2015 —
A milestone will be reached this year by the Engineering Access Program (ENGAP) at the University of Manitoba, with the graduation of its 100th student. ENGAP is a program designed to provide Indigenous students who may not meet the usual entrance requirements for engineering access to university studies leading to a bachelor of science degree in engineering. The program is celebrating its 30th anniversary this fall, with a legacy of empowering Indigenous students in their careers. ENGAP is fortunate to receive financial aid for programming from corporate and local sponsors.
As a testimony of the success of the program, ENGAP's 100th student exemplifies the best of its cohort. Rene O'Laney actually completed his studies in December 2014 but was unable to attend a convocation until this month because of his work and family duties. This week, he will proudly don his cap and gown to receive his bachelor of science in civil engineering.
O'Laney is a member of Sagkeeng First Nation, an Anishinaabe First Nation in eastern Manitoba.
Randy Herrmann, director of ENGAP, notes O'Laney is a great role model for the program. "Rene is a father, husband and active member of his community, living in Sagkeeng First Nation while he completed his degree. An excellent student, he is a carpenter by trade―a mature student without the high school background to get into engineering―and incorporates almost everything about whom our program strives to help."
O'Laney has been operating a construction business at Sagkeeng First Nation for 20 years. After his wife, Nanci Bruyere [BSW/01], went back to school to get a bachelor of social work degree, O'Laney started thinking about going back and getting his own degree too.
"I wanted to be able to give back something to my community that supported me all these years," he explains. "I realized that if I received further education, I might be able to use it to help others."
During the past few years, O'Laney has been working with Dr. Dimos Polyzois in the Faculty of Engineering department of civil engineering, developing sustainable housing for Manitoba First Nations. His own community, Sagkeeng First Nation, has had problems with mold in houses, and O'Laney wants to help change that by getting Sagkeeng involved in the study.
"The mold problem has affected the health of kids in the community," he says. "I know that by developing better construction methods, we can help prevent the mold from growing."
O'Laney's dedication to his community is all the more important since his daughter has enrolled in the ENGAP program, and his cousin has just applied to ENGAP, citing O'Laney as his role model.