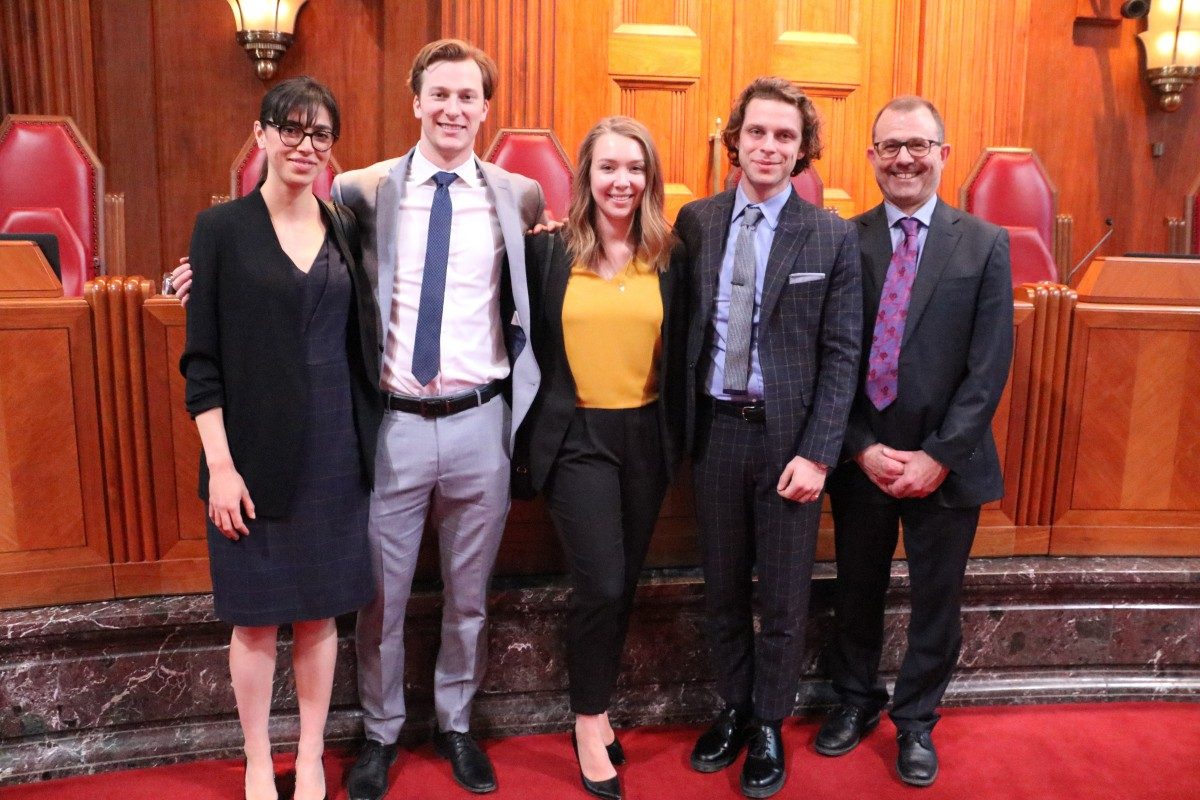 Robson Hall Students Represent Manitoba in Inaugural French Language Moot
March 29, 2019 —
In late October 2018, Robson Hall was invited to send a team to the inaugural Bastarache moot to be held in Ottawa. Last weekend, March 22nd to 24th, four students from our Faculty represented the University of Manitoba with élan.
The objective of the competition, named in honour of one of Canada's leading jurists and language rights advocates, former Supreme Court Justice Michel Bastarache, is to provide participants with the opportunity to acquire a greater understanding of Language Rights and to encourage and develop their advocacy skills in French. The moot was based on the Bessette case from British Columbia which was argued at the Supreme Court of Canada this fall. A decision is expected very soon. Robson Hall's team representing the appellant were Sarah Khalil and Liam Valgardson, and for the respondent, Dillon Acheson and Danelle Rougeau-Suchy. Richard Goulet, a lawyer with Manitoba Hydro, coached the team. The other schools represented were Alberta, Moncton, Ottawa and Saskatchewan.
"The Bastarache competition was an excellent experience. We worked hard and we did well," said Acheson while Khalil noted that the experience had pushed her to develop her oral advocacy skills, her French as a second language and her critical thinking skills in the area of administrative law. Rougeau-Suchy considered it a privilege to have been able to participate in the moot and appreciate the professional benefits and "the opportunity to meet law students from different schools and bond over our appreciation for the French language." Valgardson, who found himself arguing for the appellant in front of the lawyer who had argued the same position at the Supreme Court, summed up one of the highlights of this moot for this team of students from an English law school: "Meeting Jennifer Klink was a special moment of inspiration for me during the Bastarache moot. She inspired me to believe that even though French is my second language it can be an important and effective part of my legal career."
All of the students agreed that participating in the Bastarache Moot had deepened their understanding of the importance of language rights in Canada, especially in the context of this moot, for the French minority communities across the country. Participants had the opportunity to meet a number of judges (including The Honourable Michel Bastarache) and practitioners in the area of language rights, who were the judges for this moot, and were treated to a private visit to the Supreme Court of Canada (pictured here) by the Court's Registrar, Roger Bilodeau (originally from Ste-Agathe, MB) himself a language rights legend. Everyone expressed a hope that students from Robson Hall will be able to participate in the moot again in the future because of the rich learning experience.