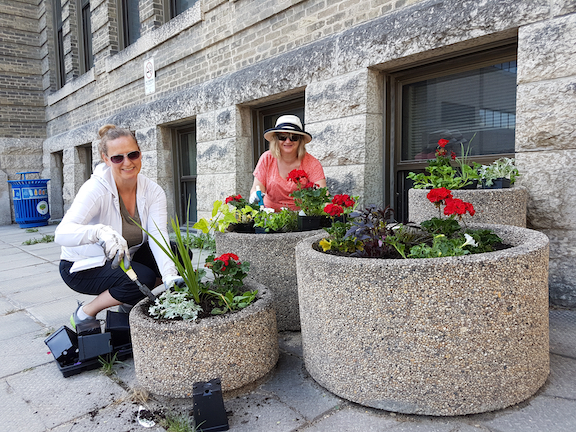 Reset and reconnect
Lots to look forward to with upcoming Campus Beautification Days, THRIVE and Pride flag raising
May 11, 2022 —
A message from Dr. Michael Benarroch, President and Vice-Chancellor, and Naomi Andrew, Vice-President (Administration)
The warmer weather over the past few days is a welcome sign of spring as more of us return to campus. It's wonderful to see our friends and colleagues, to pause for informal chats in hallways and to enjoy the outdoor spaces.
This past weekend, many of us also had the opportunity to gather in-person to honour Indigenous graduates at the Annual Traditional Graduation Pow Wow. It was a beautiful event and wonderful to be part of the celebration.
Reconnect at Campus Beautification Days and Pride Flag Raising
We invite the entire UM community to dig in for Campus Beautification Days, which are taking place again after a two-year hiatus. Join in at Bannatyne campus on Friday, May 13 and on Wednesday, June 1 at Fort Garry campus (rain date June 2).
You can catch up with colleagues and friends across campus during the gardening activities starting at 9 AM, and the free BBQ lunch at noon on each campus. All are welcome for lunch—and there are great prizes to be won. Dress for the activities and bring your gloves, spades and rakes!
The day kicks off with the Pride Flag Raising at Fort Garry Campus on June 1 at 9am. Watch for more details to come.
Reset with THRIVE
Another opportunity for staff and faculty is the upcoming THRIVE week, UM's learning and wellness event, with sessions scheduled from Monday, May 16 to Thursday, May 19. Everyone is invited to discover new resources, tools and supports to enhance your work and stay healthy.
And don't miss the special keynote address at noon on May 16 by Tina Chen, UM's inaugural Executive Lead (Equity, Diversity and Inclusion) on the topic "Why does equity, diversity and inclusion matter?"
We all share in making our community more welcoming, accessible and inclusive. Plan to join in online at this important virtual event, and find out more about how we are prioritizing equity, diversity and inclusion in institution-wide planning and action.
We look forward to seeing you soon!