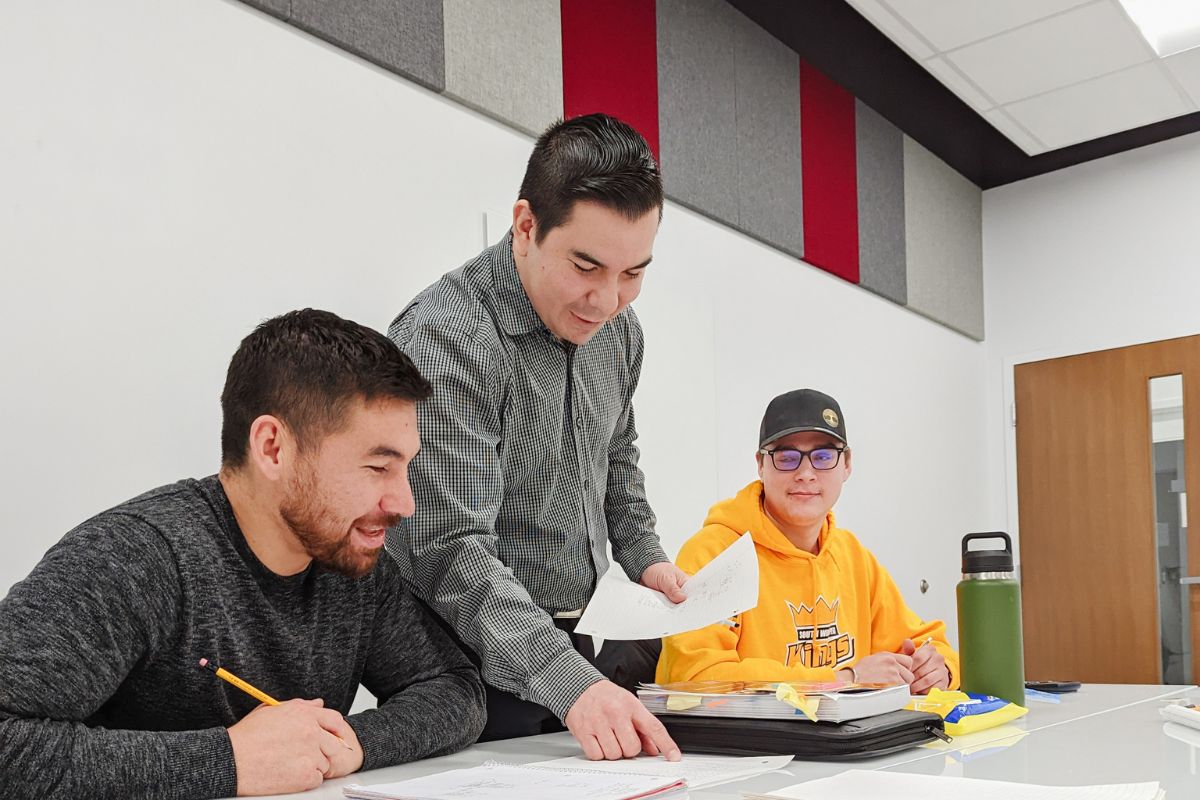 Reconciliation through education
Asper MBA alum Jim Thunder [MBA/17] makes colonial history common knowledge
June 19, 2023 —
"Getting post-secondary degrees is part of how we decolonize and move forward to rebuild our Nations and reclaim our participation in the economy of Canada. As the famous saying goes, 'education is the new buffalo.'"
Education, he says, creates more opportunities for individuals, much like the MBA has for him, but more importantly, it allows First Nations to support self-governance and employ community members for large economic projects in development.
A fierce advocate of Asper's MBA program, Thunder has shared his experience at information sessions in the hopes of connecting with prospective Indigenous candidates who don't immediately see the degree as an option for themselves.
"There are smart, qualified people with huge amounts of potential, but they may not know about the program, they don't know they'd qualify or they don't realize they can be successful at it," he says.
During his MBA, Thunder benefited from the experiential learning opportunities and networking at Asper, enjoying the teamwork of the MBA Games and reflecting on the connections he made. It was in research, however, that he really thrived.
He worked with Asper professor Dr. Bruno Dyck and fellow MBA grad Peter Pomart on a video series called "Overdue Diligence" that focused on explaining Indigenous history in the context of business. While working on an "Indigenizing the Corporate Model" report with UM economics professor, the late Dr. John Loxley, Thunder's motivation for research went beyond the assignment.
"I found myself spending hours and hours in the library late at night, learning about the Indian Act and self-determination and residential schools. I kept doing the extra research even after the stipend was gone because I realized that I needed this research; I needed to know."
This research became the foundation for a spoken word poem Thunder wrote titled "Dear Younger Me."
"In the poem, I describe all the things I wish I would have known as a young person about what it means to be Indigenous in Canada and what reconciliation is."
Receiving invitations to share the poem, Thunder recorded it in a video to increase its reach. From here, the idea for Reconciliation Thunder grew. Today, through Reconciliation Thunder, he regularly posts videos in which he shares information about Indigenous history and reconciliation efforts.
The goal of Reconciliation Thunder is to raise awareness of issues affecting Indigenous people.
"If you don't know what the problem is, you can't fix it," he says.
On March 30, 2023, following the Truth and Reconciliation Commission of Canada's Call to Action 49, the Catholic Church officially repudiated the Doctrine of Discovery and terra nullius, concepts long used to justify European sovereignty over Indigenous lands and resources.
Thunder explains, "the power of these concepts was that nobody knew what they were, yet they exist in courtrooms and policies. They have caused unimaginable damage to Indigenous peoples, and yet the average Canadian has never heard of them."
For Thunder, the MBA was a game changer because it was where he could immerse himself in knowledge of these concepts, while coming to better know himself. "It was a way to look at the potential that I didn't know I had. It teaches you what you're capable of, but it also tells others how much potential you have."
Now, Thunder is more attuned to the relationship between power and knowledge. One way to empower those most affected by colonial systems and justifications is to create opportunities for them to know: to learn their histories, to connect over their shared experiences, and to discover their potential.
__
Learn more about Indigenous history and economics from Thunder himself in "Overdue Diligence."