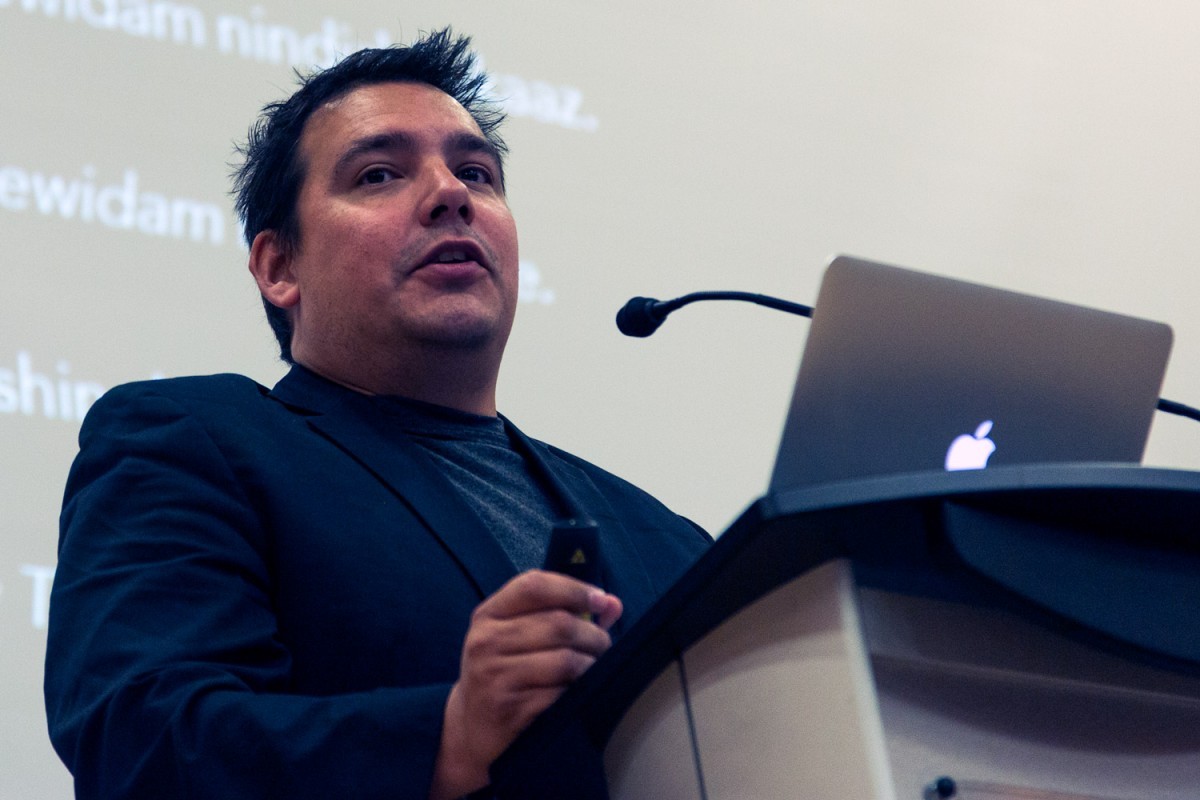 Reconciliation: It's up to you, teachers
Make classrooms a place of possibility, says Sinclair
August 31, 2016 —
Prof. Niigaan Sinclair had a clear message for education students about their role in shaping Canada's future: "As teachers, you're up against 150 years of history but you have an opportunity to step in the way of that. We hope that the classroom can become a place of possibility. It's up to you how we reconcile."
Sinclair delivered the keynote speech on Tues., Aug. 30, welcoming some 489 BEd students back to school during opening plenary on Orientation Day.
Citing the Truth and Reconciliation Commission report, authored by his father, Justice Murray Sinclair, the acting chair of the Native Studies department says that education is key to dealing with the legacy of residential schools.
"Education is what got us into this mess — the use of education at least in terms of residential schools — but education is the key to reconciliation," Niigaan said, quoting the TRC report.  "We need to look at the way we are educating children. That's why we say that this is not an aboriginal problem. It's a Canadian problem."
Prof. Sinclair reflected on personal experiences in dealing with the legacy of residential schools through his grandfather, who was removed from his family and community at the age of five and forced to attend residential school, "where he experienced a great deal of terror."
Only in recent years did the family discover the truth about his physical and sexual abuse because he never talked about it, Sinclair said. But his grandfather's life choices betrayed the cruelty he suffered in residential school: At age 15, his grandfather lied about his age to fight in the Second World War.
"He chose to face Hitler, rather than the nuns—that should tell you something about his experience in residential school," Sinclair said, adding his grandfather's resulting alcoholism and violent behaviour still affects his family today.
"What it looks like is that I have trouble hugging my daughter. I have trouble being a father. And I have trouble thinking about all those things that go with alcoholism. Those of you who have an alcoholic in your family know what I am talking about."
Although, the impact of residential schools has manifested foremost on reserves in issues such as crime, gangs, poverty and murdered and missing Indigenous women, its impacts extend far beyond First Nations communities, Sinclair said.
"Residential schools are arguably the most divisive, violent and genocidal policy in Canadian history."
Indigenous Peoples are the fastest-growing demographic nationwide—a reality Canadians can no longer ignore. Earlier, elder Norman Meade opened plenary with a similar message, extending a blessing to the students and encouraging them to do their part for reconciliation.
"It's wonderful to know that all of you, and many more, are going to touch the lives of our children—to bring them an education that will stay with them for all of their life," said Meade.
In welcoming the students, Dean David Mandzuk encouraged the teacher candidates to pay close attention to their teachers to what they do in the classroom, and to ask questions in order to learn the attributes and expectations of professional teachers.
"A teacher demonstrates qualities like empathy and enthusiasm. Qualities like impartiality and courage Humility and open-mindedness. All of these qualities are incredibly important."
Senior stick, Charla Anderson noted that nomination papers are available at the Education student council office for students seeking nomination for election at the end of September.
Associate Dean Melanie Janzen invited students to the education for reconciliation conference to be held Sept. 26 and Feb. 6, co-hosted with the National Centre for Truth and Reconciliation.
"The really exciting thing about this conference is that all of the presentations are going to be hosted by faculty and teachers in the field," Janzen said, adding that discussions will focus on what teachers across the province are doing in classrooms to include Indigenous perspectives and knowledge in their classrooms, as well as acts of reconciliation."