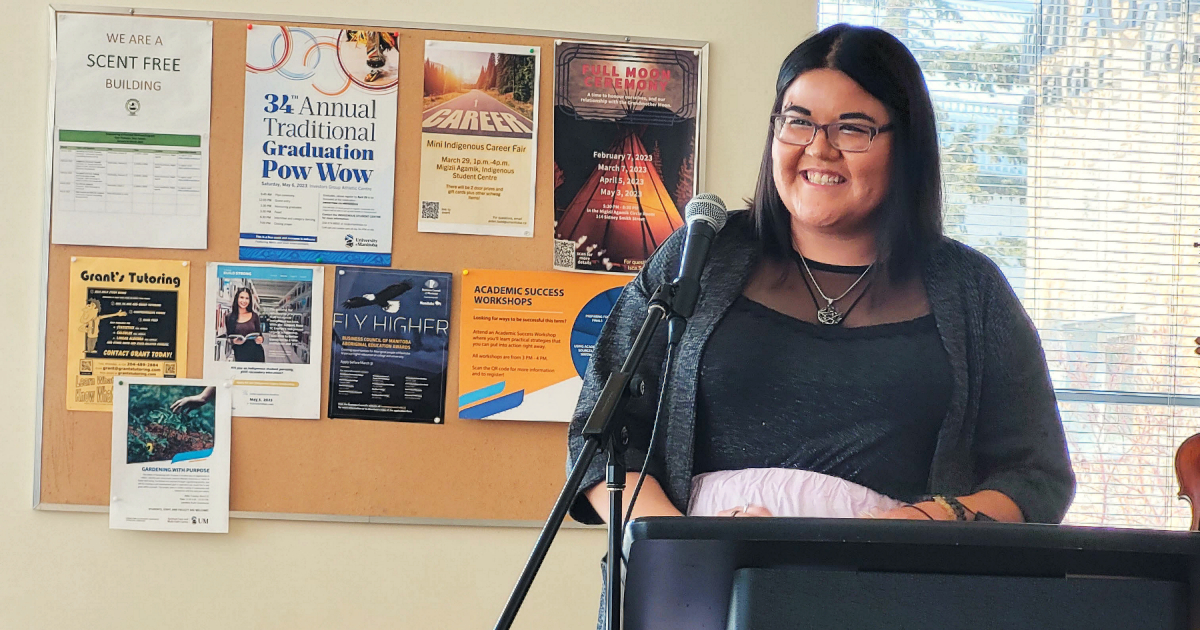 Qualico Bridge to Success Program Enhances Student Experience
The program is accepting applications now
April 28, 2023 —
The Qualico Bridge to Success (QBTS) program is one of the many initiatives offered by the Indigenous Student Centre (ISC) to support student success. Its goal is to facilitate the transition of new Indigenous students into post-secondary education at the University through pre-orientation activities, academic learning support, advising, peer mentoring and special events that will enhance their first-year experience.
ISC student advisor and program coordinator Bailey Hendry says the QBTS program nurtures the spiritual, physical, mental and emotional strengths of Indigenous students to ensure they're as successful as possible in their first year of study.
"When I was a first-year student, I would have loved a program like this for myself to help me build community right off the hop," says Hendry. "This program can really step in and provide that support for students—a sense of belonging and the initial push to build friendships on campus."
Students have access to academic supports in Migizii Agamik, such as tutors and the Learning and Reading Coach and can attend workshops that help them learn new skills for their studies. With the return to in-person learning at UM, this year's QBTS participants also had the opportunity to participate in cultural outings like a nature walk with the Land and Water program and a visit to Festival du Voyageur.
In addition to QBTS programming, participating students can apply to be matched with a Lead Neechiwaken (mentor) in the Neechiwaken Indigenous Peer Mentor Program. Neechiwaken is a Cree term meaning friend, and the program provides students with the opportunity to be a Neechiwaken to one another. Mentors are upper year Indigenous students who provide academic and social support and ongoing advice. All members in this program experience social, academic and cultural learning opportunities, peer support and community building activities.
"Building community and feeling a sense of belonging both on and off campus is important to student success, and that's what this program aims to do," says Hendry.
This year, QBTS held its first family-oriented event that saw students bring their families together to celebrate their first-year successes while sharing a meal. Hendry hopes to incorporate more family involvement in the program going forward.
Demi Quill, a student who was part of this year's cohort of QBTS and Neechiwaken students, spoke at the event and shared her experience with Qualico.
"I was a little shy at first, but Qualico Bridge to Success supported me by helping me develop a sense of community for myself," says Quill. "I found support here on campus and made so many new friends."
Applications to join the Qualico Bridge to Success program are now open and Hendry says she's excited to welcome a new cohort of first-year Indigenous students.
"I think it will be an exciting year – and none of it would be possible without the generous support from Qualico. They have been instrumental in helping us to support students who are transitioning to university for the first time," says Hendry.
And Quill has some words of wisdom for other first-year Indigenous students looking to join the program.
"My advice to you is if you work hard, you will reap the rewards," says Quill. "And most times, it's way better than you expected. What you want is on its way to you, what you need is already within you."
To learn more about the Qualico Bridge to Success program and for details on how to apply, visit the UM website.