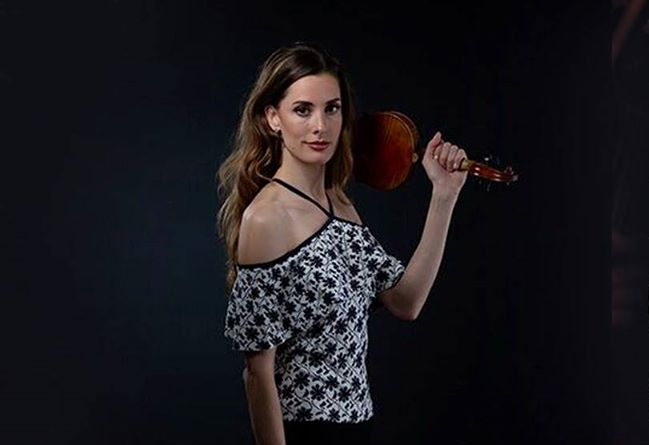 Q&A with an MBA – Ivanka Watkin [BA/16, MBA/20]
Passionate traveler completes a new academic adventure
June 10, 2020 —
After spending years traveling internationally to teach yoga and scuba diving, Ivanka Watkin decided it was time to take her career to the next level, and for Watkin, that next level required an MBA degree.
With an uncommon educational background for an MBA applicant, Watkin applied to the Asper MBA program with two University of Manitoba Bachelor of Arts degrees: one with a major in Central and Eastern European studies and another, with a major in German and Russian. Watkin also had years of experience as a professionally trained violinist and a role as the fiddle player for the Winnipeg Celtic Rock band, the Dust Rhinos.
Watkin's arts background did not hold her back and while in the program she was selected to receive a Schwartz/Reisman Fellowship, a fund launched in 2016 by alumnus Gerald Schwartz [BComm/62, LLB/66, LLD/16] and his wife Heather Reisman [LLD/16], to recognize community involvement, leadership and academic excellence among students studying in the I.H. Asper School of Business and the Faculty of Law at the University of Manitoba. Recently, we connected with Watkin, who is set to graduate with her MBA this month, to hear about her unique story, and learn more about how the Asper MBA program supported her love of connecting with others and her passion for traveling.
What prompted you to apply for the Asper MBA program?
I knew this program would give me stability which was something that I found super attractive, especially since it's not really something that I've had in the past. I've taken contracts around the world, which have been great, but they've all been short-terms. Ultimately, I was really interested in doing something that would be a change of pace compared to what I had been used to, and this seemed like the logical next step for me.
Which aspects of the MBA program did you enjoy the most?
I signed-up for the Asper MBA Executive Mentor Program offered by the Career Development Centre, which was great. Ivy Mannil [BComm (Hons)/92, BA/93] (Graduate Programs Business & Professional Development Consultant) knew that my background was in the arts, so she suggested I partner-up with a powerful woman of the same background. I was paired with Lynne Skromeda, the Executive Director of Winnipeg Folk Festival. We had so much in common, so teaming up with her was phenomenal. I just loved it. It was perfect.
Given my love for traveling, I also really enjoyed all of the opportunities to study internationally. The MBA program allowed me to take an international marketing course in Spain, as well as participate in the international study trip to Tanzania.
You were recently a recipient of the Schwartz/Riesman fellowship. Can you tell us a little bit about the award and what it means to you?
Yes I was! Receiving it definitely caught me by surprise, but it was such an honour. I actually used it to help cover some of the costs associated with going on the Tanzania trip I mentioned earlier. That trip was a life changing experience, so I can also credit the award for giving me lifelong friends too. It meant a lot.
Now that you have completed the program, do you have any ideas about how you will use your MBA?
Although my original ideas were to head to the industries that I'm already in, they are put on hold because of COVID-19. But the MBA opens doors, surprising doors, in places I wouldn't have normally looked. I went to a [socially] distanced bonfire recently and talked to a person about my MBA experience. He is a project manager, and after learning more about his industry I realized that it sounded like something I would really enjoy. Because of that conversation, I'll be starting an internship as a project manager with him as my mentor. The surprise for me is that the internship is in finance, which is a field I never thought I'd be in. The project management part is what makes it attractive and viable, and probably the only way I'd be associated with the finance industry.
Watch for Ivanka at the UM Virtual Graduation on June 29th!