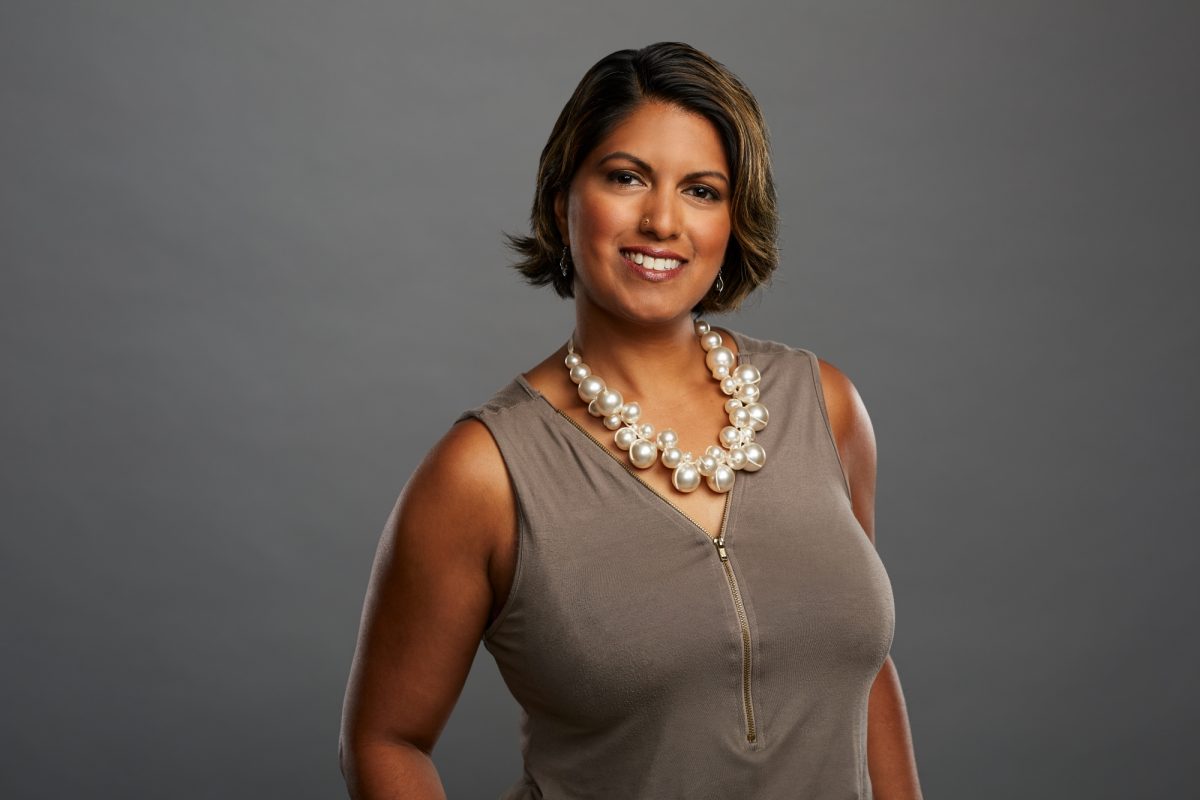 Q and A with an MBA – Larissa Kanhai
Agent for female empowerment and mother of three shares her MBA journey
September 17, 2020 —
For this month's Q & A with an MBA story feature, we connected with recent Asper MBA graduate, Larissa Kanhai, to learn more about her experience in the program, her commitment to the community, and dedication to female empowerment.
Kanhai recently graduated from the Asper MBA program with a specialization in sustainability and public enterprise. She started the program in 2015 with a broad background including a Bachelor of Science from the University of Saskatchewan, a Bachelor of Arts Honors in International Development Studies from York University, and a range of work experience in the non-profit sector.
With experience in sustainability, diversity, and ecumenical justice in the nonprofit sector, Kanhai desired organizational and administrative expertise. She felt that an MBA would help her achieve that. While an MBA was something that Kanhai always wanted to complete, it wasn't until the birth of her third child that she finally made the commitment.
"When I started at Asper I had just had my third child, my first daughter," said Kanhai. "I had wanted to do my MBA for a long time but it was really having my daughter that pushed me because I thought, 'Now I have to be a role model to this young woman.' "That's what really tipped me over to finally make this happen."
Kanhai dove into her Asper MBA journey and for the next five years, dynamically balanced her career, family and commitments to organizations such as Athena Leadership, Asper's Network for Empowered Women (ANEW), the Women's Health Clinic (WHC), and the Canadian Fair Trade Network (CFTN).
We connected with Kanhai to learn more about her MBA experience and her words of wisdom for females interested in taking their MBA.
Tell us more about your involvement with Athena Leadership.
When I began the MBA program, I immediately saw opportunities for discussions on women in business as well as for people of colour. One of the women I met was Nicole Zajac [MBA/18], an MBA alumnus who directed me to Athena Leadership after sharing our desire to enhance female empowerment. I learned that Athena is a professional support network and nonprofit organization dedicated to advancing women in leadership, and I am proud to have been a member since 2015.
I love being around other women that push each other to be better, who are mentors to one another, and who have each other's backs – it's amazing. During monthly meetings we have candid learnings with executive mentors from local businesses or hold member discussions through the lens of women in business. All of us in Athena Leadership draw out the best in one another by providing counsel, support, opportunities, and peer-mentorship; it's an incredible environment to be in.
Can you tell us about your work with the Women's Health Clinic (WHC)?
The Women's Health Clinic is this unapologetically feminist nonprofit community health clinic — with justice at the very heart of the work, we promote body positivity, reproductive justice, and access to health services for all. I actually learned about the WHC because I did a project at Asper, and needed to select an organization for a nonprofit marketing class. Once I learned about WHC, I became so involved that I ended up applying to be on the board. I have been a Board Director with WHC since 2016. I've been involved in past years with our unparalleled fundraiser, Women, Wine and Food, that we host on International Women's Day, but just recently, I was asked to co-chair the board.
Do you have any advice for women such as yourself who may want to take their MBA?
First you need to know, not only that "you can do this" but that "you are needed." I was intimidated entering a business degree without a business
background and after being out of the workforce as a stay at home mom. But it turned out that my rich experiences have only brought value to the work I was doing at Asper and to everything that was to follow for me. Apparently many management techniques mirror many parenting techniques! You and all your experiences bring value, don't discount them.
Secondly, make the most of your MBA and to make it your own. For example, I did a sustainability and public enterprise concentration, which was more off the beaten track. What I did to make that happen was to engage with what I wanted to learn (I met women working in fair trade cooperatives in Peru!). At one point, I did a directed reading and was able to study intersectional feminism in policy. Taking advantage of Executive Education classes, mentoring with World Trade Centre Winnipeg, IDEA galas, all of these things are ways to network, but the key is to bring your own self into what you want your MBA to be.
Find ways to lift other women up. It may seem obvious that we should be there to empower and support one another as women, but sometimes you need to look for opportunities to do that. It's not always about finding a moment for you to shine, but to find those opportunities for someone else, where you can mentor somebody else — and that will come back to you in unexpected ways.
A piece of advice that I got from a mentor from Athena Leadership, and that I've been hearing since my first day in the MBA program, is to know your brand and have your sales pitch ready. But the Athena mentor offered a twist, when she talked about staying on brand, she was talking about integrating your personal brand with your professional brand. So make sure what you're doing means something to you and that it speaks to who you are. By the end of it I was very proud of what I accomplished, and I was proud of the direction that I had taken my MBA.
Finally, you need to use your privilege for good. Mother, woman, volunteer, life-long learner, second generation Canadian, person of colour, or whoever you identify as. Your MBA gives you a voice so don't be afraid to use it to create positive change.
—
To learn more about the Asper MBA program and the career enhancing opportunities please visit our website.