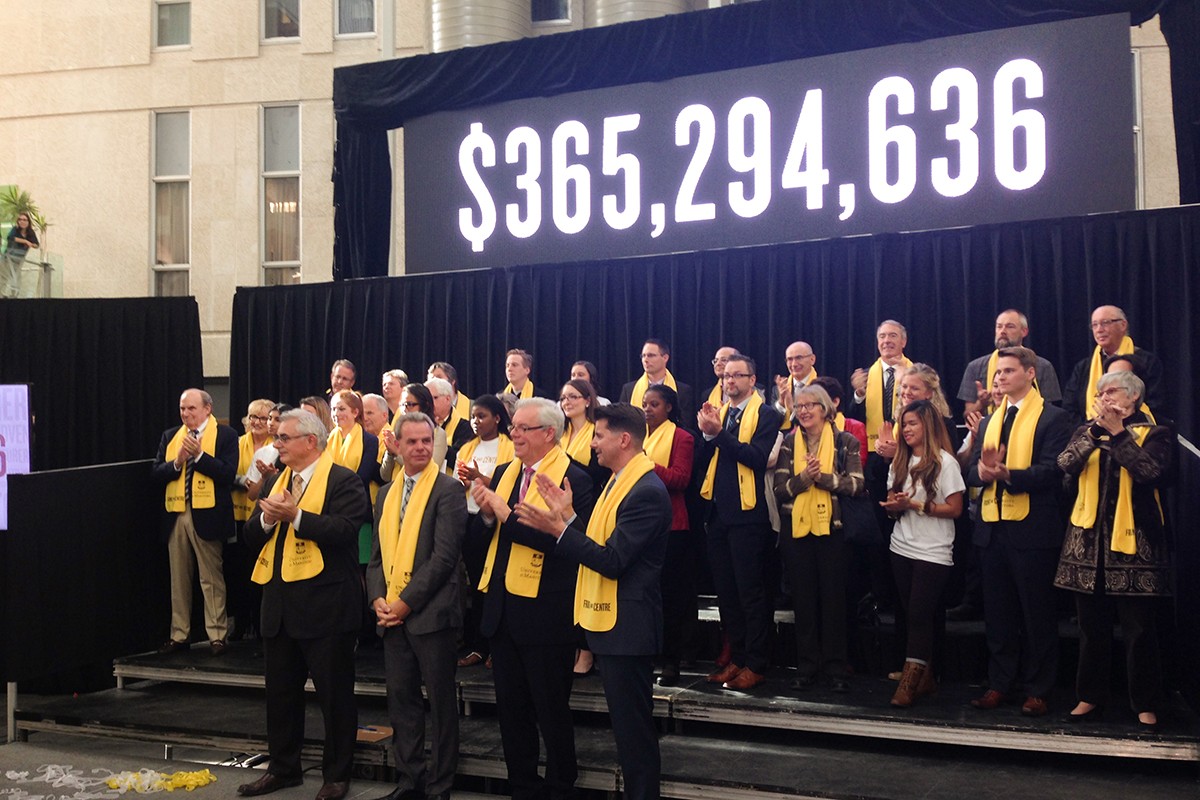 Provincial government takes its place front and centre
Visionary support lauded by U of M President Barnard
October 9, 2015 —
At a lively celebration on October 9 the provincial government announced its support for the University of Manitoba's Front and Centre campaign, committing $150 million towards: supporting future leadership; graduate and undergraduate students; advancing research to impact our community in Manitoba and around the world; giving faculty and students a place and a space to thrive; and transforming not only the university but our entire province.
This brings the total raised so far to an astounding $365,294,636.20, which was announced at the event to a cannon of streamers and raucous applause. This figure already makes Front and Centre the most successful and the most ambitious campaign in Manitoba's history.
And we're just getting started!
"I would like to thank the Government of Manitoba for its visionary support for this university," said President and Vice-Chancellor Dr. David Barnard. "This is a government that recognizes the value of postsecondary education and the University of Manitoba in particular. When we come together as a community, we are able to do more than we can ever do alone."
"The education that you receive as a young person shapes your entire life," said Premier Greg Selinger. "We know that students want to have access to the best programming and opportunities they can, and that's why we're focusing our investments in key priorities areas like innovation, inclusion and teaching excellence. This investment means that Manitoba students can get a world-class, affordable and accessible education right here at home and be ready for the jobs of tomorrow."
The government announcement was made during an energetic event in the Engineering and Information Technology Complex (EITC) atrium. The Faculty of Engineering band kicked off the excitement, surrounded by a boisterous crowd of cheering students, staff, faculty and friends of the university that packed the atrium and lined stairs and balconies up to the sixth floor of the building.
"From day one, we believed that this campaign is truly transformational, with a breadth and scope only a research-intensive university can provide," explained Paul Soubry, campaign chair for Front and Centre and president, CEO of New Flyer Industries and a U of M alumnus. He and other members of the campaign team have rallied behind Front and Centre. "It is absolutely tremendous to see the government step up and leverage support from the friends and alumni of the University of Manitoba."
"This is a wonderful day for the University of Manitoba and the people of our province," said John Kearsey, vice-president (external). "Premier Selinger and his government have added their strong voice in support of Front and Centre, which I hope will inspire all the citizens of Manitoba and alumni of our institution to give generously."
"Wow, you guys really know how to throw a party," remarked the Honourable James Allum, Minister of Education and Advanced Learning, addressing the crowd before introducing the Premier. "We know that parents value quality education and want us to make sure that when their children go on to post-secondary education they are getting the supports and skills they need to succeed. Our government has a record of investing in universities and colleges, and we will reject those that call investing in our students wasteful."
At the government announcement, students and researchers representative of the five priorities thanked Premier Selinger for helping them achieve their goals through the financial support of the university.
"Thank you so much for your unwavering support and contribution to us as students," said Jeremiah Kopp, president of the U of M Students' Union. "It absolutely means the world to us. If there was ever a question about whether students are paying attention to this campaign, I have only one message: we absolutely are."
"We won't let naysayers get in the way; we will band together," continued Kopp, emphasizing the momentum of the Front and Centre campaign in the university community. "If you want to go fast, go alone. If you want to go far, go together."
The $150 million announced by the government builds upon the more than $215 million in donations announced October 3 as the university launched the Front and Centre campaign. With a goal of $500 million, the Front and Centre campaign has exceeded expectations with three more years left to go in the campaign.
The Front and Centre campaign has five priorities and investment goals:
Indigenous Achievement – $65 million: Manitoba will become a centre of excellence for Indigenous education and research.
Graduate Student Support – $100 million: Manitoba's capacity for innovation will grow with an increased number of exceptional graduate students.
Research Excellence – $80 million: Our researchers and scholars will make discoveries that contribute to knowledge, grow the economy, and improve lives here and around the world.
Outstanding Student Experience – $105 million: Our students will benefit from exceptional experiences and support.
Places and Spaces – $150 million: Our community's quality of life will be enhanced through new environments for learning, discovery, and engagement.
[rev_slider fc_province]