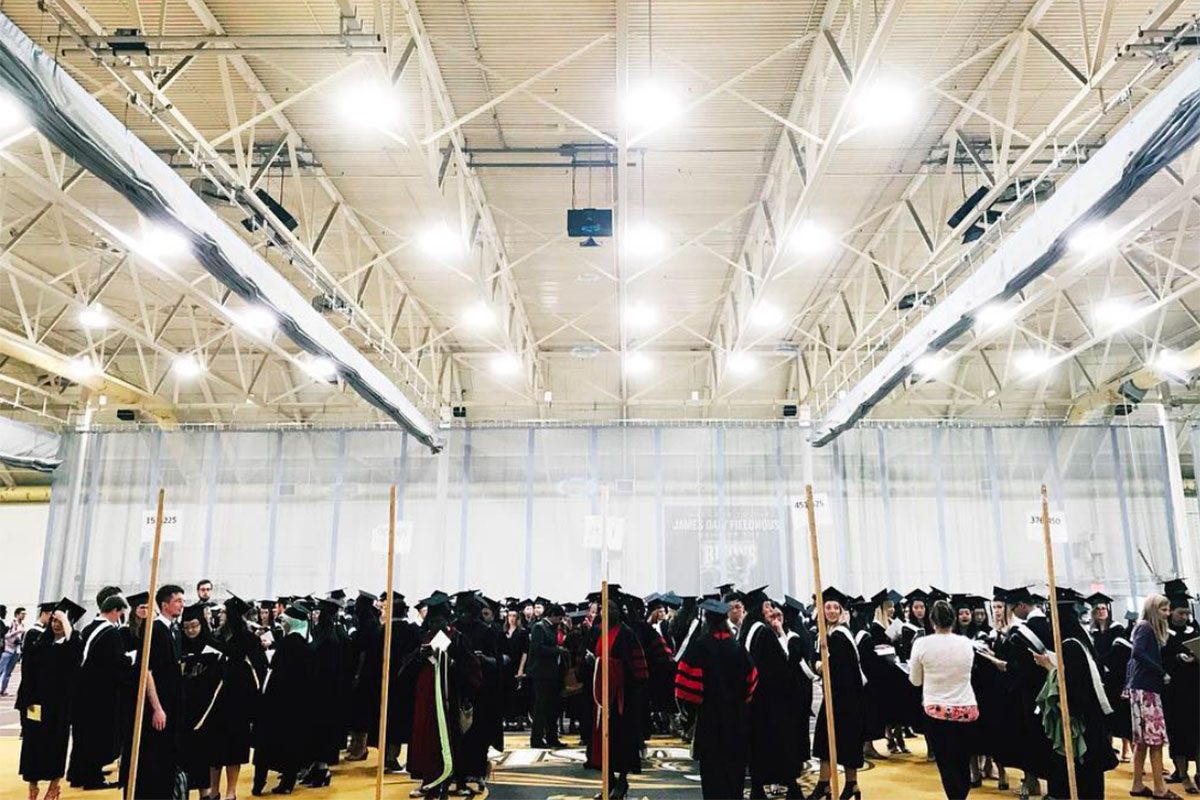 President Barnard spurs grads to take a more active role in leadership that will guide the future
October 17, 2018 —
In his address to 1,512 graduands at Fall Convocation 2018, Dr. David Barnard, President and Vice-Chancellor of the University of Manitoba, challenged graduating students to push forward the boundaries of knowledge:
Good afternoon graduands, family and friends, alumni of this university, colleagues, esteemed guests, and everyone gathered here today to celebrate the achievements of the Fall Class of 2018.
As president of this institution, I want more than anything else to commit to you that the University of Manitoba, your university, will continue to take a leadership role in this world: creating knowledge, driving innovation, transforming communities, changing lives.
We will do so in a way that values inclusion and diversity, ensuring the vast societal benefits generated by a research-intensive university like ours are shared widely and equitably.
Most of you leave us today, but you will always be an integral part of the University of Manitoba family. Your dreams, your hopes, your expectations, nurtured as you studied here, inform who we are as an institution and how we evolve to better serve this community and the wider world.
We want always to do better. We know you will help us to achieve that goal.
As you become alumni today, be assured that the University of Manitoba is always here for you, and for your families and your communities. Our doors – real and virtual – are open to provide further educational opportunities, to facilitate community and industry partnerships, to test your new ideas, to sustain your own personal leadership paths.
Our commitment to leadership at the University of Manitoba has been redoubled this year with the introduction of the Institute for Leadership Development, which will bring together resources to enable all students, no matter what their program of study, to hone their leadership skills. Made possible through the generous assistance of Great-West Life, IG Wealth Management, and Power Corporation, this unique new leadership initiative exemplifies the spirit of innovation and growth that we all can feel today driving this city and province forward.
I'm particularly excited about the President's Student Leadership Program, where students from the University of Manitoba and other post-secondary institutions across the province will have the opportunity to engage with internationally-renowned leaders in business, politics, sport, public service, education, health, law and the arts.
As students, you have shown remarkable leadership. Among you today, for example, are graduate and undergraduate students whose research pushes forward the frontiers of knowledge, enabling innovations that build a better world; whose service learning volunteer experiences have improved lives in communities near and far; and whose creative work has enlivened and enriched our campus and province.
The conversations ahead for this world are difficult ones. How do we respond to severe environmental changes? How do we knit more tightly as communities while gender identities take new shape? How do we reconcile historical imbalances and abuses?
I have no doubt, your leadership will guide us through these conversations and others. Ultimately, if we've done our jobs as educators and mentors well, tomorrow, the world will be in better hands.