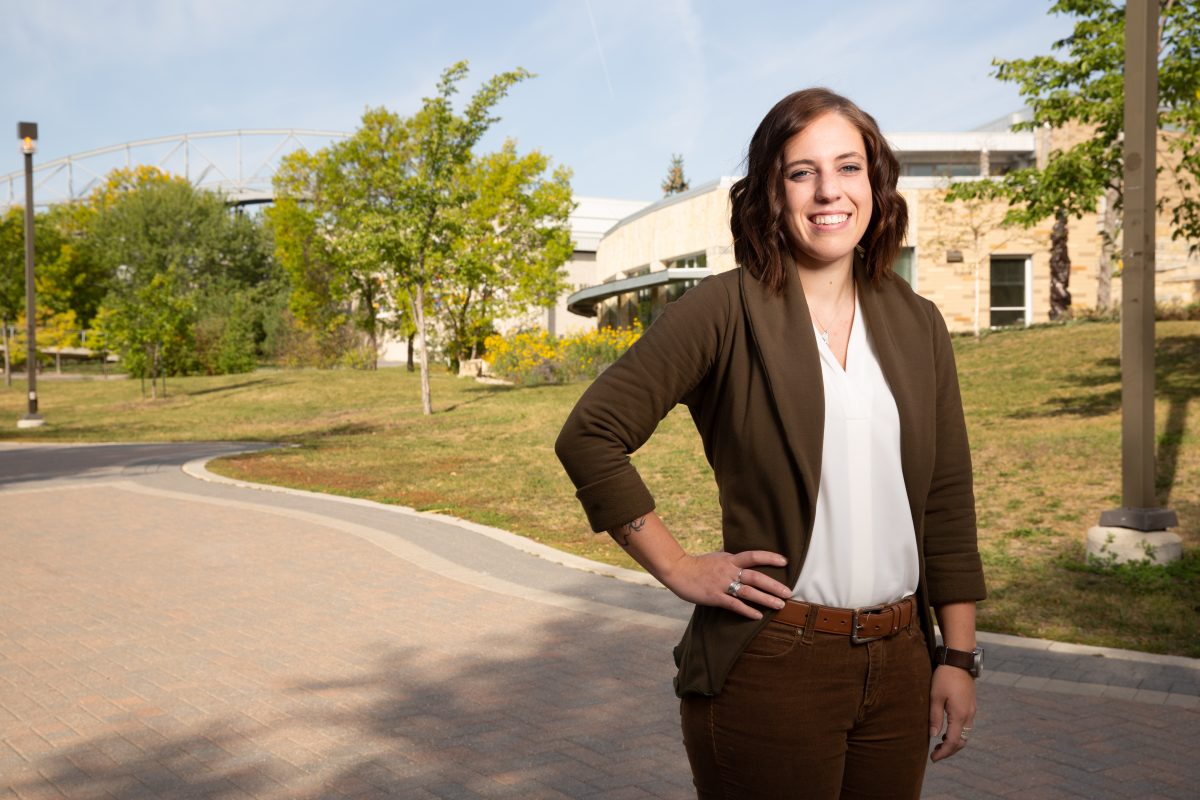 PhD student invited to Youth Indigenize the Senate
May 9, 2019 —
Now in its fourth consecutive year, Canadians across the country were encouraged to nominate a young Indigenous leader in their community to participate in the Youth Indigenize the Senate. This inspired Indigenous student advisor Justin Rasmussen to nominate PhD student, Indigenous Circle of Empowerment alumna and Vanier Scholar Taylor Morriseau.
Rasmussen feels that Morriseau is a leader in bridging scientific and traditional knowledge for the betterment of the people. "She has the skills, knowledge and energy to effect positive change," he adds.
Morriseau, a Cree woman from Peguis First Nation, says she was thrilled when she found out she had been accepted. "It was quite an honour to be nominated," she says. "To receive the word that I had been selected is validating to the work that I am doing." She says this opportunity is also validating to the health experiences of Manitobans overall.
Morriseau is researching in the department of pharmacology and therapeutics with a focus in early onset type 2 diabetes. With its first diagnoses in the 1980s, type 2 diabetes is a relatively new phenomenon for scientists, doctors and researchers. Morriseau is studying intervention methods of traditional food systems in Indigenous communities, and believes this is an important aspect of health to bring into the political landscape.
The idea behind Youth Indigenizing the Senate is to encourage youth to "bring unique insight into what is happening in their communities and offer a fresh perspective on what needs to be done to make life better in their community." The Standing Senate Committee on Aboriginal Peoples also believes it is of high importance to include the voices of First Nations, Inuit and Métis future leaders.
Morriseau agrees with this sentiment, and says it is important to have youth voices at all levels of government. So much so, that in 2017, Morriseau advocated for the Mayor of Winnipeg to implement a youth council. This year, the City of Winnipeg opened applications for its first Mayor's Youth Advisory Council.
Youth Indigenize the Senate invites representatives from across Canada. Morriseau says it is important to include a wide variety of voices, as it is often youth who are doing frontline work within their communities. Manitoba has one of the highest rates of early onset type 2 diabetes in children and youth, and is 20 times the national average. "Representing Manitoba is top priority for me," she says.
Morriseau hopes to leave with a better understanding of how government policies are formed. "Any of these experiences where I am exposed to how these systems work and where I could potentially apply my own research of accessing food security in the North will really broaden my scope," she says. "I think going into this experience, and into Senate, is helpful for not just addressing type 2 diabetes in our communities, but all illnesses we face."
Youth Indigenize the Senate takes place from June 4- 6 in Ottawa, and offers a unique perspective into the behind-the-scenes operation of how Parliament functions. Follow the @umindigenous Instagram account for Taylor's take over during her visit to Senate!