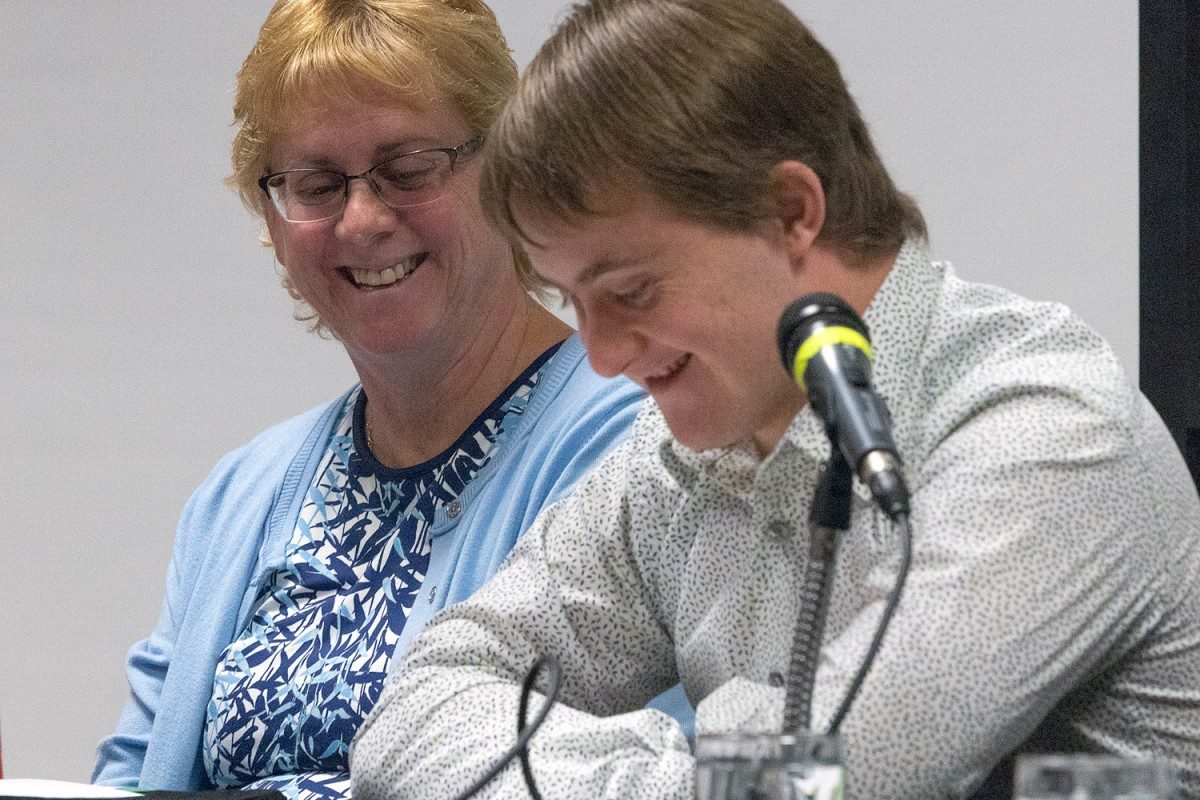 Panelists share experiences with inclusion in education
Progress made but much more to be done
September 27, 2018 —
Three months into her PhD program, Nancy Hansen ran into her first experience with discrimination during her education journey.
Enrolled in disability studies at Glasgow University, Hansen faced the possibility of not completing the program. Her advisor, who was also department head at the time, delivered the news.
"She said: 'Well Nancy, not everybody's cut out to be PhD material.' "
Rather than accept that fate, Hansen took matters into her own hands.
"I've always been a proud, four-legged woman," says Hansen, who walks with the assistance of forearm crutches. Hansen went to student services, which led to making her case to the dean and the vice-provost, and switching programs in order to complete her degree.
She later found out that five women with disabilities had quit while working with the same department head.
Now director of the interdisciplinary master's program in disability studies at the University of Manitoba, Hansen was one of five panelists sharing their stories and views on the inclusion during the Faculty of Education's Evening of Engagement for Homecoming 2018.
Speaking as a parent of a young adult with a disability, Tami Teixeira defined inclusion as all students being equally valued, learning together in a classroom, meeting their social, their intellectual and their physical needs.
"It means that my son is in participating in all the aspects of school life, and it doesn't just sharing a physical space," said Teixeira, who works as an assistive technology specialist in K-12 schools. "Inclusion is an attitude, and just has to happen."
Her son Mark, who was also participating in the panel discussion, offered feedback on his journey in Manitoba schools.
Mark, who is now an active member of Special Olympics, fondly recalled his experience participating on a school track-and-field team.
"I liked being on the team because I enjoyed practising three times a week and going to track meets," Mark said. "I got to go on trips with everyone, and most importantly, I made new friends."
U of M Accessibility Services director Carolyn Christie talked about inclusion and services provided at the university, including hearing-related, learning disability, visual, mental health or mental illness, medical, physical, and temporary disabilities.
She said the office has seen students with mental health disabilities total 44% of the students registered at Student Accessibility Services.
"And we estimate that students with mental health disabilities may increase to 48 or 50% in the next year," Christie said.
Anne Kresta, a parent of two adults with disability and a long-time inclusion advocate, shared findings from a 2017 study about inclusive education in this province, involving 664 survey participants that included parents and students in grades 7 to post-secondary, and staff in Manitoba's education system.
"We wanted to span perspectives from early learning and child care through to post-secondary education," Kresta said. "And the real impetus was to look at what the current experiences were related to barriers, to inclusive and accessible education in Manitoba, across a wide range of disabilities and across the whole range of current education."
The study found significant progress made in physical accessibility to education, as "the least reported barrier to education across all sectors." Another positive finding included 74-75% of parents and students reporting they were attending school in their neighbourhood schools.
However, the findings also included significant room for improvement with regard to barriers to inclusive education in Manitoba with over 90 per cent of parents and students reporting that they experienced at least one of the listed barriers—the most frequently reported being related to attitudes, social environments, and school policies.
"So, think about how lunch programs and before- and after-school programming is structured, how field trips are structured," Kresta said. "We are still having students not allowed on field trips due to disability, testing and even how lessons are planned.