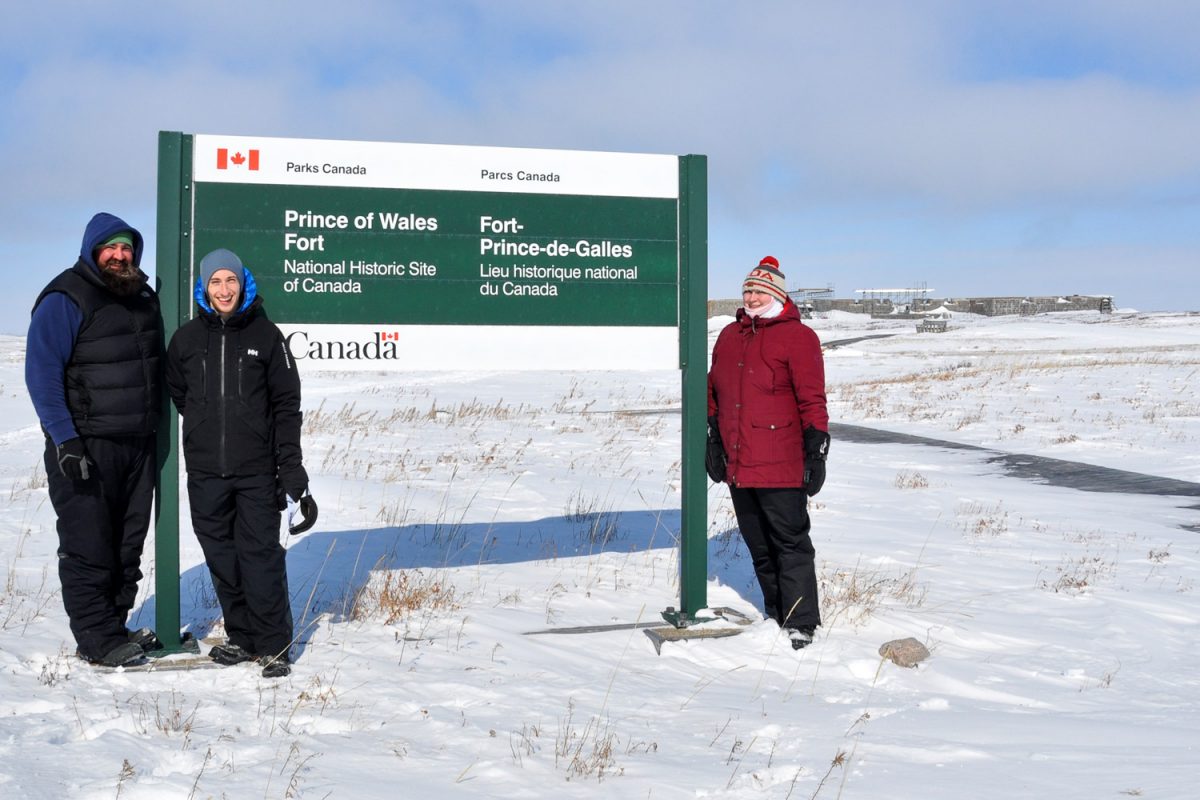 Opportunity of a lifetime
Student experiences BEd practicum in world's polar-bear capital
The scene unfolding outside his living-room window made his first day in Churchill one he will never forget.
As night fell on Hudson Bay, the stars emerged, brightening against the darkening, crisp sub-Arctic sky. From the silent heavens, dropped shafts of brilliant blue-green, shimmering overhead like glowing stage curtains, twisting in a light breeze.
Against this backdrop of the Northern Lights' dancing chorus-line of dazzling colour, trots a grey wolf onto the horizon, silhouetted against the iced-over bay, sniffing the air as if more concerned with finding its next meal than drinking in the celestial spectacle overhead.
To a wide-eyed Jordan Grenier, it was all playing out like a scene from a Farley Mowat novel. He could scarcely believe his eyes.
He wondered: If this is Day 1, what comes next in my practicum experience?
If he left the city wanting to get away from it all, Grenier soon found himself closer to community than he's ever been.
In this remote coastal town, once a month, everyone gathers at the school to share a hot breakfast. Grenier frequently encountered students outside school hours, often fundraising for school trips—an added challenge in this town, located some 1,000 kilometres north of Winnipeg.
"There is definitely a strong sense of close community," he said of the town of 1,000 people.
Home to polar bears and beluga whales, an Inuit museum and the historic Prince of Wales Fort, Churchill is a world-renowned a tourist destination, but as a science teacher, Grenier was keen to explore the research conducted at the Northern Studies Centre.
Northern crossroads of scientific discovery
Grenier took a Grade 10 science class to the centre, where they dissected a wolverine and explored exciting new projects benefitting the community.
Standing at the intersection of unique ecosystems that include the boreal forest, the Arctic tundra, and the Hudson Bay Lowlands, with its marine ecology and wildlife, Churchill presents researchers with an array of opportunities.
"We talked about how those ecosystems are unique and how they interact with each other in the Churchill area," Grenier said, adding the class also toured Rocket Greens, a project where community members can buy a weekly subscription to access leafy green vegetables, such as chard, bok choy spinach, grown at the centre hydroponically in a shipping container without soil. In a town where families pay a shipping premium for groceries, the program is proving popular.
Well-resourced school
Housed in the Churchill Town Complex, Grenier was surprised to find how well the high school was resourced. In addition to a health centre, swimming pool, indoor playground, curling rink, theatre, hockey arena, gymnasium and fitness centre, the town complex also houses a library and elementary school—all resources available to teachers and students.
"I have been in a lot of science classrooms, but this one has the most resources in terms of equipment and materials," said Grenier, whose teachable major is music and minor is general science.
With the town complex connecting the elementary and high schools, teachers are also presented with opportunities that include cross-curricular learning, Grenier said.
Perhaps Grenier's most important takeaway as a teaching professional was that conducting his practicum in a town of 1,000 opened his eyes to the benefits of teaching smaller class sizes, including the opportunity for more one-on-one time with students.
"We have five weeks to build as good a relationship as a possible—with smaller class sizes that's more manageable," Grenier said. "When students aren't engaged, I have the time to build connections with students to find out how I can connect their interests with the course material."
Living in a small town, Grenier found opportunities to build professional, caring relationships with students—both inside and outside the classroom—learning and sharing lessons that will stay with him the rest of his life.
• • •
Epilogue: Since completing his practicum, Grenier has accepted a teaching position at H. C. Avery, a Grade 6-8 school in Seven Oaks School Division where he will be teaching band and choir.
• • •
To find out more about how to apply for a teaching degree at the Faculty of Education, University of Manitoba, click here.