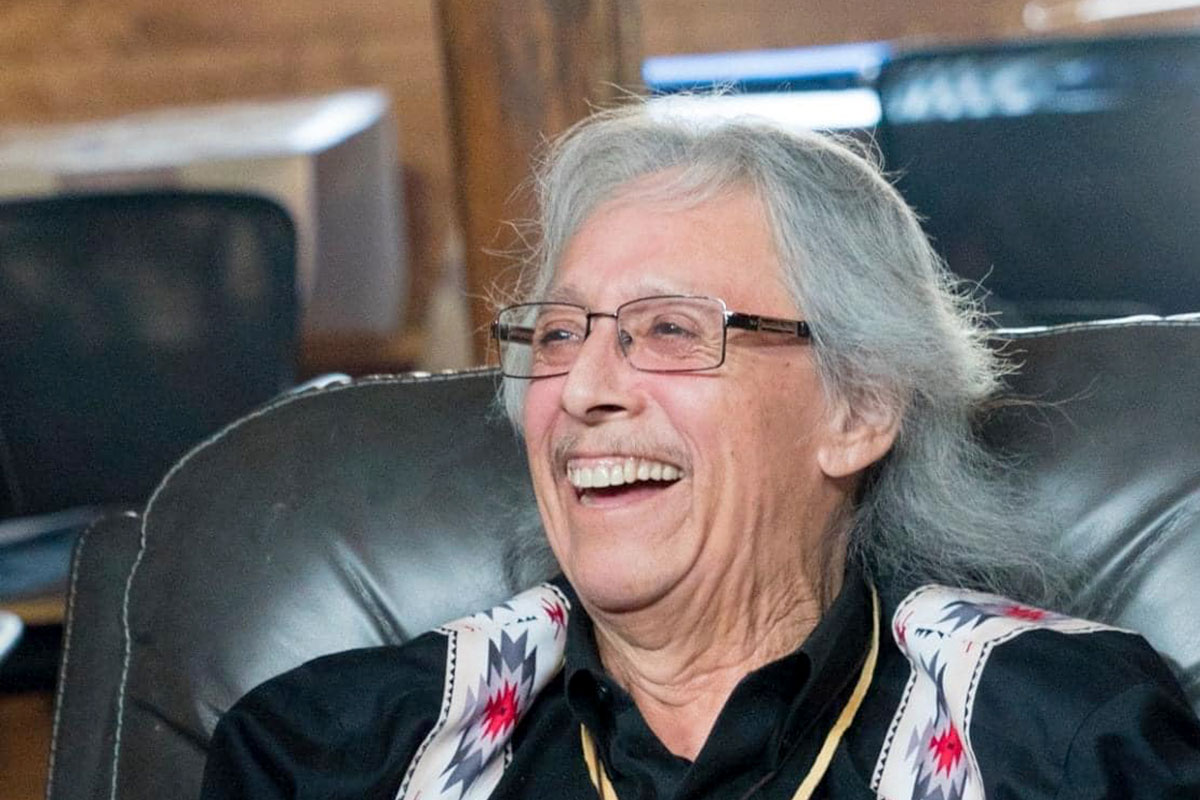 On the passing of Nii Gaani Aki Inini (Leading Earth Man)
December 10, 2021 —
The University of Manitoba community is saddened to hear of the passing of Elder Dave Courchene Jr. on Dec. 8, 2021. A member of the Sagkeeng First Nation, Elder Courchene devoted his life to environmental stewardship and led with generosity, kindness and a desire for peace.
In 1967, Dave and nine other Indigenous athletes made the long journey from Minneapolis to Winnipeg carrying the torch to the opening ceremonies of the 1967 Pan American Games. Before arriving at the opening ceremonies, the torch was given to a non-Indigenous athlete who carried the flame into the stadium, while they watched the proceedings on television. The Front Runners fulfilled their journey at the 1999 Pan American Games in Winnipeg. Some would say this flame he helped carry symbolized another fire – a fire that would act as a beacon for his journey on Mother Earth.
In 1992, Elder Courchene lit the sacred fire at the United Nations Earth Summit. He has shared the stage with spiritual leaders like the Dalai Lama, and in 2002 founded the Turtle Lodge International Centre for Indigenous Education and Wellness. This sacred lodge has been recognized as one of the most important gathering places for Indigenous peoples in Canada.
He unquestionably inspired the lives and work of many people, including UM community members. He will be greatly missed, but the sacred fire he carried in his heart will continue to burn through everyone who had the privilege of meeting him and for the many generations to come.
MICHAEL BENARROCH, PRESIDENT AND VICE-CHANCELLOR:
On behalf of the University of Manitoba, I extend our deepest sympathies to the family and friends of Nitamabit/Nii Gaani Aki Inini (Elder Dave Courchene Jr.). He will be remembered at the University of Manitoba as a respected Knowledge Keeper who carried forward his father's and grandfather's great legacy of leadership by founding Turtle Lodge to create a special gathering place for Indigenous peoples to share teachings. His efforts to promote cross-cultural understanding through alliances and dialogue were deeply inspiring. He is missed dearly by everyone who had the pleasure and honour of speaking with, and learning from, him.
CATHERINE COOK, VICE-PRESIDENT (INDIGENOUS):
We are saddened to hear of the passing of Elder Dave Courchene Jr. We have been privileged to receive his gifts here at the University and in our communities through his words of wisdom and gifts of ceremony. He will be missed but his words will live on.
CARL STONE, ELDER-IN-RESIDENCE, INDIGENOUS STUDENT CENTRE:
The passing of Elder Dr. Dave Courchene Jr. is a huge loss to the entire community. Elder Courchene had a significant relationship with the University of Manitoba. He is one of the many important Elders that would come from time to time and share his knowledge, giving direction to the University when called on. He also had a significant cultural and spiritual relationship with (former) President David Bernard, as do I.
DAVID BARNARD, FORMER PRESIDENT AND VICE-CHANCELLOR, UNIVERSITY OF MANITOBA:
I first met Dave Courchene Jr. when Ovide Mercredi (UM grad, former National Chief of the Assembly of First Nations) agreed to arrange my first sweat ceremony and took me to Turtle Lodge. At that ceremony Dave named me Kaniibowit wapshki muckwa – Standing White Bear – and told me what colours I should wear in accord with that name. This was an honour I had not been expecting.
In the years since, we met on several occasions in Winnipeg and at the Turtle Lodge, most often planned but sometimes by coincidence at community events.
I knew Dave as an accomplished leader, well-respected in the broader Indigenous community, always ready to listen and – at least in my case – to prod consistently but gently. He would describe ways in which he could see improvements made in relationships, in our cross-cultural practices, and so on.
I also knew him as a deeply spiritual person who was comfortable affirming his spiritual perspective and the wisdom that came with it, and who would implicitly – sometimes explicitly – challenge me to live up to my own spiritual perspectives.
A few weeks ago, I was invited to attend a celebration of Dave's life and influence at the Turtle Lodge along with many others, and to speak briefly. Those of us who spoke described the many aspects of a wise spiritual leader, a generous teacher and a friend who will be deeply missed in all these aspects. I am, in fact, weeping as I write these words.
NIIGAAN JAMES SINCLAIR, ASSOCIATE PROFESSOR, DEPARTMENT OF NATIVE STUDIES:
Nitamabit/Nii Gaani Aki Inini (Elder Dave Courchene Jr.) was an uncle to us all, whose work, words and vision was unstoppable. His dedication and commitment to sharing knowledge and helping humanity was unfathomable, influencing literally hundreds of thousands across the world. He is the epitome of an Elder, medicine carrier, and Ogimaa, an Anishinaabe leader. I, like many, was truly gifted by his life through the talks and teachings he generously gave over cups of coffee in the city or in the Turtle lodge in Sagkeeng. He will be missed.
NICKOLAS KOSMENKO, INDIGENOUS ENGAGEMENT PROGRAM COORDINATOR, FACULTY OF KINESIOLOGY AND RECREATION MANAGEMENT:
"Go sit by the fire." Those are the words of Elder Courchene, and within their brevity and seeming straightforwardness, there dwells a significant wisdom and humanness of which the world otherwise often seems bereft. Those words are the manifestation of decades of deep reflection, time on the land, ceremony, and guidance from Elders before him. They come from an understanding of the fire's power to connect us with the Spirit that guides, and they remind us of the unconditional warmth and love that Mother Earth has for us.
As I sit here now, reflecting on the times that, in all my naïve youth, I have been consumed by the vain pursuits of colonial-capitalist society, and fearful about the direction the world is taking, I hear Dave's words in my heart: "Go sit by the fire." I know that if I do that, and if I do it with intention, I will feel the Spirit as the flames rise, and as the pines and spruce below crackle, I will feel the love that can only be felt when we let ourselves be still so as to hear the unsilent silence that is the message of Creator. It is then that I will be prepared to share that love and do my part to carry the teachings that I feel so honoured to have learned from Elder Courchene, speaker of freeing and heartfelt truths, Front Runner, Nii Gaani Aki Inini, Leading Earth Man.
ANDREW HATALA, ASSOCIATE PROFESSOR, DEPARTMENT OF COMMUNITY HEALTH SCIENCES:
I had the honour of working with Elder Dave Courchene Jr. for the last three or four years. It was an incredible time and relationship. We co-published an article on "Indigenous-led Partnerships in Canadian Health Care" and secured a $1.7-million CIHR grant that was just entering its first year in the process. His impact on the UM community was immense, and his leadership and guidance in our work moving forward will be lost. Yet, the vision of Turtle Lodge was also not just about one man, and so the work and spirit of the process will continue moving forward. Elder Courchene's legacy will guide future generations.
More personally, I was amazed by his determination and commitment to his vision, of what Turtle Lodge means as a place of hope, inspiration, and education for all peoples. I again felt honoured to be in ceremony with him at the lodge and to bring that spirituality and ceremony into all aspects of our work together. Elder Courchene truly taught me what it was to be involved in an Indigenous-led process of partnership and research. He showed me how to be more humble in working together and in relationships with others. Elder Courchene often said the most important lesson we need to learn as humanity right now is about turning to our spirit, learning to take guidance from ceremony, and about living a life centred on values, like respect, love, courage, honesty, wisdom, humility, and truth. Under his vision and leadership, Turtle Lodge is one such place to develop these values and a more holistic vision about ourselves and our planet.
Being with Elder Courchene and listening to his guidance, instilled in me over these years an unshakable sense of hope for our collective future as one human family, and that no matter what challenges and issues we will face together, when we come together in a spirit of kindness and unity, and guided by spirit, we can address problems and achieve a more just and equitable vision of a future that we set before ourselves. Elder Courchene will be missed, yet I know his spirit will continue to guide us and be present from the world beyond.