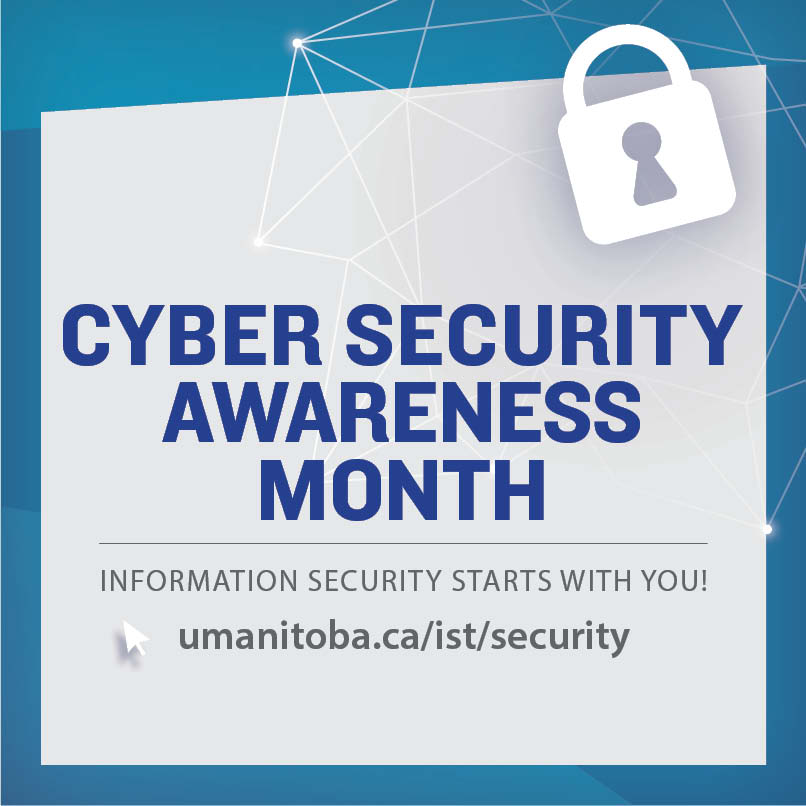 October is Cyber Security Awareness Month
Information Security Starts With You!
September 25, 2018 —
Cyber Security Awareness Month is an internationally recognized campaign held each October to inform the public of the importance of cyber security.
Cybercriminals use phishing—a type of social engineering—to manipulate people into doing what they want. Social engineering is at the heart of all phishing attacks, especially those conducted via e-mail.
Social engineering is the art of manipulating people so they give up confidential information. Perhaps you've seen an email that looks like it came from PayPal asking you to click on a link, and the link went to a website asking for more personal information? This is a prime example of social engineering. Attackers will try to fool you into believing they are trustworthy.
Any one of us can become a victim of a cyberattack. The education sector is particularly vulnerable because so much of our day-to-day activities and interactions happen online. That's why staying informed about how to protect your data and confidential information is part of being a good cyber citizen.
The IST Information Security and Compliance team works hard to keep our information safe. But ensuring that it remains safe, starts with you.
This October, IST is focusing on helping you become a better cyber citizen. Cyber Security Awareness Month Activities include:
Phishing simulations
Look out for suspicious looking email messages. Do they fit the criteria listed in our "How to catch a phish" article? If so, forward them to spam [at] umanitoba [dot] ca.
A poster contest
Hey students! Here is your chance to get creative. Submit a poster design to promote cyber security and you could win a $300 gift card for the U of M Bookstore. Check out the IST website for more information.
UPDATED
Phishing training contest
Test your cyber security awareness for the chance to win the new 9.7" iPad. The training is open to students, staff and faculty. The training module will be available Oct 1-31, 2018.
Take the Cyber Security Awareness – Phishing Module now for your chance to win! Log into UM Learn using your U of M network ID and password.
Find out more at umanitoba.ca/ist/security/cyber-security-month