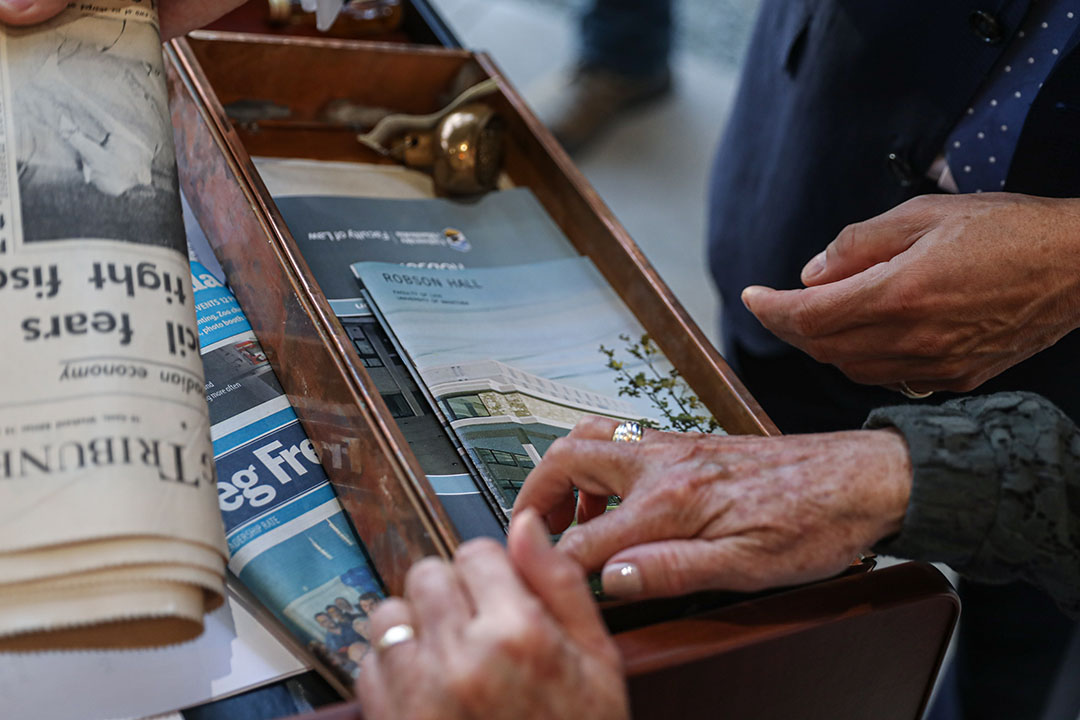 Nuclear non-proliferation concerns transcend time after 50 years
Law Dean's new publication examines current state of nuclear treaties and how to implement them, a half century after world feared nuclear war
February 12, 2020 —
"I predict that when this box is opened the world will have survived a large scale nuclear war," began University of Manitoba law professor Dale Gibson, in his letter to the future in September, 1969. Months before the 1970 coming-into-force date of the Treaty on the Non-Proliferation of Nuclear Weapons, Gibson's and similar predictions from his colleagues were sealed in a copper box and hidden behind Robson Hall's cornerstone as part of the law faculty building's official opening ceremony on the University of Manitoba's Fort Garry campus. The tone of these predictions were reflected in the headlines of the day's (now-defunct) Winnipeg Tribune, a copy of which was tucked in the bottom of the time capsule, that raised concern about global conflict.
What no one predicted, but what they may not have found surprising, was that a half-century later, nuclear non-proliferation is still a going concern in the world. And in a twist of fate, the current Dean of Law at Robson Hall, Dr. Jonathan Black-Branch, happens to be a scholar who has devoted years of his legal academic career to the field of International Nuclear law. Last month, upon the 50th anniversary of the Treaty's coming into force, Asser Press published Nuclear Non-Proliferation in International Law: Vol. V – Legal Challenges for Nuclear Deterrence and Security, edited by Black-Branch, and Dr. Dieter Fleck.
"The ultimate goal of my work in this area is to be 'out of work', so to speak," said Black-Branch. "That is, to achieve the elimination of nuclear weapons and explosive devices; complete disarmament. To one day see countries in possession of nuclear weapons comply with their legal obligations to under Article VI of the Nuclear Non-Proliferation Treaty (1968) whereby we have complete and verifiable disarmament. Where we live in a world with nuclear peace and freedom from nuclear fear as proposed in our Winnipeg Declaration 2018," he said, referring to a document that arose out of one of now three conferences on Nuclear law that he has organized at the Faculty of Law since arriving at Robson Hall in 2016.
The latest volume of the Black-Branch and Fleck series, focuses on various legal aspects regarding nuclear security assurances and nuclear deterrence, and is part of an in-depth long-term study on the Non-Proliferation Treaty, the three main pillars of which are non-proliferation of nuclear weapons; the right to develop research, production and use of nuclear energy for peaceful purposes; and nuclear disarmament. Opened for signatures in 1968, the Treaty came into force in 1970. It is to this day, an object of continuing concern to advocates of nuclear non-proliferation. The International Law Association's (ILA) Committee on Nuclear Weapons, Non-Proliferation and Contemporary International Law, which was founded and is chaired by Black-Branch, has been meeting since 2006 with independent experts in cooperation with the foundation/charity ISLAND – International Society of Law and Nuclear Disarmament, to discuss and make recommendations as to how to effectively implement the terms of the Treaty, and other nuclear-related legal obligations. The issues and concerns surrounding this area of law are complicated and surrounding delicate political climates that must be handled with great care and diplomacy.
"As far as I can see," said Fleck, "our ILA Committee has been the first to look into the three pillars of the NPT Treaty in context, thus bringing experts from three different areas – non-proliferation, safety of nuclear energy, and nuclear disarmament – together and making interrelationships between these different issues more visible."
Black-Branch expanded that, "The Committee mandate is 'to consider competing legal approaches to non-proliferation and regulating nuclear weapons within the contemporary context', with a special focus on controversial issues and existing interdependencies between the three pillars. The Treaty has to be examined in its entirety, taking into consideration the interdependent pillars."
In order to accomplish this work, Fleck explained, the committee has organised two research conferences in Cologne, Germany, (each based on an international call for papers), Round Tables in Brighton, London, and Winnipeg, and Sydney as well as Black-Branch hosted two student-focused Round Tables at Dar Al-Hekma University in Jeddah, Saudi Arabia.
Black-Branch and Fleck have published numerous ILA Reports and five peer-reviewed academic Volumes in print with Volume
VI in progress. Volume I contained an exposé of relevant legal issues and international concerns, identifying and addressing questions requiring application of rules from various fields of inter-national law and practice. Volume II reviewed aspects of verification and compliance, Volume III focused on legal aspects of the use of nuclear energy for peaceful purposes, Volume IV emphasized different human perspectives on the use of nuclear energy, examining the need for regional solutions, and the revived interest on a global scale in prohibiting and fully abolishing nuclear weapons. This volume included papers by three Robson Hall law professors besides Black-Branch, and one law student.
The just-published fifth Volume mentioned above, comes prior to the 10th NPT Review Conference (2020) and is, for the most part, the result of a research conference on Regional Nuclear Non-Proliferation and Disarmament: Controls, Defence and Diplomacy, held at Winnipeg's Canadian Museum for Human Rights in September, 2018, followed by a Round Table on Legal Challenges for Nuclear Deterrence and Nuclear Security held last March in London. Volume VI will focus on Nuclear Disarmament and Security at Risk and Challenges.
Black-Branch and the ILA Committee will next meet at the end of March at Emmanuel College in Cambridge, UK, for an intersessional meeting and Round Table to discuss legal challenges for nuclear deterrence and security. This event will be hosted by the University of Manitoba's Faculty of Law, together with ISLAND and the ILA Committee.
The up-coming ILA Committee Report will be presented at the ILA conference in Kyoto which will mark the 75th Anniversary of the bombing of Hiroshima and Nagasaki. The Report marks "the last major achievement in this field," said Fleck, "thus contributing to transparency in a difficult and complex area of international law, but it also identifies unresolved challenges and issues – for example, on verification; radioactive waste management; nuclear deterrence strategies – that remain highly controversial. While such controversies remain connected with competing interests and all issues are political in nature," Fleck added, "one of the greatest weaknesses of our research group Is the lack of funds for the endeavours of ISLAND; but at the same time our greatest strength is our independence."
Dean Black-Branch's work can best be summed up in his own words: "We must live in a world with nuclear peace and freedom from nuclear fear. For years throughout the Cold War and afterwards many people have advocated the traditional deterrence approach saying that nuclear weapons protect us in that no country would have mutual destruction. Let us be clear: Nuclear weapons do not protect peace – nuclear weapons threaten peace."
Fifty years after Professor Gibson hid his prediction in the law building's wall, we are relieved that he was wrong and we hope he remains so, with the help of the Dean's work.