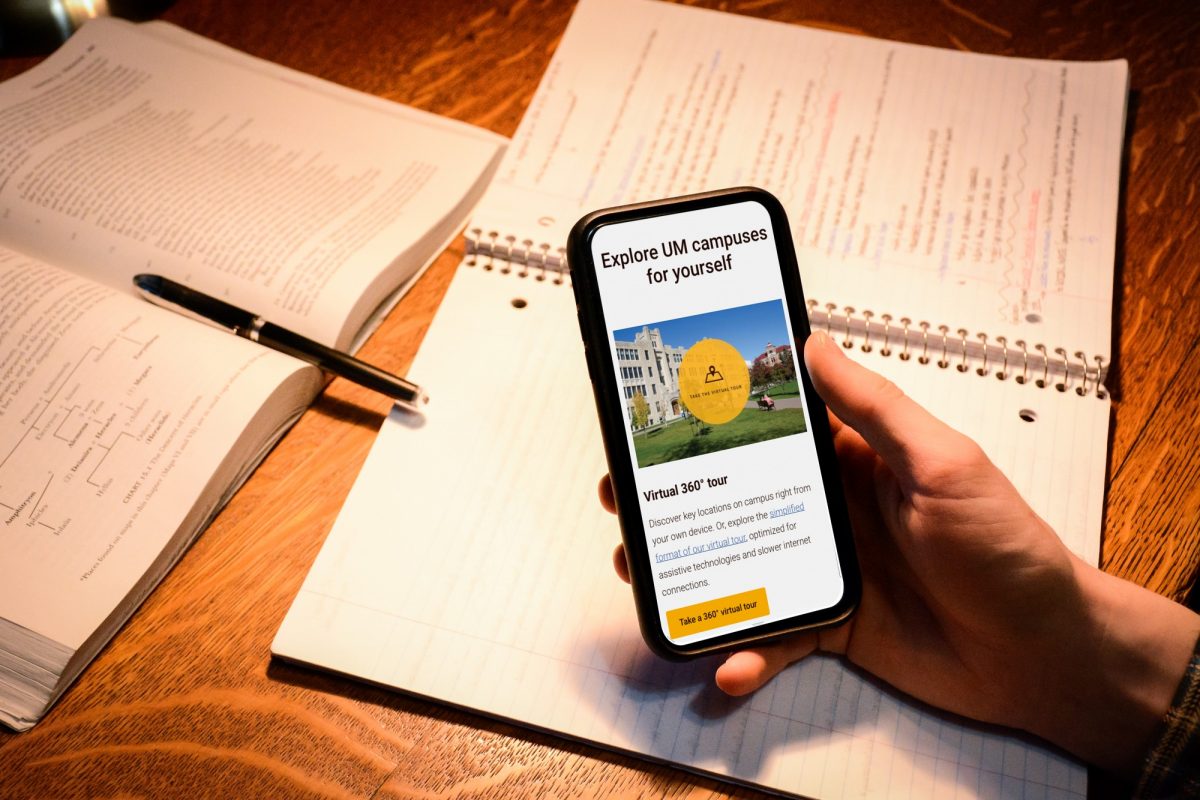 New recruitment tools introduced to acquaint prospective students with UM
Student recruitment team launches virtual 360º tour and chat tool
May 30, 2022 —
Despite the many challenges that remote operations imposed over the past two years, the student recruitment team in the Office of the Registrar and Enrolment Services found creative ways to introduce UM to prospective undergraduate students.
As recruiting students relies heavily on in-person events, presentations and campus tours to create a connection and leave a lasting impact on those thinking about post-secondary education at UM, bridging that gap with virtual solutions became a critical part of planning.
A digital viewbook was launched to engage prospective students on any device and from anywhere around the world. Additionally, live, online campus tours and virtual events became a part of the programming to create and strengthen the connection to the UM and faculties, and to provide important information about student services and supports.
Now, even with the return to in-person operations, new user-friendly digital tools are being introduced to complement recruitment activities and reach prospective students near and far at all times. A virtual 360° campus tour and virtual chat tool are now available, offering a more immersive experience for those interested to learn about UM.
Focusing on international prospective students, the Unibuddy chat tool offers a platform to easily connect users with UM student ambassadors across borders. They can chat directly with current student ambassadors to ask questions, discuss campus living and opportunities, and other important details about the UM student experience.
This peer-to-peer platform uses a chat feature that matches prospective students with ambassadors whose insights relate to questions being asked, helping the decision-making process be more dynamic when it comes to choosing a post-secondary institution. After all, what better way than to hear it from students themselves?
Meanwhile, the Virtual 360° tour has changed the way we offer campus tours. Prospective students can navigate and get a sneak peek of the campus without the immediate need for travel. A simplified-format version of the tool has also been created to provide a fully accessible experience and benefit all users.
Powered by Google technology, users can walk through hallways, get an insider view into buildings and their key areas or rooms, and explore other well-known spots all from your device at your convenience, from anywhere in the world. The tour shows real-life details of each space, photos of the UM community using these spaces and general descriptions relevant to key areas. The tour currently includes seven buildings, with more to be added each year.
Visit Explore UM to access these tools and other resources to learn more about the endless opportunities awaiting you at the University of Manitoba.