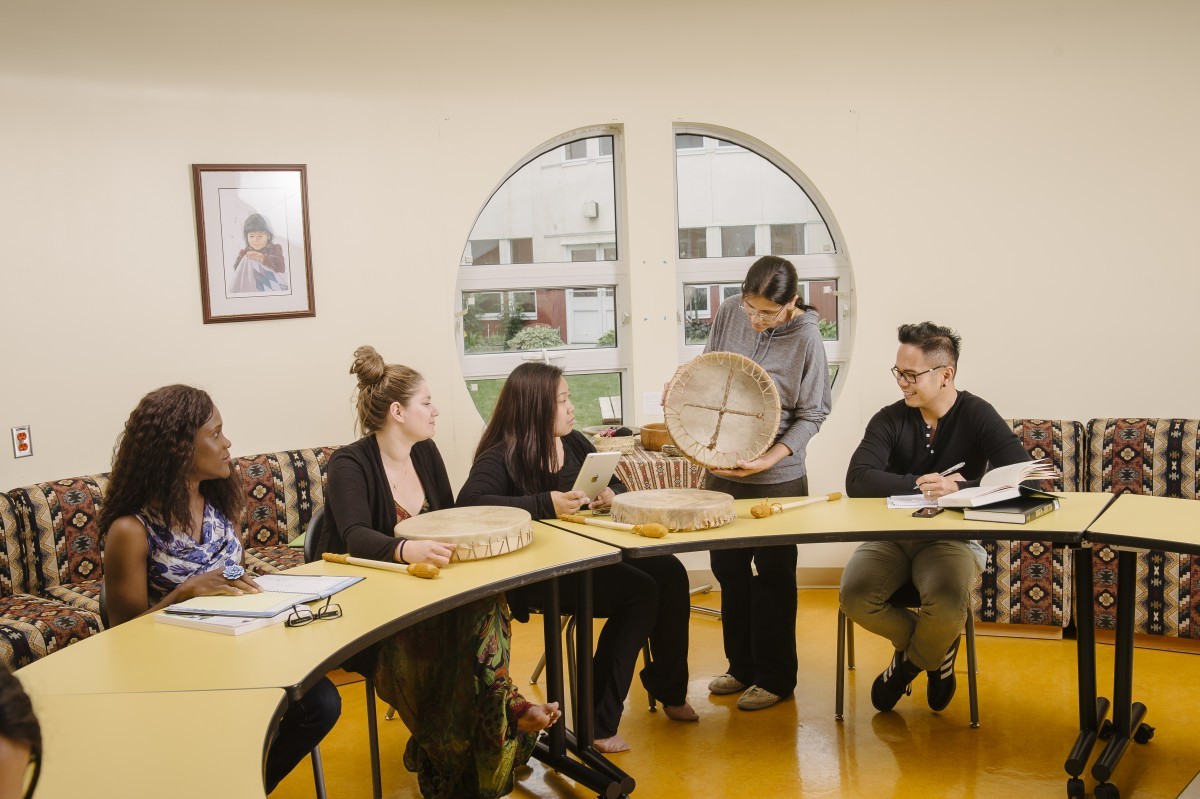 New program in Social Work indigenizes curriculum
Courses to include Indigeneity, Power, Privilege and Anti-colonialism
February 23, 2016 —
The University of Manitoba is pleased to announce the creation of a new program in the Faculty of Social Work that will respond to the needs of our community and recognize the importance of incorporating Indigenous knowledge into post-secondary education.
The Master of Social Work based in Indigenous Knowledges (MSW-IK) program will begin accepting students this fall. Passed recently by Senate, the new program will provide an alternative graduate program for graduates of the Bachelor of Social Work Programs at the University of Manitoba who wish to specialize in Social Work based in Indigenous knowledges. It will be housed within the Faculty of Social Work at the University of Manitoba, William Norrie Centre. Eighteen students will be admitted to the program each year.
On Thursday, Feb. 25 at noon, the Faculty and the community will be celebrating the launch of this program at Thunderbird House (715 Main Street).
"This new program is truly visionary," says Dr. David Barnard, President and Vice-Chancellor of the University of Manitoba. "It is a key component of the university's role in reconciliation, its commitment to Indigenous achievement, and the importance it places on its connections with Indigenous students, partners and communities. It reflects our vision of providing a leading role in the socio-economic-cultural development of the Province where Indigenous peoples remain central and prominent."
One of the pre-eminent Strategic Priorities of the University of Manitoba is Creating Pathways to Indigenous Achievement. By incorporating Indigenous perspectives into learning, discovery and engagement programs, the university will help to transform the lives of both Indigenous and non-Indigenous peoples and communities, and make Manitoba and Canada a better place to live. Through the sharing of Indigenous knowledge, cultures and traditions, the university will build a stronger foundation for students, staff and the wider community.
"We are immensely proud of launching this new ground-breaking program developed by the Indigenous Development committee within our Faculty of Social Work," says Lyn Ferguson, Associate Dean for Graduate Programs in the Faculty.
Dr. Michael Hart, Canada Research Chair in Indigenous Knowledges and acting director of the MSW-IK program in the Faculty of Social Works, says: "This innovative program is based upon knowledge and practices of Indigenous peoples that have been important to the people since time immemorial. Elders recognized by Indigenous communities as knowledge carriers of our philosophies and practices will be central to the program. Graduates will be positioned to enact programs, policies, and practices that are a direct reflection of the needs and aspirations of Indigenous communities. They will be prepared to create positive changes in the delivery of social services in such areas as child welfare, health, and corrections."
The new MSW-IK program follows directly from the university's commitment to Indigenizing post-secondary curricula. In his Statement of Apology and Reconciliation to Indian Residential School Survivors at the Truth and Reconciliation Commission of Canada Atlantic National Event in 2011, Barnard stated: "The University of Manitoba is committed to listening, acknowledging and affirming Aboriginal voices within the fabric of the university. It is of fundamental importance at our university that we advance all aspects of Indigenous education. The University of Manitoba believes that education has a transformative power for students, their families and communities. We will work to ensure that the values of First Nations, Metis and Inuit cultures and communities infuse scholarship and research across the university."
The MSW-IK program is aimed at deconstructing oppressive and colonialist structures and reconstructing in a contemporary sense what has been previously destroyed. This prepares students to practice social work from Indigenist perspectives at individual, family, community and organizational levels.
Until now, there were only three Indigenous/Aboriginal based programs offered in Canada, none in Manitoba; there are no exclusively Indigenous-­oriented MSW programs or concentrations offered in the United States. The MSW-IK Program will be a key component of the Faculty of Social Work's commitment to provide accessible and inclusive education.
The program is structured to provide holistic support to students throughout the entire process to completion of the degree. This holistic support includes direct guidance from an advisor council that includes a faculty member and Elder, supporting students working together as a cohort, and attention to the students' mental, physical, emotional, spiritual, academic and professional growth. Such support will not only foster growth and development but will lead to great success in completion of the program.
All faculty teaching in the Program will have a clear understanding of Indigenous peoples, communities, experiences and perspectives along with expertise and knowledge in areas of critical theories and practices, including anti-oppressive practice, social justice, colonialism and anti-colonialism.
The program is strongly grounded in respect of Elders, traditional/cultural teachers and traditional healing practitioners trained to handle sacred objects or utilize specific ceremonies, medicines and teachings, all of which require years of traditional knowledge acquisition as well as community sanction prior to use. Some instructors will be Elders recognized by the Indigenous community as Elders with deep understanding of Indigenous knowledge focused around ways of helping individuals, families and communities. The Elders will bring this specialized knowledge and skill to the program and will participate as instructors in the delivery of specific courses.
Courses in the MSW-IK program include: Grounding Our Foundation in Indigenous Knowledges and Social Work; Remembering Our Histories – Setting our Knowledges; Critical Theory and Indigenous Peoples; and Indigeneity, Power, Privilege and Social Work.
Students will be assessed in relation to their capacity to recognize and form meaningful connections between social work and Indigenous ways of knowing. Furthermore, students will be assessed in regards to the ability they develop to attend to the holistic needs of Indigenous populations at the level of the individual, family, group, organization, community and Indigenous Nation.
It is important to note that the proposed program has the deepest respect for traditional Indigenous helping practices and healers, and the Elders who are wellversed in these practices and related knowledges. As such, the MSW-IK program is not designed to create traditional Indigenous healers or Elders, but is focused on developing social workers whose skills are rooted in Indigenous knowledges and worldviews.
Dr. Jay Doering, Dean of the Faculty of Graduate Studies, says: "I am very excited to see the implementation of a Master's of Social Work program based on Indigenous perspectives and values. The Government of Manitoba has played a significant role in supporting this program, which helps to address some of the recommendations of the Phoenix Sinclair Report."