New professors bring expertise in smart technologies, systems modelling
September 11, 2019 —
Two new assistant professors joined the Faculty of Agricultural and Food Sciences this summer. Click on the links below to learn more about them.
Dr. Chyngyz Erkinbaev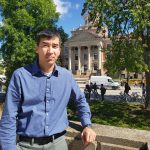 joined the Department of Biosystems Engineering as Assistant Professor in Smart Technologies in Agriculture and Food Systems on July 1. He pursued education in food process and bioscience engineering in Kyrgyzstan, Thailand and Belgium, which led to a globe-spanning career in food processing before landing at the University of Manitoba for post-doctoral studies. Chyngyz shared more about his research and teaching interests, and why "smart" tech is becoming integral in agri-food systems.
Dr. Marcos Cordeiro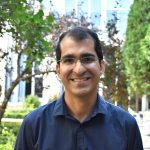 joined the Department of Animal Science as Assistant Professor in Sustainable Food Systems Modeling on August 1. His journey to the University of Manitoba began as a M.Sc. student in Biosystems Engineering and he has returned to the U of M after doing post-doctoral research at Agriculture and Agri-Food Canada in Lethbridge, Alberta. Marcos has always had a deep-rooted interest in the implications of food production on the environment, and he shared with us how that has shaped his career path so far.